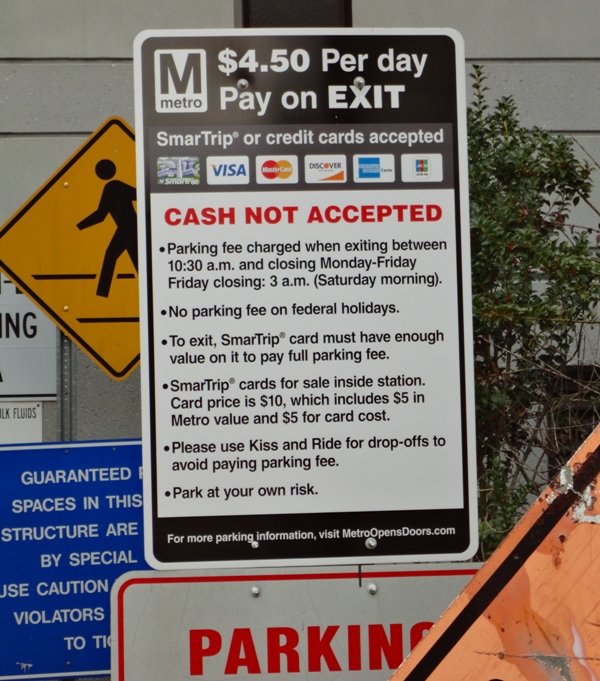 Metro operates parking facilities at 42 metro stations. All 42 stations offer daily or hourly parking, and 35 metro stations offer reserved parking, where you can purchase permits to park in reserved spaces. Overnight Metro Parking is also offered at three metro stations.
Metro parking garages fill up every weekday, generally between 7:45 a.m. and 8:30 a.m. Finding a parking space is difficult later in the day. During weekends, it is easy to find available parking at metro garages. According to Metro, most parking garages fill up on weekdays, except for Landover Station, Minnesota Avenue Station, Prince George's Plaza Station, College Park Station, Wheaton Station, White Flint Station, and Twinbrook Station.
The following list includes the 42 Metro Stations with parking facilities.


Addison Road-Seat Pleasant


Anacostia



Braddock Road


Branch Ave


Brookland-CUA


Capitol Heights


Cheverly


College Park-U of MD


Congress Heights


Deanwood


Dunn Loring-Merrifield



East Falls Church


Forest Glen




Fort Totten


Franconia-Springfield


Glenmont


Greenbelt


Grosvenor-Strathmore


Huntington



King Street


Landover



Largo Town Center


Minnesota Ave


Morgan Boulevard


Naylor Road


New Carrollton


Prince George's Plaza


Rhode Island Ave-Brentwood


Rockville


Shady Grove


Silver Spring


Southern Avenue


Suitland


Takoma


Tenleytown-AU


Twinbrook


Van Dorn Street


Vienna/Fairfax-GMU


West Falls Church-VT/UVA


West Hyattsville


Wheaton


White Flint
Metro Parking Fees
Metro parking is Free on Saturday, Sunday and Federal holidays at metro operated parking facilities. So whenever you travel during the weekend, Metro is the best way to go.
During the week, there is a daily parking fee. Fares for daily parking are collected upon exit between 10:30 a.m. and closing time of the metro station. Parking's cost per day varies per metro station ($4.25 to $4.75). Generally, prices are posted at the parking entrance/exit.
Short-term metered parking costs $1 per hour, but you may find some meters that still charge the old rate of 25 cents per hour while meters are being upgraded to accept the higher fee. Fees at metered spaces can be paid using coins. Cash cannot be used to pay any other metro parking fees.
A SmarTrip Card is required to exit most metro operated parking facilities. Make sure to have enough money on your SmarTrip to pay the metro parking fee. To pay the parking fee, simply touch the circular SmarTrip target at the parking gate with your SmarTrip Card.
Credit Cards can be used to pay the daily parking cost at six pilot metro stations. The parking facilities at the Anacostia Station, Franconia-Springfield Station, Largo Town Center Station, Vienna/Fairfax-GMU Station. Shady Grove Station and New Carrollton Station have exit lanes where cards are accepted.