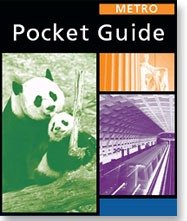 Metro Pocket Guides provide essential information for metro riders in 11 languages. Do you want the basics on metro fares? hours of operation? or prepaid metro passes? Metro Pocket Guides have the answers.
Metro Pocket Guides can be requested (one per customer) by calling the Visitor's Information Hotline at: 1-888-METRO-INFO (1-888-638-7646). Washington DC residents, please call (202) 962-2733. Allow three weeks for delivery.
The Metro Pocket Guides listed below are in PDF format, requiring Adobe Acrobat Reader for viewing. To download the guide, right-click on one of the links below and depending on your browser, click on "Save Target As" or "Save Link As".

English - Metro Pocket Guide

French - Metro Pocket Guide

German - Metro Pocket Guide

Italian - Metro Pocket Guide

Spanish - Metro Pocket Guide

Portuguese - Metro Pocket Guide
For additional information, call metro's customer service center at (202) 637-7000. Interpreters are available to answer questions and explain the metro system. This service is free and provided on Monday-Friday: 6:00 AM - 8:30 PM and Saturday and Sunday: 7:00 AM - 8:30 PM.
Related Information



Metro
The metropolitan subway system of Washington DC.




Metrobus
Bus complementing the service provided by Metro.




Metro Pocket Guide
Essential information for Metro riders.




DC Circulator
Bus connecting areas that are not accessible by Metro.




SmarTrip
SmarTrip can be used in Metro, Metrobus, and DC Circulator.