The Metro is easy to get the hang of if you come prepare with the right information. Here are some tips to help you navigate the Metro like a local and avoid unnecessary frustration.
Get yourself a Metro Map: these are available free of charge from any metro information booth, and can also be downloaded online. Avoid getting lost underground trying to find your way.
If you can, avoid riding the Metro during peak hours: Monday-Friday (Opening to 9:30 am, and 3:00-7:00 pm) and Weekends (Midnight to Closing). During peak hours, delays occur frequently, lines at farecard machines are long, trains are overcrowded, and Washingtonians are often rude. Also, fares are more expensive during peak hours.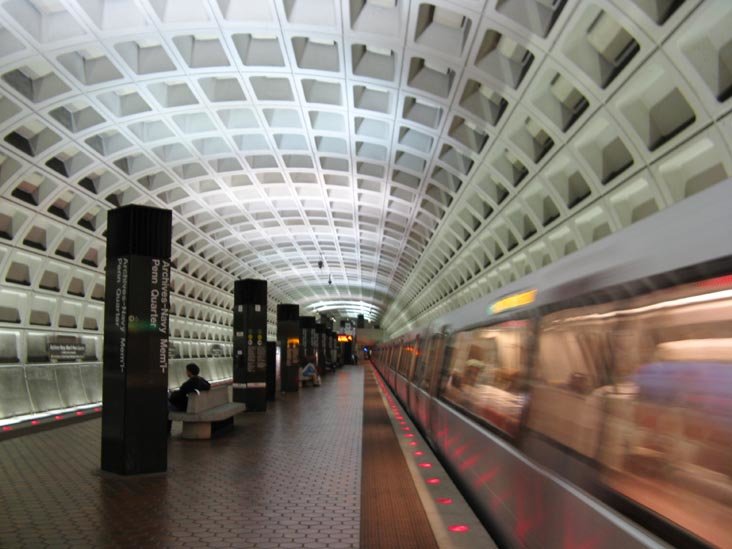 Learn to use the Metro: Some visitors to Washington DC never venture to take the Metro. However, learning to use the rail is not difficult, and it can easily get you to major touristic attractions, museums, art galleries, and monuments without having to drive around Washington DC.
Avoid using popular Metro stations. Avoid using the Smithsonian Station during high tourist season. This station is often crowded due to museum visitors. It is highly recommended that you use one of the other stations such as Arlington Cemetery Station or Federal Triangle Station. Also, avoid long lines inside Metro stations after major events, such as concerts or games, by buying a farecard with enough money for your roundtrip travel.
Be careful. Metro doors do not have sensors to detect a person's presence. Do not try to hold the doors open when they are closing because your arms or legs will get stucked between the doors.
Do you want to bring your bicycle? Metro allows bicycles on weekdays (except during rush hour) and all day on weekends.
Know your metro exit. Most Metro stations have more than one exit/entrance. When exiting the train, figure out which exit is closer to your destination. Some exits are very close to major area landmarks. Finding the right one for your destination can save you lots of time above ground.
Metro Etiquette

On escalators, stand to the right side if you are not going to walk up or down an escalator. The left side of the escalator is used for walking.

When preparing to board a metro train, let passengers leaving the train get off before you try to get on.

While on the train, stay away from the doors to make it easier for those entering or exiting the trains.

It is unlawful to eat, drink or smoke inside Metro stations.