Shady Grove


View Metro Map
15903 Somerville Drive, Rockville, MD 20855.
Metro Line: Red Line.
Metro Schedule: Opens at 4:47 A.M. (M-F).
Metro Parking: Available (See Below).
Bike Racks: There are 32 bike racks and 60 lockers.
Metro Entrance: Somerville Drive and Redland Blvd.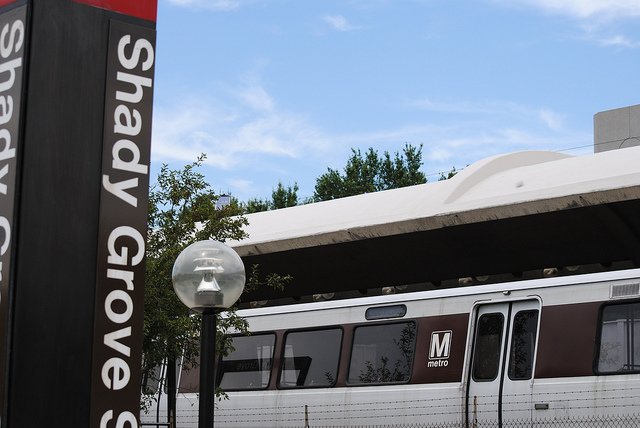 Photo by
Metro Platform
The Shady Grove Metro Station has 1 island platform and two tracks. Each train goes in two directions named for the last stop on the Red line.

Red Line: Shady Grove --- Glenmont
The Red Line goes in two directions: Shady Grove and Glenmont.
Use the Metro's Trip Planner to find out exactly how to get where you want to go in the Washington DC area, using Metrobus, Metro and local bus systems. The Trip Planner asks you where you're starting and when and where you want to go. Then it finds the best way for you to get there using the Metro system and local bus systems.
First and Last Trains
First Trains: Trains leave exactly 2 hours later on Saturdays and Sundays.

Red line train from Glenmont - 4:57 AM (The first train leaves before 5 AM)
Last Trains: Trains leave exactly 3 hours later on Friday and Saturday nights.

Red line train from Glenmont - 11:30 PM
Metro Parking
All Day Parking:
There are 5,745 parking spots. Cost/day is $4.50. Parking fees are collected upon exit from 10:30 a.m. to Metro closing hours. Parking fees can be paid using SmarTrip Card and credit cards.
Short-term Metered Parking:
There are 76 parking spots. Parking is available from 8:30 a.m. - 3:30 p.m. and 7 p.m. - 2 a.m. The rate is $1.00 per 60 mins. Meters at short-term parking spaces accept only quarters and $1 coins.
Reserved Parking:
There is reserved parking at the East side of Frederick Road (Rt. 355) near Redland Ave. The reserved rate is $65. Monthly permit holders are required to pay the daily fee each time they park. The daily fee is in addition to the $65 monthly permit fee.
Free Parking:
Parking is free at Metro-operated lots and garages on weekends and federal holidays. Most weekends, it is easy to find a space at Metro parking lots.
Bus Connections
The Shady Grove Station connects passengers to other areas in Maryland. Particularly, passengers can transfer to WMATA Metrobus, and Ride On Bus from this station. The map below shows you where to board your bus. Consult the map and bus stop information for routing and schedule information about each route serving the metro station.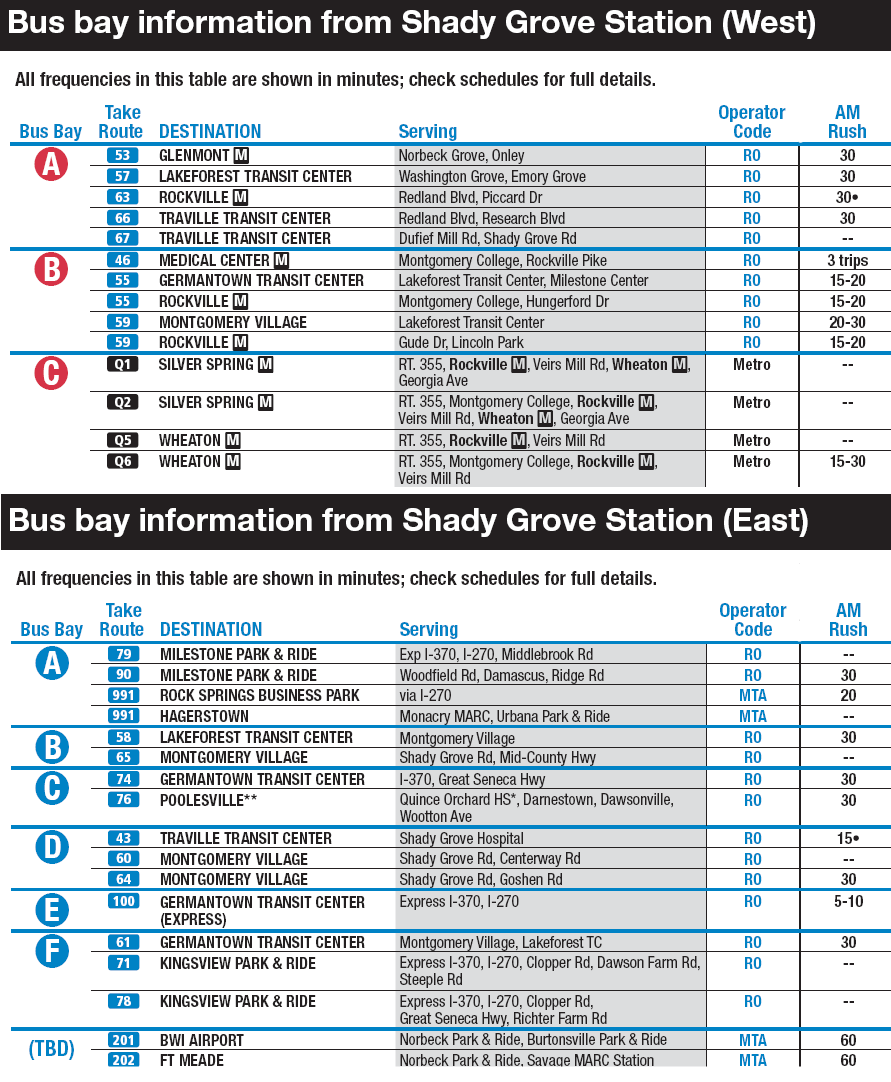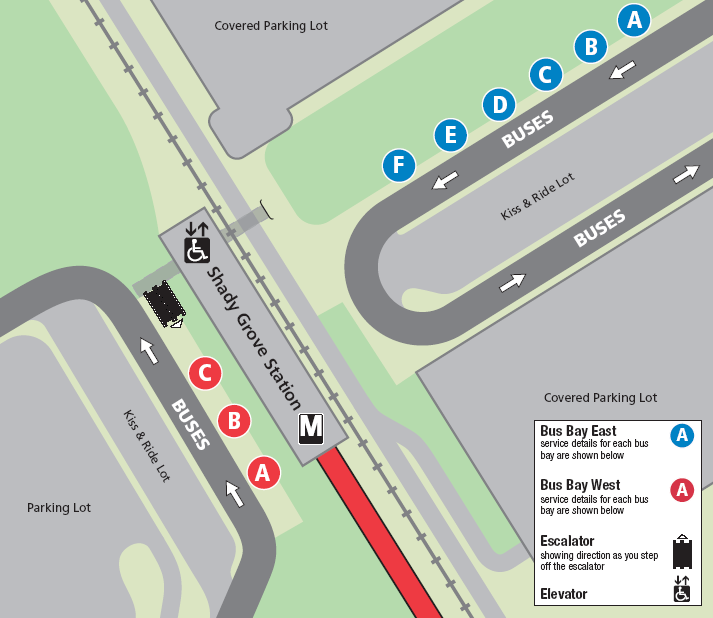 Related Information



Metro
The metropolitan subway system of Washington DC.




Metrobus
Bus complementing the service provided by Metro.




Metro Pocket Guide
Essential information for Metro riders.




Metro Map
Printable version of the Metro map.




DC Circulator
Bus connecting areas that are not accessible by Metro.