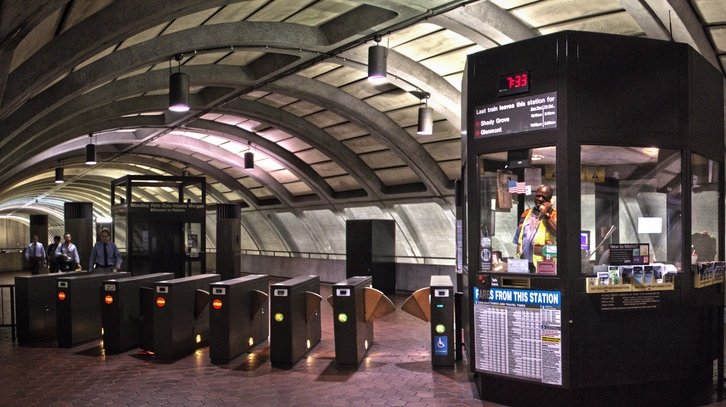 Faregates at the entrance of a metro station.
If you are traveling to Washington DC for a few days and plan to use the Metro to move around the city, buying a One-Day Pass, a 7-Day Short Trip Pass, or a 7-Day Fast Pass is a cost effective solution because it provides unlimited metro travel during specific periods of time.
Metro passes are gate-activated. This means that your pass will be activated the first time it is used at the metro station of your choice. Simply insert your metro pass into the faregate to enter the station. The faregate will print the last valid date on the pass. Note: All metro passes contain a set value, which is subtracted from the pass upon exiting a metro station.
Metro passes are only valid on all metro stations in the Washington Metropolitan Area. They cannot be used on Metrobus or DC Circulator Bus. Consider buying a SmarTrip Card if you plan to travel using Metrobus, Metro, and DC Circulator bus.
Where Can I Buy a Metro Pass?
Metro passes can be purchased online at wmata.com. Metro ships all orders via U.S. Postal Service First Class Mail. Your order will be shipped within two business days from the day you place your order. Metro does not charge for shipping and handling. If you have any questions about the status of an order, send an email to or call (202) 962-5719. For any other questions or comments, contact Metro's customer service department at (202) 637-7000.
If you don't want to order your passes online, you can also purchase metro passes in person using a credit card or cash at blue vending machines labeled "Passes/Farecards" inside metro stations.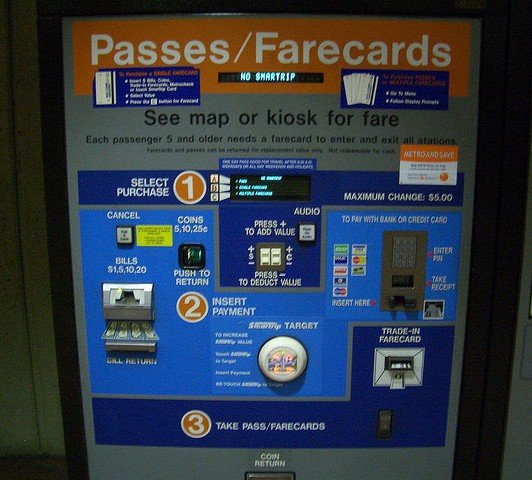 Which Metro Pass Should I Buy?
There are three types of passes that you can buy: a One-Day Pass, a 7-Day Short Trip Pass, and a 7-Day Fast Pass.
7-Day Short Trip Pass

The pass is valid for 7 consecutive days from the first day of use for Metro trips from 5:00 a.m. - 9:30 a.m. and 3 p.m. - 7 p.m. on weekdays. If the trip costs more than $2.65, you will have to pay the additional fare at the exiting Metro station.
7-Day Fast Metro Pass

The 7-Day Fast Pass is valid for seven consecutive days for unlimited Metro travel. Remember that Metro does not operate 24 hours a day, so the pass only works when the Metro system is running.
One-Day Metro Pass

The One-Day Pass is valid for one day of unlimited Metro travel. The pass expires at 4 a.m. on the day following the first day of use. It is ideal for tourists planning to sightsee many touristic attractions in Washington DC in one day. On weekdays, the pass is good after 9:30 a.m. On weekends and most holidays, the pass can be used all day. The only holidays when unlimited metro travel begins after 9:30 am is on Martin Luther King Jr. Day, Presidents Day, Columbus Day, and Veterans Day.