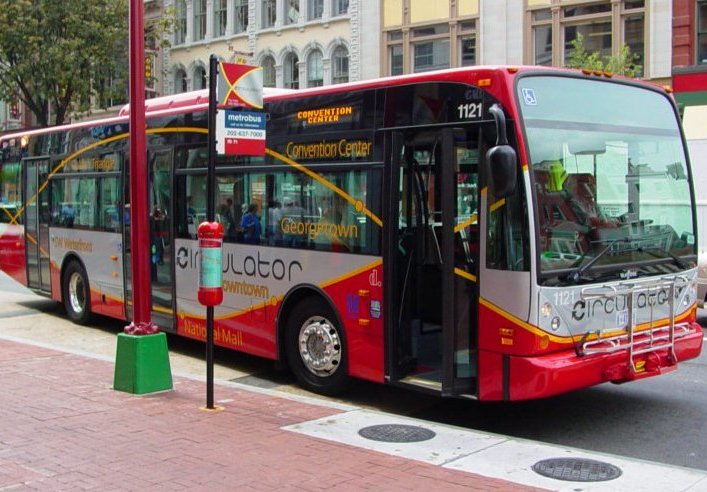 DC Circulator Fares
Regular

$1.00 dollar

Senior/Disabled

$0.50 cents

Children Under 5

Free with a paying adult

DC Students (elementary through high school)

Free with DC Student Travel Card
DC Circulator Farecards
The bus fare can be paid using cash, SmarTrip card, or DC Circulator passes. If paying with cash, exact change is required because bus drivers do not carry cash.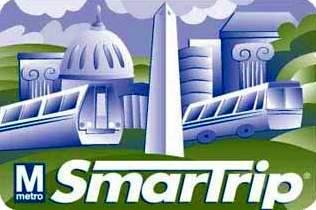 SmarTrip Card: a rechargeable, plastic farecard that can be used to pay fares and transfers on the DC Circulator bus, Metrobus, Metro, and Metro parking. The card is available for purchase online at CommuterDirect.com and in person at Metro Center and at participating CVS Pharmacies, Safeway, Giant and other locations.

DC Circulator Passes: ride all you want by purchasing unlimited-trip passes. One-Day ($3), 3-Day ($7), Weekly ($11) and Monthly ($40) passes are available for purchase through CommuterDirect.com
Bus Transfers
The DC Circulator uses a paperless transfer system. Paper transfers are no longer issued or accepted. To receive a transfer, a SmarTrip card must be used to pay the bus fare. Passengers using cash do not get a transfer and must pay the full fare when transferring to Metro or Metrobus.
| | |
| --- | --- |
| DC Circulator to Another DC Circulator | Free within 2 hours |
| DC Circulator to Metrobus | Free within 2 hours |
| DC Circulator to Metro | $0.50 discount of the Metro fare |
| Metro to DC Circulator | $0.50 cents |
| Metro (Senior/Disabled) to DC Circulator | Free |
| ART to DC Circulator | Free |
DC Circulator Routes
The DC Circulator has various bus routes. All routes cross each other and are designed to make transfers easy. Although buses run every 10 minutes, each route has a different bus schedule.
The most popular bus route is the Georgetown - Union Station, which connects Georgetown to the metro stations in Union Station and Chinatown. This provides an easy way to get to Georgetown from other areas in Washington DC, as there is no metro station anywhere near Georgetown.

Georgetown - Union Station

Potomac Avenue Metro to Skyland via Barracks Row

Union Station - Navy Yard via Capitol Hill

Woodley Park - Adams Morgan - McPherson Square Metro
Where is my Bus?
Are you wondering when the next DC Circulator is going to arrive? "Where is my Bus?" is an app for mobile devices that allows you to have up-to-the-minute location information about DC Circulator buses.
Using any mobile device, go to circulator.dc.gov and select your DC Circulator route and bus stop. "Where's My Bus?" will use real-time GPS data to tell you how close the next few DC Circulator buses are and whether there are any service disruptions you should know about.
Is the DC Circulator similar to Metrobus?
Using the DC Circulator bus is easier than traveling via Metro or Metrobus. However, you might need to know the following when riding the DC Circulator:
Unlike Metrobus, the DC Circulator bus does not have a digital screen or an announcer to let passengers know which bus stop is next. So, pay attention to the roads and know where you are. The bus drivers are friendly and know their routes well, so don't be afraid to ask for help if needed.
Unlike Metrobus, the DC Circulator bus does not have yellow cords to indicate the bus driver that you are getting off at the next bus stop. Instead, the DC Circulator bus has yellow and red buttons located on the arm rails or walls of the bus. Press any of these buttons to indicate the driver that you will be getting off.