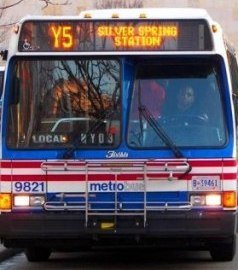 Metrobus is operated by the Washington Metropolitan Area Transit Authority (WMATA) to connect Washington DC and its nearby suburbs in Virginia and Maryland. Most of the buses have stops at the Metro stations throughout the city.
With approximately 335 Metrobus routes serving 12,216 bus stops in the metropolitan area, Metrobus is the fifth largest bus system in the United States.
The new color scheme is going to be red/silver for local routes, and blue/silver for express routes. The buses will also have "Local" or "Express" written on the top of each side of the bus for easy identification.
Two important bus routes are Metrobus 5A which connects Dulles International Airport (IAD) to Washington DC, and Metrobus B30 which connects Baltimore/Washington International Airport (BWI) to Washington DC.
Metrobus stops are easily identified by red, white, and blue signs with four-sided cases listing route numbers and letters. Some Metrobus stops list schedule information, but they are often out-of-date. Also buses only show their destination, but not their route.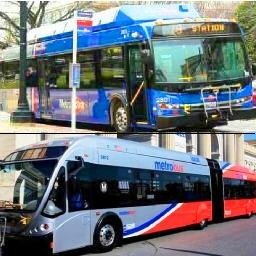 Metrobus certaintly provides a reliable and direct transportation to the city's most transited corridors. However, it can be somewhat confusing to new users because there is no central terminal, and you won't find route maps without actually getting on the bus.
For this reason, it is important to plan your bus trip ahead of time using metrobus maps. These maps list route numbers, bus terminals, landmarks, metro park & ride lots, and connections to Metro.
For up-to-date bus schedule information, call Metrobus' customer service at (202) 637-7000 during weekdays between 6:00 a.m. to 10:30 p.m. and weekends from 7:00 a.m. to 10:30 p.m.
Paying the Metrobus Fare
Cash: exact change is required because bus drivers do not carry cash.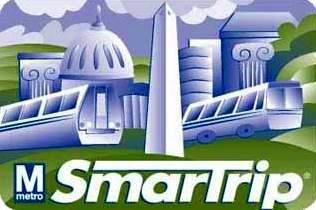 SmarTrip Card
: a rechargeable, plastic farecard that can be used to pay fares and transfers on the DC Circulator, Metrobus, Metro, and Metro parking. The card costs $5 (not including fare) and is available at metro stations where parking is available.

Metrobus Pass
: valid from Sunday through Saturday. The weekly pass costs $12 each, and gives you a full week of unlimited travel regionwide on regular Metrobus routes, and $1.35 off the fare on express routes. Weekly Senior/Disabled passes are also available.
Metrobus Fares
Metrobus Fare - using SmarTrip
$1.60
Metrobus Fare - using cash
$1.80
Metrobus Fare - express routes using SmarTrip
$3.65
Metrobus Fare - express routes using cash
$4
Metrobus Senior/Disabled Fare
$1.80
Children Under 5
Free with a paying adult
Express Routes: B30, 5A, J7, J9, P17, P19, W13, W19, 11Y, 17A, 17B, 17G, 17H, 17K,17L, 17M, 18E, 18G, 18H, 18P, 29E, 29G, 29H, 29X.
Senior/Disabled Fare: Seniors (65 and older), people with disabilities, and customers with a Medicare card and valid photo ID ride for half the regular fare. To take advantage of the reduced fare, use a Senior SmarTrip card or show a valid ID to the bus operator.
Chidren Under 5: Up to two children under 5 years old ride free with a paying passenger on Metrobus.
Metrobus Transfers
Metro riders can take advantage of free bus-to-bus transfers within a two-hour period and discounted transfers between rail and bus by using a SmarTrip® card. Customers who use a SmarTrip® card receive a 20˘ discount on bus fares. To receive a transfer, a SmarTrip card must be used to pay the Metrobus fare. Passengers paying with cash do not get a transfer and must pay the full fare when transferring. Note: Metrobus stopped issuing and accepting paper bus transfers on January 4, 2009.
Metrobus to another Metrobus
Free within 3 hours
Metrobus to DC Circulator
Free within 3 hours
Metrobus to Metro
$0.50 discount of the metro fare
Metro to Metrobus
$0.50 discount of the bus fare
Metrobus riders transferring to a DC Circulator Bus or another Metrobus within three hours, ride for free when using a SmarTrip card.

Metrobus riders transferring to Metro receive a bus-to-metro discount. The discount reduces the metro fare by 50 cents.

Metro riders transferring to a Metrobus get a 50-cent discount off the metrobus fare.
Boarding the Metrobus
When waiting for a Metrobus, look for the route number and destination displayed above the windshield and on the boarding side of the bus.
All buses have SmarTrip readers which automatically deduct the correct bus fare from a SmarTrip Card (including transfer credit). If you pay with cash, exact change is required because bus drivers do not carry cash.
Most buses have a digital screen or an announcer to let passengers know which bus stop is next. Buses do not stop unless requested, so pull on the yellow cord along the windows to indicate the bus driver that you are getting off at the next bus stop. The bus schedule varies by time of day and by weekday/weekend to best meet demand. During the holidays and weekends, buses run every 15 minutes.
During the week, it might take up to 30 minutes between Metrobuses. However, passengers will not have to wait more than 5 minutes for a bus during rush hour. For service details on specific routes, check the metrobus timetables.
Metro Next Bus
Next Bus signs can be found at Metrobus stops and bus shelters throughout the city. The signs include a unique bus stop number and a phone number to call to get real-time bus arrival information for that bus stop.
Next Bus uses GPS technology to track Metrobuses on their routes. Next Bus predicts the bus arrival time taking into account the actual position of the bus, its intended stops, and traffic patterns. To use the service, call (202) 637-7000. Provide the bus stop number and bus route number.