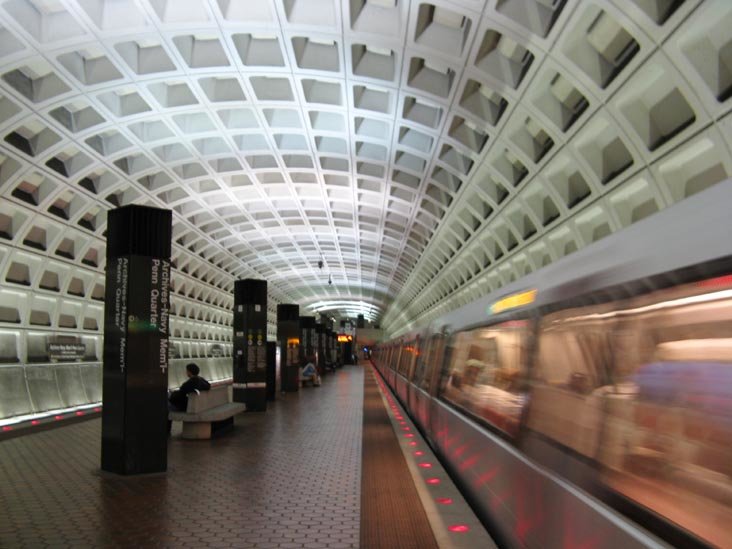 Metro is operated by the Washington Metropolitan Area Transit Authority (WMATA) to connect Washington DC and its suburbs in Virginia and Maryland. Many metro stations throughout Washington DC are located close to important federal buildings and tourist attractions. For example, Ronald Reagan National Airport has its own metro station.
The Metro System has 91 stations with six color-coded lines: Red, Orange, Silver, Blue, Green, and Yellow. These colors are found throughout the system on pylons at the entrances, on train destination signs, and on platform route signs.
The Red line runs completely by itself, but the other metro lines intersect at many points making it easy for passengers to transfer trains along the way. Particularly, the Blue with Orange, and Green with Yellow lines intersect in Washington DC. Also, the Blue and Yellow lines intersect in Virginia. The Silver Line provides service between Wiehle Reston Station (Fairfax County, VA) and Largo Town Center Station (Prince George's County, MD) via downtown Washington DC.
In addition to its modern design with arched concrete panel ceilings, indirect lighting, and wide tiled platforms, the Metro System is fully air-conditioned on both trains and stations. Also, every metro station is handicapped accesible to riders with disabilities, providing turnstiles (known as faregates) for wheelchair users and elevators leading to the train platform.
For people who cannot use public transportation due to a disability, MetroAccess provides a shared-ride, door-to-door, paratransit service from 5:30 a.m. to midnight. Late night service is also available until 3:00 a.m. on weekends.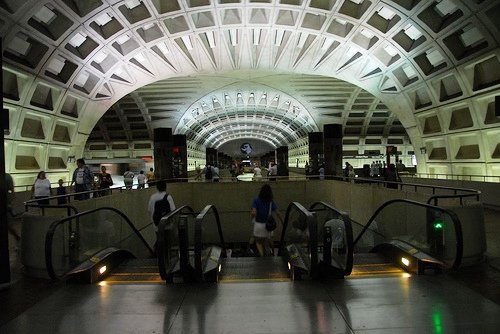 The Metro System has an extensive camera network that monitors the inside of metro stations. The cameras are monitored by station managers in kiosks within the stations. Metro Transit Police officers also have access to the camera feeds. As a result, crime inside metro stations is extremely rare and graffitti is non-existent.
Metro stations are identified by tall brown pylons with a large "M" at the top. The name of the station is written in white letters running sideways up the pylon. Beneath the "M", there is a color stripe (or a combination of color stripes) indicating which metro lines serve the station.
Most underground metro stations have escalators leading to the station mezzanines. The escalators descend into short, curved tunnels which open directly onto the station entrance which sits above the tracks. At the station entrance, there are vending machines, where metro farecards can be purchased.
After entering the metro station through the faregates, another set of escalators lead to the train platform. There are around 600 escalators serving the Metro System. One of the world's longest escalators can be found at the Wheaton Metro Station.
The Metro System provides a free metro pocket guide, which includes a metro map and essential information for metro riders. To get a free copy, simply ask the station manager when entering the metro station.
Metro Farecards
There are three types of farecards: metro farecards, metro passes, and a SmarTrip card.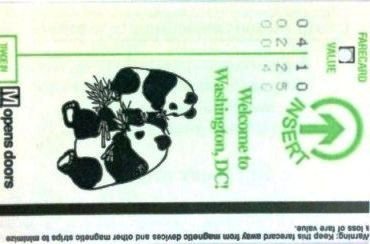 Metro Farecard: a paper farecard that can be used multiple times on multiple days until the value of the farecard reaches zero. It can be purchased and recharged at dispensing machines located in all metro stations. If you use a paper farecard, you will pay a surcharge for each trip. To avoid this additional cost, use a SmarTrip® card.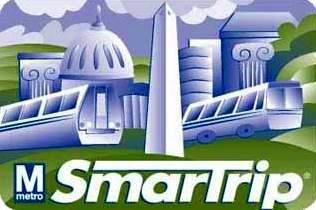 SmarTrip card
: a rechargeable, plastic farecard that can be used to pay fares and transfers on the DC Circulator, Metrobus, Metro, and Metro parking. The card can be purchase at SmarTrip vending machines in metro stations where parking is available.

Metro Pass
: If you are traveling to Washington DC for a few days and plan to use the Metro to move around the city, buying a One-Day Pass, a 7-Day Short Trip Pass, or a 7-Day Fast Pass may be a cost effective solution because it provides unlimited metro travel.
How to Use a Metro Farecard
Insert your metro farecard or metro pass into the faregate with the green light and white arrow. The metro farecard will be sucked into the faregate and ejected on the top. If you are using a handicapped faregate, the farecard will be returned from the same slot where you put it in.
Grab your metro farecard and go through. Keep your farecard because you will need it to exit the metro station at your final destination.
If you are using a SmarTrip card, simply touch the SmarTrip card to the circular targets on top or inside the faregate.
When exiting the metro station, insert the farecard into the faregate again. The cost of the trip will be deducted from the farecard. If you have a remaining value, the farecard will be returned. The remaining value will be printed on the card. Metro farecards with no remaining value are kept by the faregate.
If your metro farecard does not have enough money, the system won't let you exit. You will need to add money at the vending machine of the exiting metro station.
Metro Fares
Metro fares are based on the distance traveled and time of day. Fares are higher during peak/rush hour. Also, if you use a paper farecard, you will pay a $1 surcharge for each trip; that's $2 for a roundtrip. The subcharge is 50-cents for seniors and people with disabilities. To avoid this additional cost, use a SmarTrip® card.
Peak SmarTrip® Fares
This type of fare is in effect Monday-Friday (Opening to 9:30 a.m. and 3-7 p.m.) and Weekends (Midnight to Closing)
$2.10 minimum + a $1 surcharge if a paper farecard is used
$5.75 maximum + a $1 surcharge if a paper farecard is used
Off-Peak fare (All other times)
$1.70 minimum + a $1 surcharge if a paper farecard is used
$3.50 maximum + a $1 surcharge if a paper farecard is used
Metro Senior/Disabled Fare
Half of the Peak Fare: Senior citizens 65 and older, people with disabilities, and customers with a Medicare card and valid photo ID ride for half the peak fare with a reduced fare SmarTrip® card or paper farecard.
Children Under 5
Up to two children, 4 years and younger, may ride the Metro free with each adult paying full fare. Children five and older pay adult fares. Special discounted student farecards and passes are available for District of Columbia residents.
Metro Transfers
Metro uses a paperless transfer system. It stopped issuing and accepting paper transfers on January 4, 2009. To receive a transfer, a SmarTrip card must be used when paying the metro fare. Passengers using cash do not get a transfer and must pay the full fare when transferring to Metrobus or DC Circulator bus.
Metro to DC Circulator
$0.50
Metro to Metrobus
$0.50 discount of the Metrobus fare
Metrobus/Circulator to Metro
$0.50 discount of the Metro fare
Metro passengers transferring to Metrobus or DC Circulator Bus receive a metro-to-bus discount when using a SmarTrip card. The discount reduces the bus fare by $0.50 cents.
Bus passengers transferring to Metro receive a bus-to-metro discount when using a SmarTrip card. The discount reduces the Metro fare by $0.50 cents.
Metro Lines
The Washington DC Metro system has five operating lines. There are 40 metro stations in Washington DC, 26 stations in Maryland, and 20 metro stations in Virginia.

Red Line
Glenmont - Shady Grove

Orange Line
New Carrolton - Vienna/Fairfax-GMU

Silver Line
Wiehle-Reston East - Largo Town Center

Blue Line
Franconia-Springfield - Largo Town Center

Green Line
Branch Avenue - Greenbelt

Yello Line
Huntington - Fort Totten