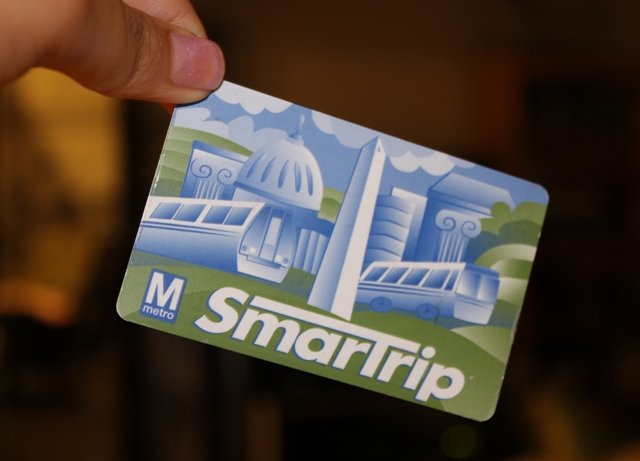 SmarTrip cards are accepted at the following regional transit agencies in the Washington Metropolitan Area:
Washington DC:
Metro, Metrobus, and DC Circulator.
Virginia:
ART (Arlington Transit), CUE (Fairfax City), DASH (Alexandria Transit Company), Fairfax Connector, and Loudoun Commuter Bus Service.
Maryland:
MTA (Maryland Transit Administration), Ride On (Montgomery County Transit Services Division), TheBus (Prince George's County), and PRTC (Prince William County, Manassas and Manassas Park).
Where Can I Buy a SmarTrip Card?
SmarTrip cards can be purchased in person using either a credit card or cash at metro stations where parking is available. SmarTrip cards are sold for a minimum of $10 (with a $5 value loaded) through SmarTrip card vending machines.
SmarTrip cards can also be purchased online at wmata.com using a credit card or debit card. Metro ships all orders via the U.S. Postal Service First Class Mail. Your order will be shipped within two business days from the day you place your order. Metro does not charge for shipping and handling. Note: international orders are not accepted.
The total cost of buying online is $30. The actual card costs $5, so you get $25 on the SmarTrip to be used on metro or bus. Once you have your SmarTrip card, you can add value to the card at any Metro Station, Metrobus, or online. When adding value online, the amount added to the SmarTrip card may not exceed $200 in total within a 72-hour period.
Senior SmarTrip Cards
If you are a senior citizen (age 65 and older), I have great news! You qualify for a yellow Senior SmarTrip Card which enables you to get the discounted fare on Metrobus and Metro. Senior SmarTrip® Cards are not sold in vending machines located in Metro Stations. To buy the card, you need to show a valid government issued photo ID (i.e., driver's licence, passport, etc.) with proof of age at Metro Sales offices, commuter stores, and some public libraries in the Prince George's and Montgomery counties.
For locations of sales offices, regional commuter stores and local libraries, call the SmarTrip® Regional Customer Service Center at 1-888-762-7874 or TTY 202-638-3780.
How to Use a SmarTrip Card
Related Information



Metro
The metropolitan subway system of Washington DC.




Metrobus
Bus complementing the service provided by Metro.




Metro Pocket Guide
Essential information for Metro riders.




Metro Map
Printable version of the Metro map.




DC Circulator
Bus connecting areas that are not accessible by Metro.