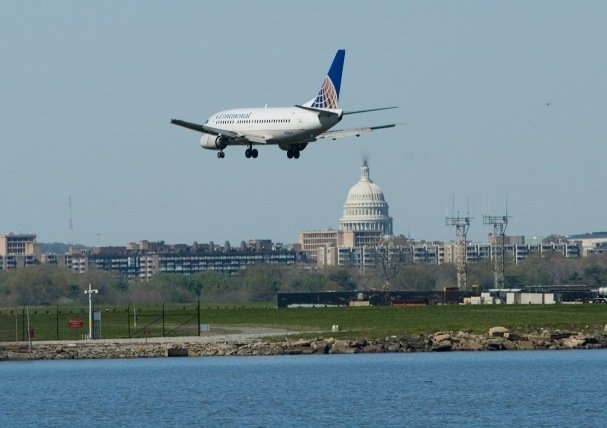 Phone: +1 (703) 417-8000

Address: 1 Aviation Circle Arlington, Virginia
Ronald Reagan Washington National Airport (DCA) is located in Arlington, VA, just 3 miles south of downtown Washington DC, making it the closest airport to the city. The airport offers non-stop flights to 143 destinations and services 17.8 million passengers a year. The Airport Terminals offer nearly 100 shops and restaurants with a mix of national, local, and regional retail and food concessions.
Parking at the Aiport
Parking options at Ronald Reagan National Airport include a cell phone lot, multi-level parking garages A, B, C, and an economy lot which provide hourly, daily and economy rates. For more information, please refer to:

Parking at Ronald Reagan National Airport
Metro to the Airport
The Washington DC Metro provides an easy and affordable access to the airport. Particularly, the Ronald Reagan National Airport Station (Blue and Yellow Lines) is connected to the concourse level of Terminals B and C at the airport. The metro station is also fully accessible via elevators. For more information, please refer to:

Metro to Ronald Reagan National Airport
TSA Pre-Security Check
The airport has a TSA Pre-Security check for speedy security screening. This service is available for select frequent flyers and for military active-duy service members. It is available at Terminal B for Delta Airlines. For more information, contact the TSA at (571) 227-2829. Eligible at present are also Trusted Travelers, Global Entry, SENTRI and NEXUS members.
Guess Services at the Airport
Paging is available at the Information Counters and the Travelers Aid Desks in the terminals.
Banking: ATMs are located inside the terminals, before and after security. A full service bank is also located pre-security in Terminal B.
Lost and Found: If you lost an item in the terminal (including the TSA area), call (703) 417-0673, Monday-Friday 7:30am-4:00pm. If you lost an item onboard your airplane, contact your airline.
Customer Service Centers are located in Terminals B and C and provide foreign currency exchange, insurance, facsimile and photocopying, notary public, and other services. The hours of operation are 7 a.m. to 9 p.m. daily. For more information, call (703) 417-3200 or (703) 417-3201.
Smoking is permitted on the outside terraces located on the upper level of Terminals B, C. There is no smoking inside the building except in a few restaurants.
Travelers Aid: Travel assistance is located in Terminals B and C (Concourse level and baggage claim level) and in Terminal A. For more information:
Terminal A Travelers Aid: (703) 417-3972
Terminal B/C Travelers Aid Concourse: (703) 417-1806
Terminal B/C Travelers Aid Baggage Claim: (703) 417-3974
Airlines Serving the Airport
DCA features 150,000 square feet of terminal space with 44 airline gates servicing 12 major airlines. Most of the flights are domestic and fly to destinations within 1250 miles of the Washington DC area. The busiest flights come from Atlanta, Chicago, Boston, Dallas, Miami, New York, Orlando, Charlotte, Fort Lauderdale and Houston, in that order. The only international flights that come in to the airport are those with U.S. Customs and Border Protection pre-clearance (Nassau, Bahamas; Bermuda and most airports in eastern Canada).
| | | | |
| --- | --- | --- | --- |
| Airline | Code | Phone Number | Terminal |
| Air Canada Airlines | AC | 888-247-2262 | Terminal A |
| AirTran Airways Airlines | FL | 800-AIRTRAN | Terminal A |
| Alaska Airlines | AS | 800-252-7522 | Terminal B |
| American Airlines | AA | 800-433-7300 | Terminal C |
| Continental Airlines | CO | 800-523-3273 | Terminal B |
| Delta Airlines | DL | 800-221-1212 | Terminal B |
| Frontier Airlines | F9 | 800-252-7522 | Terminal A |
| JetBlue Airways Airlines | B6 | 800-538-2583 | Terminal A |
| Spirit Airlines | NK | 800-772-7117 | Terminal A |
| Sun Country Airlines | SY | 800-359-6786 | Terminal A |
| United Airlines | UA | 800-241-6522 | Terminal C |
| US Airways | US | 800-428-4322 | Terminal C |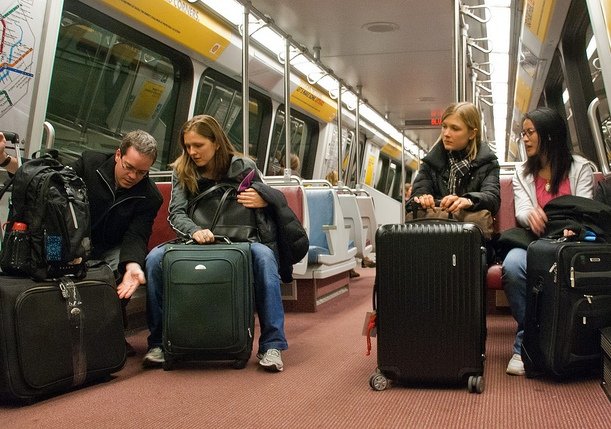 Travellers inside a Metro train. Photo by