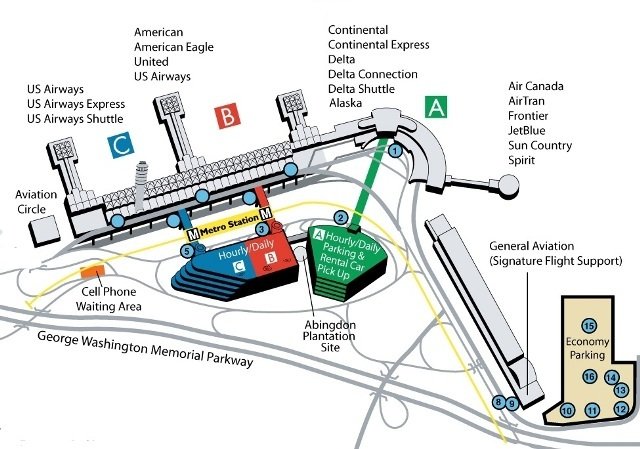 Airport Parking Garages
The Ronald Reagan Washington National Airport has 9,400 parking spaces at hourly, daily and economy rates. All parking facilities can be accessed from the G.W. Memorial Parkway as well as the passenger terminal. Also, the airport provides free shuttle buses which take passengers from all Parking Garages/Lots to Terminals A, B, C and vice-versa. Shuttle buses operate every 8 to 10 minutes.
Hourly and Daily Parking
Daily and hourly parking are available at Garages A, B, and C. Hourly parking is ideal for those parking for less than 2 hours.
Accross from Terminal A and connected by an underground pedestrian tunnel with moving sidewaks connects is the multi-level Parking Garage A for hourly or daily parking and rental car pickup (see Green area of the map).
Across from Terminals B, C and connected by two elevated pedestrian bridges is the multi-level Parking Garage B, C for hourly or daily parking (see Red/Blue areas of the map).
Economy Parking
If you are flying out of the airport for an extended trip and need long-term parking, then economy parking is the best option for you. The Economy Parking Lot is located at the southwest corner of the airport near the General Aviation building.
Cell Phone Waiting Area
If you are picking up a passenger, use the cell phone waiting area located near the end of the "Return to Airport" ramp just beyond Terminal B/C. You are not allowed to leave your car while inside the waiting area. So stay in your car until your party has collected bags and calls you to be picked up at the curb. Parking here is FREE and can be used for up to one hour.
Disabled Parking
Parking for passengers with disabilities is available on each garage level close to elevators and Terminal A, B, and C. A courtesy transfer van can be booked at (703) 417-7275. There are no concession parking rates. Also, disabled users pay the full price.
Airport Parking Fees
Parking fees are paid when exiting the parking garage or lot. Payments can be made using cash, American Express, Carte Blanche, Diners, Discover, MasterCard, Visa, and personal checks.
| | | | |
| --- | --- | --- | --- |
| | First Hour | Hourly Rate | Daily Rate |
| Hourly Parking Garages | $4 | $4 | $36 |
| Daily Parking Garages | $5 | $5 | $20 |
| Economy Parking Lot | $3 | $3 | $12 |