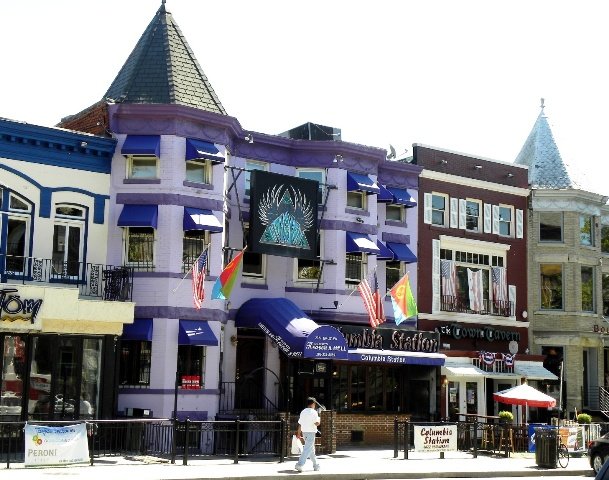 Adams Morgan is a vibrant, diverse and artsy neighborhood in Washington DC. It is home to a row of colorful storefronts, friendly sidewalk cafes, restaurants with diverse cuisine, intimate coffee shops, and some of the trendiest bars in the city.
During the day, people come to Adams Morgan to take advantage of the best ethnic cuisine in Washington DC, or simply to spend the day at coffee houses, such as Tryst. However, Adams Morgan totally changes from day to night, specially during the weekends when hundreds of people fill the streets along Columbia Road and 18th Street to check the popular bars and nightclubs. Adams Morgan is without a doubt, a perfect place for young professionals and college students who enjoy nightlife.
Demographics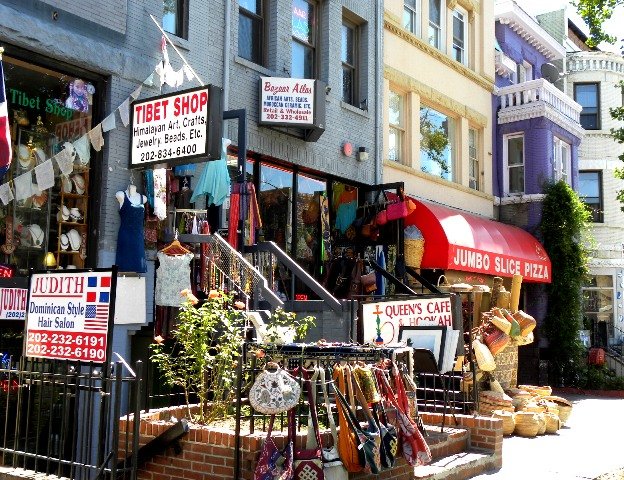 Adams Morgan's diversity is evident in the menus of its restaurants which range from Asian, Ethiopian, Greek, and Latin American cuisine. The neighborhood is a gateway community for immigrants and it's one of the few places in Washington DC without a majority ethnic or racial group. A mix of new immigrants, young urban professionals and intellectuals live in this area.
Adams Morgan's reputation for tolerance and harmony was forged during the 1950's after the U.S. Supreme Court ruled that school segregation was unconstitutional. The all-black Thomas P. Morgan Elementary School and the all-white John Quincy Adams Elementary School peacefully integrated and set an example for the rest of the nation. As a symbol of peace and hope, the neighborhood was renamed Adams Morgan. Today, Adams Morgan is what a lot of neighborhoods should be... a little something of everything which makes this eclectic part of Washington DC very different, very alive, and very refreshing.
Housing
Average rent for a studio apartment: $1600 and up.
Average rent for a 1-bedroom apartment: $2000 and up.
Adams Morgan has a large number of mid-rise condominiums and apartment buildings. The most popular places to live are located at Belmont, Kalorama, Wyoming, and California Streets between 18th and 19th Street. Due to the popularity of the neighborhood, living in Adams Morgan is not cheap.
When looking for apartments, avoid renting the apartments on 18th Street NW because this area will have sirens blaring at all hours, and the usual drunks singing, screaming and arguing at 3 am. It would be a better choice if you found an apartment on Columbia Rd NW going towards Dupont Circle. This area will offer a quieter atmosphere while still being within a walking distance of 18th Street NW. When searching for housing, Craigslist.com is your best bet for finding an apartment. Also, try the housing section of the Washington City Paper and the Washington Post.
Transportation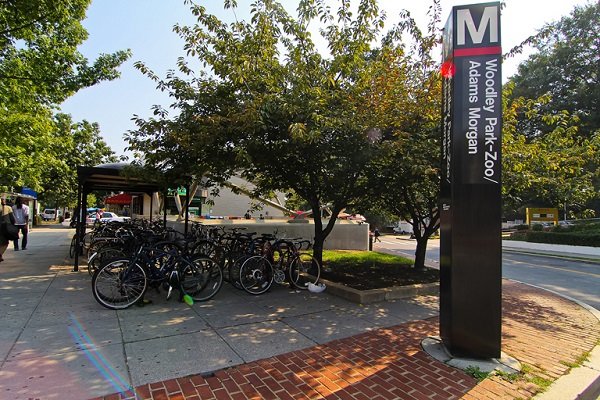 Metro: Although the Woodley Park-Zoo/Adams Morgan Station has the name of the neighborhood, it is a 15-minute walk over the Duke Ellington Bridge to get to the heart of the Adams Morgan. To avoid walking from the metro station, transfer to the DC Circulator. Adams Morgan is also accessible via the Columbia Heights Station (Green and Yellow Lines) and the Dupont Circle Station (Red Line). It is a 15-minute walk from the center of Adams Morgan to the Columbia Heights Station, and about a 18-minute walk to the Dupont Circle Station.
DC Circulator: The circulator's green line connects the heart of Adams Morgan with both the Woodley Park-Zoo/Adams Morgan Station and the Columbia Heights Station. The DC Circulator arrives every 10 minutes at each bus stop.
Parking
During the day, find parking in Adams Morgan is not difficult because there are many parking spaces along 18th Street NW. However, parking can be a nightmare on Thursday-Saturday evenings due to the amount of young people that come into the neighborhood to enjoy the nightlife. Most condominiums and apartment buildings do not provide parking for residents, leaving very limited street options. So if you are moving to Adams Morgan and have a car, find real estate with a parking space available.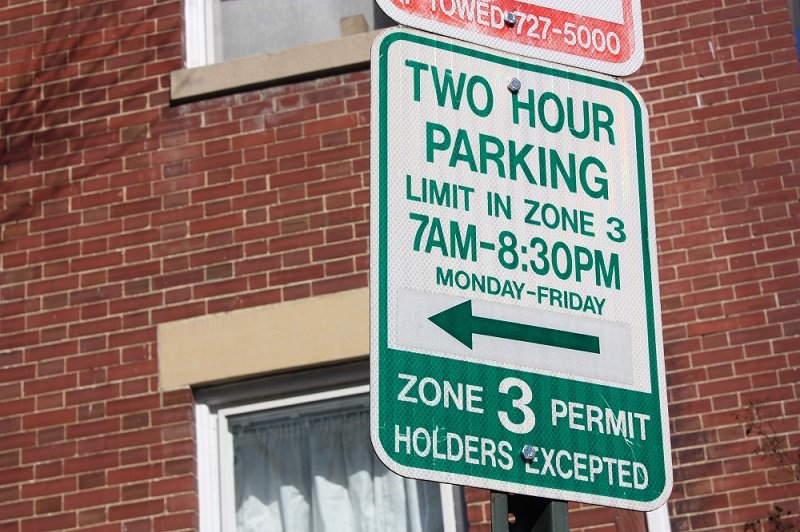 Residential Parking: you must have a Residential Parking Permit (RPP) to park for an unlimited time in the parking zone of your vehicle's registered address. The RPP is a zone sticker that you display on your car indicating that you do not have to abide by the zone time limit restrictions, which is usually 2 hours. The Department of Motor Vehicles (DMV) issues RPPs as part of the vehicle registration process.
On-street Parking: Multispace parking meters are available for street parking. There will be a street sign noting a time limit for parking. If you don't have a zone sticker for that parking zone, don't park there beyond the time limit indicated on the sign. You must leave the zone. Moving your car to another parking spot is not enough to avoid a ticket.
Nightlife & Restaurants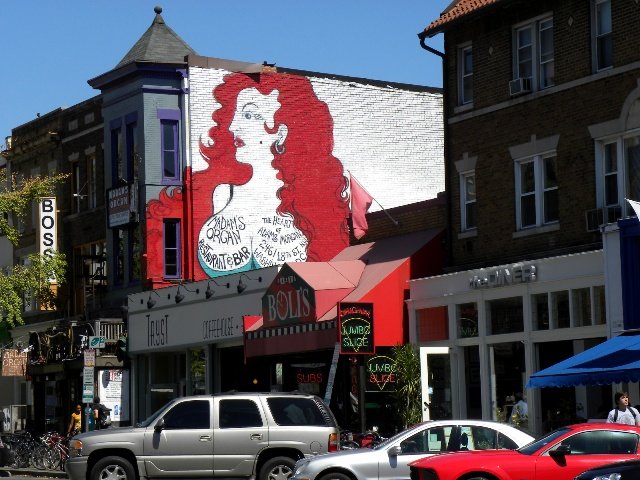 Without a doubt, it is the nightlife that attracts most people to Adams Morgan. One of the highlights is Madam's Organ which Playboy named one of the country's best bars. This bar provides nightly specials that range from blues, bluegrass, jazz and even a wandering magician.
In Adams Morgan, you will also find Caribbean and African nightclubs, such as Felix Lounge with its great martinis, the giant dance club Heaven and Hell with its legendary '80s night on Thursdays, "neighborhood bars" like Toledo Lounge, Millie and Al's, and the best salsa dancing and Mojitos are found at Havana Village.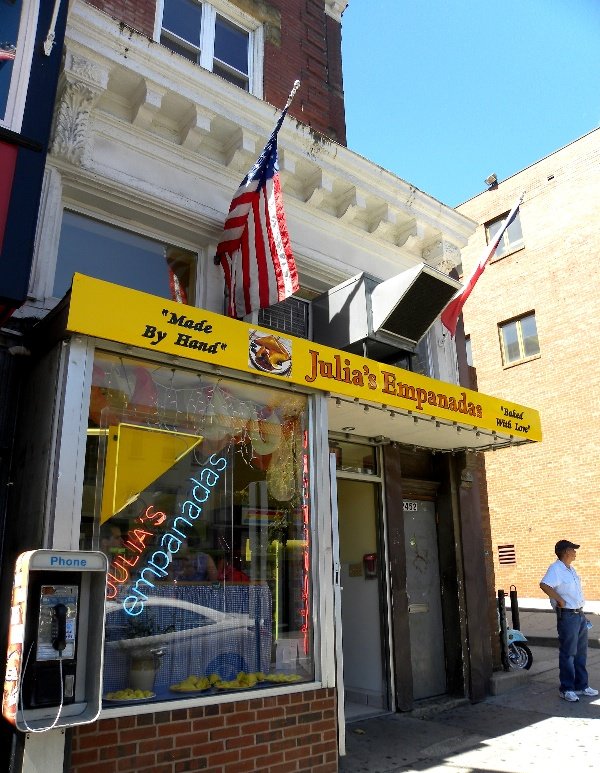 After a night of partying, people sober up by eating at popular late night restaurants such as Jumbo Slice Pizza which sells gigantic slices of pizza, or Amsterdam Falafel which satisfies the appetite of partiers with delicious crispy fries and a falafel. Julia's Empanada also provides an awesome late night snack; the Chilean empanada is one of the best sellers. The quality of the empanada is pretty good. The dough has a great texture, not overcooked, and a perfect canvas for the fillings.
Parks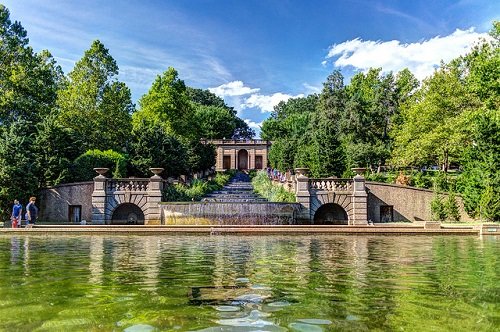 Meridian Hill Park, also known as Malcolm X Park, is an oasis of peace and tranquility during the day, but it has a reputation of becoming the refugee of clandestine people at night. Just be careful, and you will be fine. The upper area is great for playing bocce, running, doing yoga, etc. The lower area is gorgeous, very European-inspired, and a great place to have a picnic beneath the trees.
Kalorama Park is a beautiful three-acre playground that the neighborhood works hard to maintain. Every day there are dog walkers, children playing in the playground areas, moms with strollers, older people relaxing with the newspaper, cyclists taking a break in the grass, etc. The park is safe and charming.
Walter Pierce Park is a multi-use park in the heart of Adams Morgan. The park features a large multi-purpose playing field, basketball court, community garden, children's play area, chess tables, a picnic area, and DC's first fenced-in dog exercise area. Local artists have contributed two murals to enhance the basketball court and playing field.
Crime Rate
The crime problem in Adams Morgan is not bad compared to other portions of Washington DC. A large number of these crimes are car break-ins, drug dealing, and robbery. However, these problems are not unusual for a city. If you stick to Columbia Rd and 18th St (the two main roads where most of the bars and restaurants are), you will be in a populated, police patrolled area. Virtually none of the aforementioned crimes take place on those two streets. However, avoid the corner of Champlain St NW and Kalorama Rd NW at night. This is a hidden area behind all the bars on 18th St NW. Violence, drugs consumption and other crimes have been happening in this area for years.
Pros of Adams Morgan

Young eclectic neighborhood.
Popular nightlife with great bars and nightclubs.
Best ethnic cuisine can be found here.
Lots of apartments and condominiums available.

Cons of Adams Morgan

Expensive real estate.
Parking is difficult during the weekends.
A 15-minute walk to the closest metro station.
Noisy nights during the weekend.