Dupont Circle


View Metro Map
1525 20th Street NW, Washington, DC 20036
Metro Line: Red Line.
Metro Parking: None.
Metro Schedule: Opens at 5:17 a.m. (Monday-Friday)
Elevator (handicapped access): The street elevator is located near the station's Q Street Exit.
Metro Entrance: The station has 2 exits. Make sure you know what direction you are heading before you leave the station. It makes a big difference in walking around Dupont Circle if you pick the right exit from the start.

Connecticut Avenue and 19th Street NW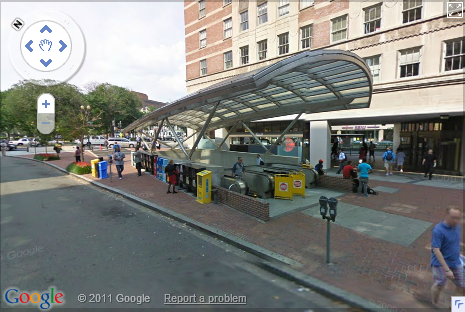 Connecticut Avenue and Q Street NW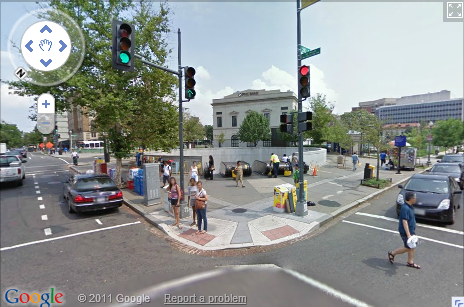 First and Last Trains
First Trains: Trains leave exactly 2 hours later on Saturdays and Sundays.

Red line train from Shady Grove - 5:27 AM


Red line train from Glenmont - 5:31 AM
Last Trains: Trains leave exactly 3 hours later on Friday and Saturday nights.

Red line train from Shady Grove - 12:10 AM


Red line train from Glenmont - 12:00 AM
Metro Platform
The Dupont Circle Metro Station has 2 platforms, one for each direction. Each train goes in two directions named for the last stop on the line.

Red Line: Glenmont --- Shady Grove
The Red Line goes in two directions: Glenmont and Shady Grove.
Use the Metro's Trip Planner to find out exactly how to get where you want to go using Metrobus, Metro and local bus systems. The Trip Planner asks you where you're starting and when and where you want to go. Then it finds the best way for you to get there using the Metro system and local bus systems.
Bus Connections
The Dupont Circle Metro Station connects passengers to other bus systems in the Washington DC region. From this station, passengers can transfer to WMATA Metrobus and DC Circulator. The map below shows you where to board your bus from the station. Consult the map and bus stop information for routing and schedule information about each route serving the station.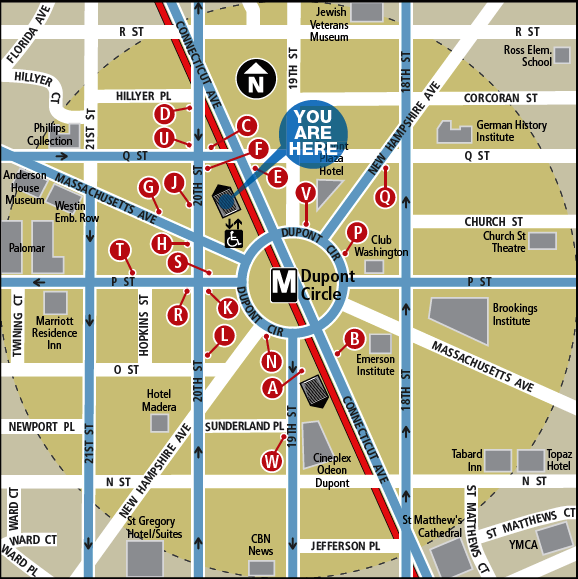 Dupont Circle Metro Station's Escalators
The Dupont Circle Metro Station provides an excellent example of what Washingtonians call the "vertical commute" -- a steep and lengthy escalator to the street above. There are three escalators at the Dupont Circle South entrance, which are impressive in length. However, the escalators at the Dupont Circle North entrance are even greater in length. In fact, the Dupont Circle North entrance is the sixth longest continuous escalator at 188'10" within the Washington region. However, avoid using the north entrance when it rains because half of the escalator is exposed to the sky and you will get wet without an umbrella.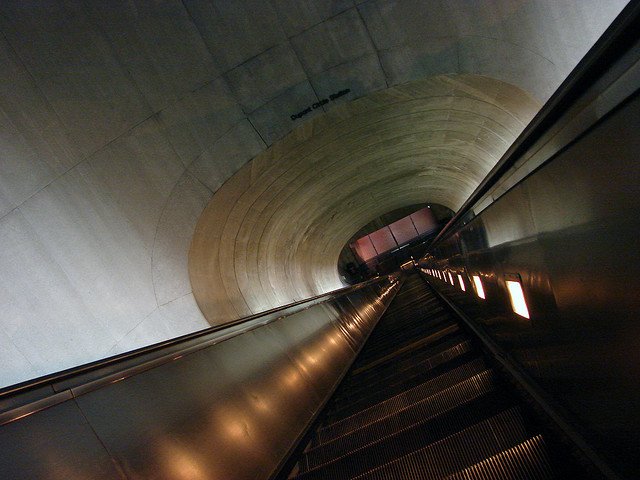 Photo by
Bike Parking
Dupont Circle Station has 16 bike racks and 12 bike lockers. The lockers allow you to secure your bicycle and equipment in a weatherproof shed. This can save you time coming and going in the winter, as that you won't have to worry about someone pilfering your lights. Bike sharing is also available near or at this station.
Each bicycle locker is designed to hold one bicycle and bicycle gear. When you rent a locker, you are given a key to open your assigned locker. The space inside is about 1.2m (4 feet) high x 1.9m (6 feet, 5 inches) deep x 0.9m (3 feet) wide at the door and narrows toward the back of the locker. Most standard bicycles will fit inside. However, longer bicycles such as tandem bikes or some recumbent bikes will not fit into the lockers.
To rent a locker, send an email to [email protected] providing your name, address, contact phone number, email address, and station of interest. All locker rentals are subject to availability.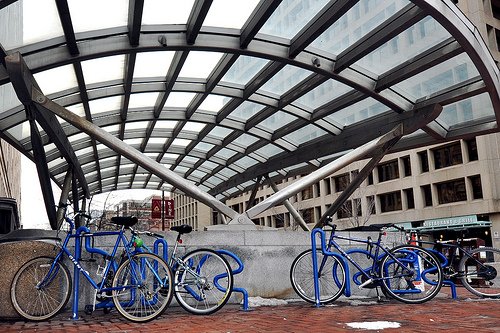 Photo by M.V. Jantzen
Related Information



Metro
The metropolitan subway system of Washington DC.




Metrobus
Bus complementing the service provided by Metro.




Metro Pocket Guide
Essential information for Metro riders.




DC Circulator
Bus connecting areas that are not accessible by Metro.




SmarTrip Card
SmarTrip can be used in Metro, Metrobus, and DC Circulator.