Closest Metro Stop:
Dupont Circle


View Metro Map

Phone: (202) 939-6570

Website:

Email: info[at]consuladodenicaragua.com

Hours: Monday - Friday, 9:30 AM - 5:30 PM

Address: 1627 New Hampshire Ave NW, Washington, DC 20009.
Dupont Circle Metro Station on the red line of the Metro system is the closest station to the Embassy of Nicaragua. The station has two exits; make sure to leave the station through the Q Street Exit. For suggested routes, please see the map below.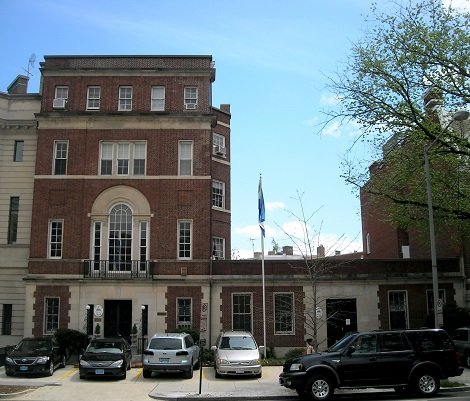 From Dupont Circle Metro Station
Approximately 0.2 mile, 5 min walk


Leave the station through the Q Street Exit.


Head east on Q St NW toward Connecticut Ave NW


Turn left onto New Hampshire Ave NW.


Destination will be on the right.
Quick Facts
Passport Validity
Length of stay

Blank Passport Pages
One page required for entry stamp

Tourist Visa Required
For U.S. Citizens: Not required for stays less than 90 days. Tourist card at airport

Vaccinations
None

Currency Restrictions for Entry
Must declare $10,000 USD or more in cash

Currency Restrictions for Exit
None
Central America Border Control Agreement
Nicaragua is part of the Central America Border Control Agreement (CA-4). Under the terms of this agreement, citizens of the four countries may travel freely across the CA-4 countries (Honduras, Nicaragua, El Salvador, Guatemala) for a period of up to 90 days, without completing entry and exit formalities at border immigration checkpoints. This period begins at the first point of entry in to any of the CA-4 countries.
U.S. Citizens and other eligible foreign nationals, who legally enter any of the four countries, may similarly travel across the CA-4 countries without obtaining additional visas or tourist entry permits for the other three countries. Immigration officials at the first port of entry determine the length of stay, up to a maximum period of 90 days.
Foreign tourists who wish to remain in the CA-4 region beyond the period initially granted for their visit (e.g., longer than 90 days) must request a one-time extension of stay from local immigration authorities in the country where the traveler is physically present, or they must leave the CA-4 countries and reapply for admission to the region.
Foreigners "expelled" from any of the four countries are excluded from the entire CA-4 region. In isolated cases, the lack of clarity in the implementing details of the CA-4 Border Control Agreement has caused temporary inconvenience to some travelers and has resulted in others being fined more than $100 or detained for 72 hours or longer.
Leaving Nicaragua: Entry/Exit Stamp
You must present your entry/exit stamp or authorizion for an extension-of-stay to the Nicaraguan Immigration prior to departing Nicaragua. If you cannot present either of these documents, you may need to go to a Nicaraguan immigration office to seek a replacement.
If you cannot present your entry/exit stamp because it was stolen or lost along with your U.S. Passport, then the U.S. Embassy can provide you with a letter for Nicaraguan Immigration. This letter will explain the circumstances surrounding the issuance of the new passport and request the issuance of a replacement entry/stamp stamp. You will need to present this letter, your new passport, and request form (available in their offices). Unless you have overstayed the time allotted to you upon entry into Nicaragua, you will not have to pay a fee. Citizens of other countries will need to check with their embassies on their procedures.