Closest Metro Stop:
Dupont Circle


View Metro Map

Phone: (202) 293-7146

Embassy: embamoc[at]aol.com

Consular: mozambvisa[at]aol.com

Website:

Address: 1525 New Hampshire Ave NW, Washington, DC 20036
Dupont Circle Station on the red line of the Metro system is the closest station to the Embassy of Mozambique. The station has two exits; make sure to leave through the Q Street Exit. For suggested routes, please see the map below.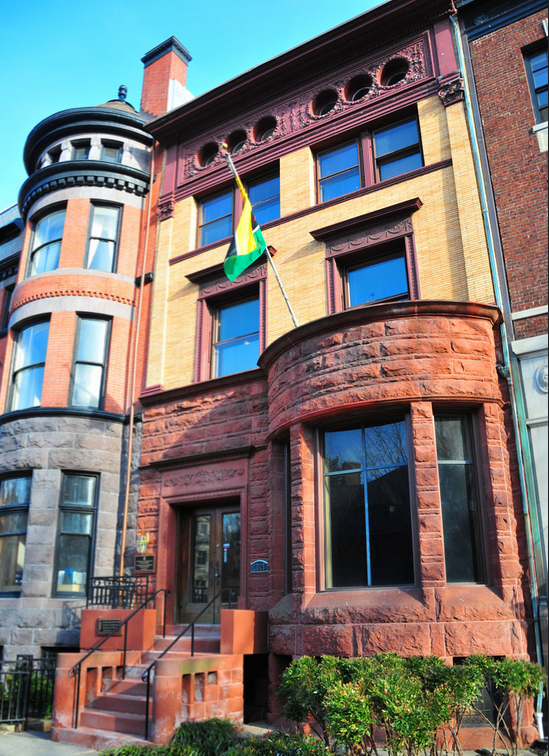 From Dupont Circle Station
Approximately 0.2 mile, 3 min walk


Leave the station through the Q Street Exit.


Head east on Q St NW toward Connecticut Ave NW


Turn right onto Connecticut Ave NW.


At the traffic circle, take the 2nd exit onto New Hampshire Ave NW.


Destination will be on the right.
Quick Facts
Passport Validity
Six months from entry into Mozambique

Blank Passport Pages
Three pages for visa and entry/exit stamps

Tourist Visa Required
For U.S. Citizens: A visa is required

Vaccinations
Yellow Fever if endemic country recently visited (although sometimes applied more broadly to travelers from other places)

Currency Restrictions for Entry
$5000 and 10,000 Mozambican Meticais

Currency Restrictions for Exit
$5000 and 10,000 Mozambican Meticais
Visa-Exempt Countries
Visa exemption arrangements are in place for passport holders of Botswana, Malawi, Mauritius, South Africa, Swaziland, Zambia, and Zimbabwe (unless traveling to study, work or reside in Mozambique).
Also, citizens of Angola, Brasil, Cabo Verde, Guinea-Bissau, Portugal, Sao Tome and Principe, and holders of an official or diplomatic passport do not require a visa to travel to Mozambique.
Visas on Arrival are Limited
Visas on arrival are still available at points of entry, such as airports, for people travelling to Mozambique for tourism, or for foreign nationals who have travelled from a country where there is no Mozambique consular representation. However, this is not guaranteed and travelers have been denied entry for not having obtained a visa in advance.
General Visa Requirements
All applications for entry visas to Mozambique must comply with the requirements for obtaining entry visas. In addition, applicants must meet specific requirements according to the type of visa. Visas can be simple (with one entry) or multiple (with multiple entries) and with a minimum validity of 1-month and a maximum of 3-months.
Mozambique visa applications are accepted only within 60 days of the proposed entry date to Mozambique. The processing time for visa applications is 10 working days. If the applicant has been in a Yellow Fever endemic country, the applicant should bring a Yellow Fever Certificate. All applicants must submit the following documents:
1) Visa Application Form
Complete the Visa Application Form. Make sure to include the name and address of your place of stay in Mozambique.
2) Passport
Original passport valid for at least 6 months from the date of entry into Mozambique and with at least 1 blank page for a visa.
3) Photographs
Two recent professional passport-size photographs.
4) Proof of Legal Residence in the USA
U.S. Permanent Residents must submit a copy of their permanent residence status (Green Card).
6) Self-Addressed Envelope
If applying by mail, provide a self-addressed envelope or a pre-paid air bill with a tracking number (preferably FedEx). The embassy will use this envelope to return your passport.
5) Payment of Visa Fee
Visa fee payments must be only by money order in US dollars, and payable to the Embassy of Mozambique. After a payment you are entitled to a pick-up slip.
6) Children (under 18 years old)
Provide a parental travel consent letter with the visa application form.
7) Invitations
Invitations by organizations in Mozambique must include a copy of their legal status issued by the Mozambican authorities.
Invitations by non-citizens living in Mozambique must include a copy of "DIRE" as proof of residence.
Groups of visitors invited by organizations are required to attach one invitation per visa application form.
8) Additional Visa Requirements
The following documents are also required based on the type of visa that you will be applying for:
Tourist Visa: A copy of your flight itinerary and hotel reservation. If you are staying in various hotels, provide copies of each hotel reservation.
Visit Visa: A letter of the inviting party in Mozambique is required.
Business Visa: When the purpose of entry is business related, provide a letter from the applicant's employer or from the inviting company in Mozambique is required. The letter should clearly state the purpose of travel to Mozambique. It must also indicate who will be financially responsible for the applicant and must provide detailed contact information in Mozambique.
Residence Visa: A copy of the work contract (in Mozambique) and a copy of a police clearance (from the place of residence of the applicant) are required.
Student Visa: A letter from the applicant?s school is required.
Transit Visa: A visa for the final destination is required, unless this is the applicant?s country of origin or residence.
Diplomatic and Official Visa: For government officials as well as World Bank and International Monetary Fund staff, when on official business. Visas can be Single, Double or Multiple.