Closest Metro Stop:
Dupont Circle


View Metro Map

Phone: (202) 452-0660

Website:

Email: firstsec[at]jamaicaembassy.org

Embassy Hours: Monday - Friday, 9:00 a.m. - 5:00 p.m.

Consular Hours: Monnday - Friday, 9:00 a.m. - 1:00 p.m.

Address: 1520 New Hampshire Ave NW. Washington, DC 20036
Dupont Circle Station on the red line of the Metro system is the closest station to the Embassy of Jamaica. The station has two exits; make sure to leave through the Q Street Exit. From the station, it is approximately a 3-minute walk to the embassy. Use the map shown below to find suggested routes.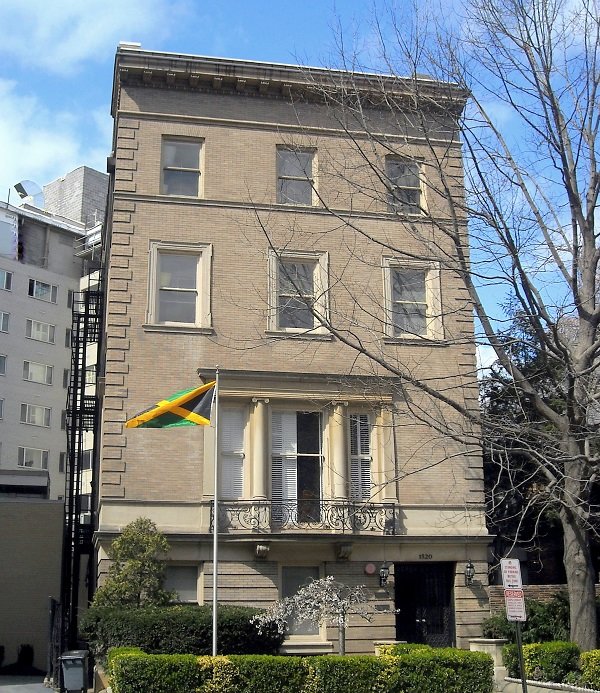 From Dupont Circle Metro Station
Approximately 0.2 mile, 3 min walk


Leave the station through the Q Street Exit.


Head east on Q St NW toward Connecticut Ave NW.


Turn right onto Connecticut Ave NW.


At the traffic circle, take the 2nd exit onto New Hampshire Ave NW.


Destination will be on the left.
Quick Facts
Passport Validity
Must be valid at time of entry

Blank Passport Pages
One page required for a Jamaican entry stamp

Tourist Visa Required
For U.S. Citizens: Not required for stays under 90 days

Vaccinations
None

Currency Restrictions for Entry
$10,000 USD (or equivalent) must be declared

Currency Restrictions for Exit
None
Requirements for Entry Into Jamaica
Passport: Travelers must have a passport or other acceptable travel document. The passport or other travel document must be valid for the period of intended stay in Jamaica. Travelers are also required to show evidence of sufficient funds to support themselves during their stay in Jamaica and must have a return or round-trip ticket to another country.
Entry Visa: In addition to travel documents, nationals of certain countries require an entry visa. This is normally issued, on application, by a Jamaican Consular office.
The decision in respect of admission and length of stay in Jamaica rests with the Immigration Officer at the port of entry in Jamaica. This applies whether or not a visa is a prerequisite for entry.
Cruise Passengers: Cruise Passengers of any nationality who intend to remain in Jamaica during the stay of the vessel by which they arrived and to depart on the same vessel, are not required to hold passports.
Minister of Labor
Travelers who arrive in Jamaica from countries where there are no Jamaican visa-issuing authorities must also present a letter from the Minister of Labor approving the work permit application.
Upon landing and prior to taking up their employment, all prospective employees must take the letter, along with travel documents (including airline ticket), to the Immigration, Citizenship and Passport Office located at 25 Constant Spring Road, Kingston 10, Jamaica, which will endorse the passport for the duration of the work permit and issue a certificate to the Ministry of Labor, on the basis of which the work permit will be released. The work permit is validated at the discretion of the Minister of Labor.