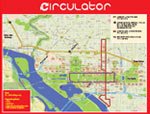 DC Circulator
Fare: $1.00
View DC Circulator Map

Phone: (202) 962-1423

Website:

Bus Schedule: 7 a.m. - 12 a.m. on Sunday-Thursday.
7 a.m. - 2 a.m. on Friday-Saturday.
The DC Circulator arrives every 10 minutes at each bus stop.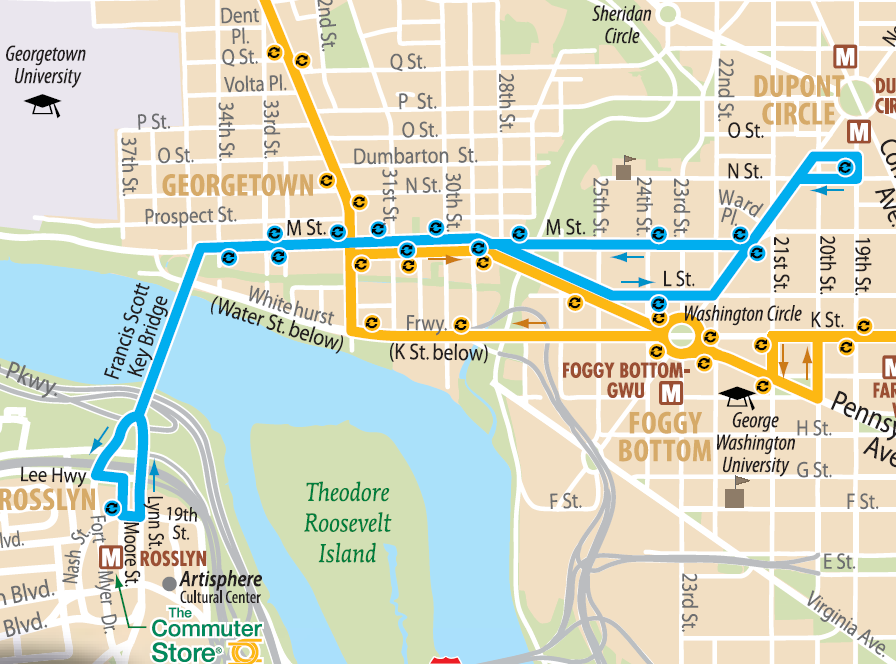 Bus Stops
Originating at Rosslyn in the direction of Dupont Circle
Rosslyn Metro Station (corner of 19th St. N & N Moore St.)
M St. NW/34th St.
M St. NW/Potomac St. NW
M St. NW between Wisconsin Ave & 31st St.
M St. NW/Thomas Jefferson
Pennsylvania Avenue NW/28th St.
L St. NW/24th St.
M St. NW/New Hampshire Ave.
19th St. NW/N St.
Originating at Dupont Circle in the direction of Rosslyn
19th St. NW/N St.
M St. NW/New Hampshire Ave.
M St. NW/24th St
M St. NW/28th St.
M St. NW/30th St.
M St. NW/31st St.
M St. NW/Wisconsin Ave.
M St. NW/33rd St.
Rosslyn (corner of 19th St. N & N. Moore St.)