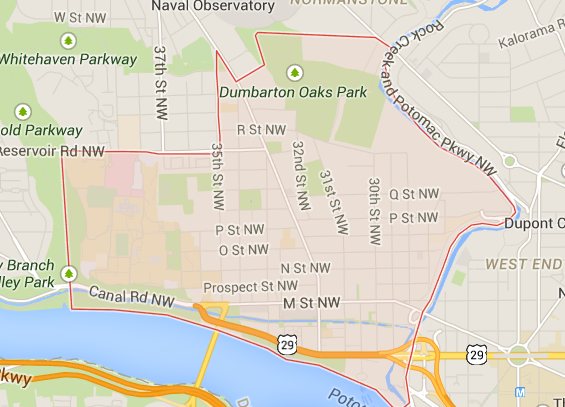 Georgetown is one of the oldest and most upscale neighborhoods in Washington DC. It is home to historic million dollar rowhouses, the prestigious Georgetown University, the C&O Canal, and the famous "Exorcist Steps" which connect M Street to Prospect Street. Georgetown has a lot of character; Its brick sidewalks, hanging pink flowers from lampposts, and historic architecture not only make the neighborhood charming, but attract those who seek something different in Washington DC.
Located next to the Potomac River, south of Woodley Park and west of Dupont Circle, Georgetown is centered at the intersection of M Street NW and Wisconsin Avenue NW, where you will find exclusive antique stores, trendy boutiques, upscale restaurants, nightclubs, and pubs, including Georgetown Cupcake which opened in early 2008.
Demographics
Georgetown is a magnet for highly educated professionals with great salaries that let them afford the condo prices or apartment rents while living a hip and upscale life. There is also a large student population with about two-thirds of the Georgetown University undergraduates living in dorms on the 100-acre campus on the west side of the neighborhood. The population is primarily white, younger, and mostly single.
Georgetown is home to politicians, lobbyists, and social elite. One of its most famous residents was President John F. Kennedy who lived in Georgetown prior to moving into the White House during the 1950s. As one of Washington DC's most renowned upscale neighborhoods, Georgetown is a place for the influential and the prominent, where the Who's Who of Washington DC live.
Housing
Average rent for a studio/efficiency apartment: $1600 and up.
Average rent for a 1-bedroom apartment: $1700 and up.
Georgetown is divided into two areas known as East Village (east of Wisconsin Ave NW) and West Village (west of Wisconsin Ave NW). Both areas are primarily dominated by historic Georgian, Federal or Victorian townhouses. There are also a few condominiums scattered around the neighborhood.
The most popular areas to live are located between 33rd and 34th Street NW in the West Village on the blocks of N, O, and P Street. Due to the exclusivity of the neighborhood, living in Georgetown is very expensive. Townhouses are usually sold for $1 million and up. There are only a handful townhouses priced under $1 million, and those are the smaller ones. Condominiums are not cheap either. For renters, the number of apartments in Georgetown is limited. One-bedroom apartments can be found in high rise buildings or in the basements of rowhouses.
When searching for housing, keep in mind that the area north of M Street NW and west of Wisconsin Ave NW is near Georgetown University. The closer to school, the louder it gets during the weekends. Also, you will have a few drunks heading home from the bars.
Transportation
Georgetown does not have a metro or subway station. The closest metro stations are the Dupont Circle Station and Foggy Bottom Station at George Washington University. Both stations are about a 15 minute walk from the center of Georgetown.
Although service is provided by Metrobus, the best public transportation is provided by the red DC Circulator. Particularly, the Georgetown - Union Station route connects Georgetown to Union Station in downtown Washington DC, while the Dupont - Georgetown - Rosslyn route connects Georgetown to Rosslyn Station across the Potomac River in Northern Virginia, and Dupont Circle Station in downtown Washington DC.
Parking
Finding street parking in Georgetown is difficult, specially on the weekends. Most condominiums and apartment buildings do not provide parking for residents, leaving the very limited street options. Only 20 percent of Georgetown's properties offer some type of reserved parking space for the owner. According to residents, sometimes you need to circle a few blocks for 5 minutes to find a parking space. However, residents are always able to park within 2 blocks of their house.
Residential Parking: you must have a DC registered vehicle and a Residential Parking Permit (RPP) to park for an unlimited time on a block. The RPP is a permit number on your vehicle registration sticker, which reflects the zone you live in and the streets where you can park. To avoid getting a ticket, make sure that the 2-hour residential restriction sign on your block has the same zone number as the one displayed by your Residential Parking Permit.
On-street Parking: Many streets in Georgetown have multispace parking meters. So, instead of a having a meter at each space, there is one meter for several spaces. These green meters have a "P" on the side. The driver can pay with cash or credit card, then print a small receipt to place on the dashboard indicating how long they are allowed to park there.
Nightlife & Restaurants
Wisconsin Ave NW and M Street NW are packed with cafes and restaurants ranging from fast food to white tablecloth. On the weekends, Georgetown is bustling with shoppers and tourists, and then at night the restaurants and bars get going. If you are looking for an upscale urban lounge, a low-key hangout, or a sophisticated jazz club, Georgetown has it.
The Blues Alley provides a true intimate "jazz club" ambience. In the early days of this venue, it was the place to go in Washington DC. Artists like Frank Sinatra and Ella Fitzgerald have played here. Another popular venue is the Degrees Bar & Lounge at the Ritz Carlton. This place is red, lush, sexy, swanky and classy. There is a bar and many small tables to entertain small groups. If you find the bar crowded, take your drink and saunter out by the fireplace and big cozy chairs.
Georgetown is also home to upscale restaurants such as Cafe Milano, where Patrick Ewing and Denzel Washington are frequent visitors. Other popular restaurants include Morton's of Chicago, Martin's Tavern, Fetoosh, Saigon Inn and many other restaurants.
Parks
Oak Hill Cemetery, Montrose Park and Dumbarton Oaks are located along the north and east edge of Georgetown, east of Wisconsin Ave NW. The parks are side by side separating Georgetown from Embassy Row and Dupont Circle.
Another popular park is Georgetown Waterfront Park which covers 10 acres of Georgetown waterfront between the C&O Canal and the Potomac River from the Washington Harbor complex to the Key Bridge. The park has great views and it is a perfect place to spend time with the family. The park has a walkway, where you can often see runners running next to the Potomac River. If you look across the river, depending which direction you are looking at, you can see the U.S. Capital or even Arlington, VA.
Crime Rate
Georgetown has car break-ins, robberies and nuisance crimes like any other urban neighborhoods, but violent crimes are rare. It is one of the safest neighborhoods to live in Washington DC.