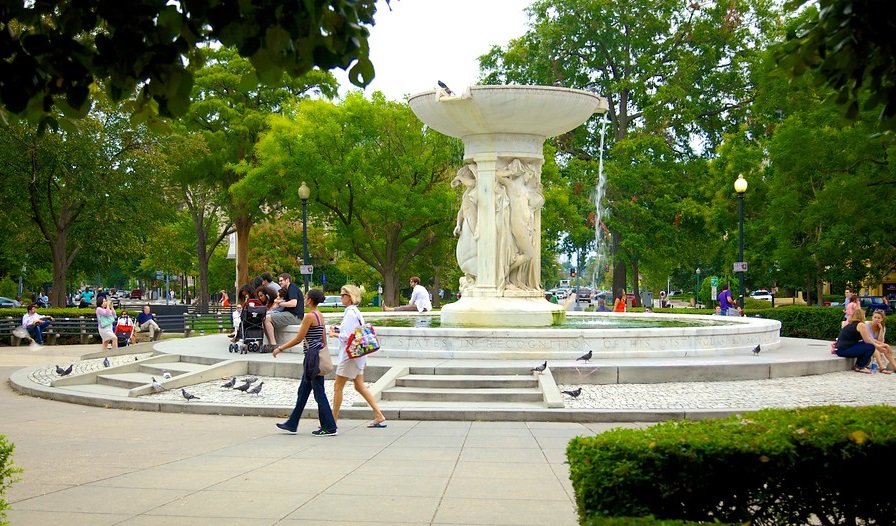 Dupont Cirlce is known for its marble fountain at the confluence of Connecticut, New Hampshire and Massachusetts avenues NW. The fountain was an expression of the City Beautiful movement that had gripped Washington in the wake of the McMillan Plan in 1902. Today, Dupont Circle is one of the most popular neighborhoods in DC. The neighborhood has wonderful hotels in a variety of styles, good restaurants, and it is filled with beautiful houses and embassies.
Demographics
In the past, Dupont Circle was known as a gay neighborhood and a refuge from hate and discrimination based on sexual orientation. But as DC's LGBTQ community have come and gone, it was this process that led to all different types of people arriving to Dupont Circle.
Today, Dupont Circle is very diverse and eclectic. The majority of its residents are young college-educated professionals in their 20's or 30's. You will also find a large number of interns and international employees from the nearby embassies, federal agencies, and the World Bank. Although young families can be found in the neighborhood, most residents tend to be single or young couples without children.
Housing
Average rent for a studio apartment: $2000 and up.
Average rent for a 1-bedroom apartment: $2500 and up.
Dupont Circle is one of DC's most expensive neighborhoods to buy or rent. The neighborhood streets are lined up with apartment buildings and rowhouses that have been converted to condos. More lively streets are home to embassies, prestigious research institutions, and private art galleries.
If you are not looking for a condo, there are still individual rowhouses, but they are usually sold for $1 million and up. Compared to other neighborhoods, such as Chinatown, Dupont Circle has remained almost intact. As a result, most apartment buildings are old, and lack the luxuries that new aparment or condo buildings have.
Transit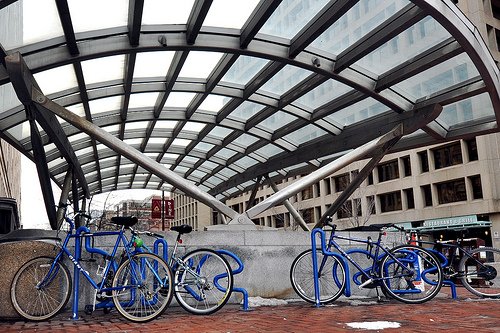 Metro: Traffic is a nightmare during rush hour, so using public transit is recommended. The neighborhood is served by the Dupont Circle Metro Station, making it easy to go around and explore. At 188 ft, the station is home to the 6th longest escalator in the U.S. The Phillips Collection is one of the best small art galleries in the world, and it is about a block from the Metro.
DC Circulator: The red bus connects the heart of Dupont Cirlce with both Georgetown and Rosslyn. The DC Circulator arrives every 10 minutes at each bus stop.
Parking
Dupont Circle can be difficult to navigate and find a convenient parking spot. Parking is at a premium in the city and you are going to pay premium prices if you park at a parking garage. If you are buying or renting and have a car, a reserved parking space is a must.
Residential Parking: you must have a DC registered vehicle and a Residential Parking Permit (RPP) to park for an unlimited time on a block. You can only park once a day on a residential parking area. If you move your car to another block within the same parking zone, you may get a ticket. You can get a residential parking permit (RPP) from the Department of Motor Vehicles. You can also get a temporary permit from the Third District Police Station.
On-street Parking: Many streets in Dupont Cirlce have multispace parking meters. So, instead of a having a meter at each space, there is one meter for several spaces. Since parking is scarse, you may spend 30 minutes or longer looking for a spot on most nights.
Nightlife & Restaurants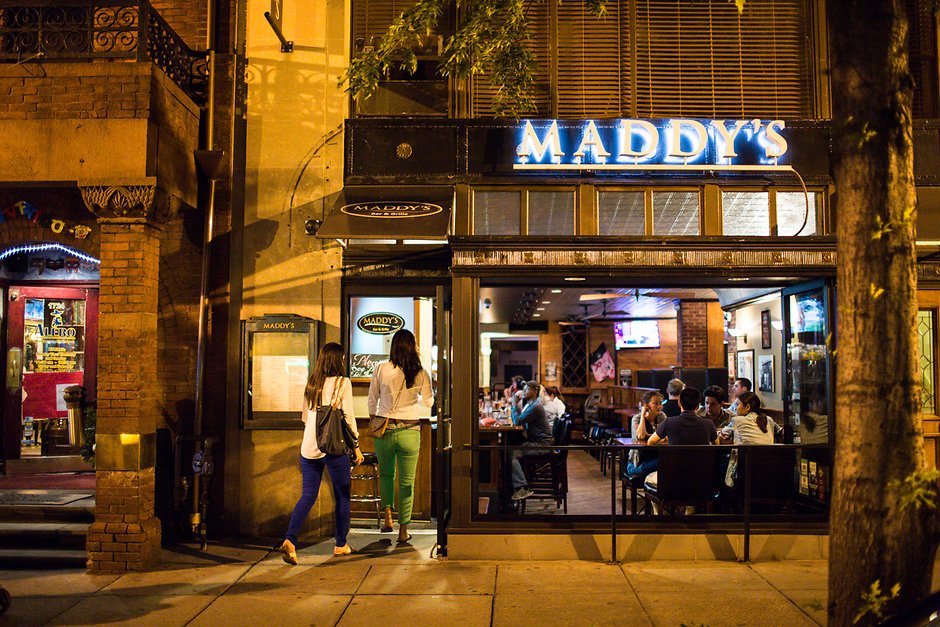 At night, Dupont Circle is vibrant with lots of good restaurants and bars on Connecticut Ave NW. It's a beautiful area to walk around and soak up local life. On weekends, you will see lots of young people enjoying the night life.
Every Sunday between 8:30 a.m. and 1:30 p.m., residents flock to the tents at 20th Street and Massachusetts Ave for the weekly Dupont Circle farmers market. Dogs aren't allowed down the marketís main street, but there is a designated dog park area, where dogs can play while their owners shop.
Parks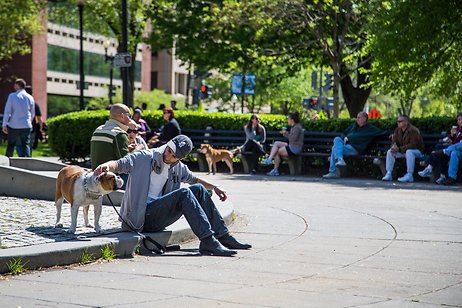 Dupont Circle has a small circular park in the center of the neighborhood that forms a traffic circle. It is a crossroads for many professionals, visitors, bicycle messengers, retired, and unemployed persons. If you enjoy people watching and want to enjoy the diversity of DC, this park may be for you. It has squirrels and birds by day, and rats typically coming out at dusk. The park has a lot of bench space, and is popular for the brown bag lunch. You may even catch a brass band of talented local buskers.
Crime Rate
The circle is nice during the day. However, be careful at night. There are quite a few homeless people living around and in the circle. Generally they just asked for money, but problems may occur if they are intoxicated.
Pros of Dupont Cirlce

Convenient for public transit.
Popular nightlife with great bars and nightclubs.
Lots of neighborhood shops and restaurants
Lots of apartments and condominiums available.

Cons of Dupont Cirlce

Expensive real estate.
Parking is difficult during the weekends.
Not lot of history or local culture.