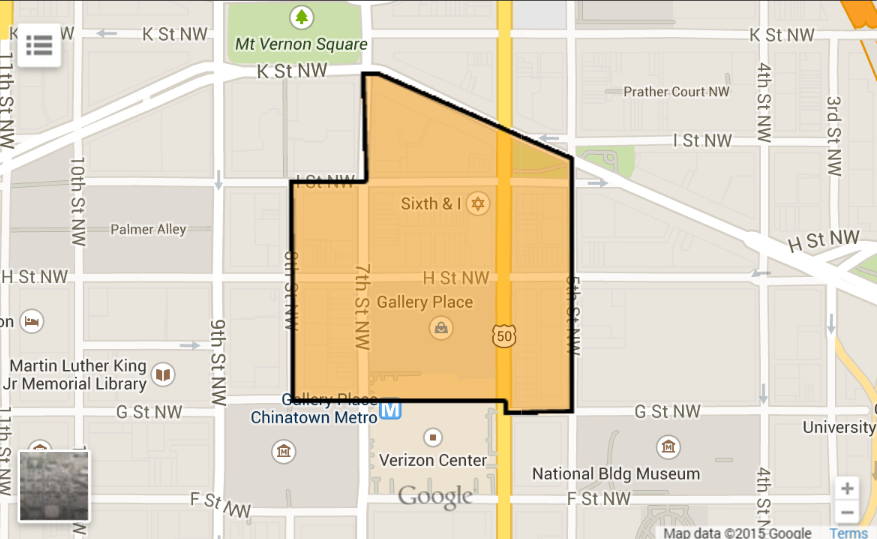 Chinatown is a tiny neighborhood east of downtown Washington DC. It is known for its annual Chinese New Year Parade which features the traditional Chinese Dragon Dance, Kung Fu demonstrations, and live music. Chinatown is also home to Chinese and Asian restaurants.
When you arrive to Chinatown, the first thing that you will notice is the Friendship Arch, a traditional Chinese gate at the intersection of H and 7th Streets. Designed by local architect Alfed H. Liu in 1986, the Friendship Arch celebrates the friendship between the cities of Washington DC and Beijing. At night, the lights and scene have transformed the neighborhood into a mini Times Square. Smaller than New York's Chinatown, DC's version is easily walked in 10 minutes.
The boundaries of Chinatown are Eastside to 5th Street, Southside to G Street, Westside to 8th Street and Northside to Massachusetts Avenue NW. Chinatown overlaps other neighborhoods, including Mount Vernon Triangle and Penn Quarter. Each person's image map of where one ends and the other begins differs, yet all are part of Downtown Washington DC.
In the past, Chinatown was a thriving business community and family-oriented neighborhood. According to the DC Comprehensive Plan in 1984, Chinatown was defined as 9 blocks, but now it is just a few. The neighborhood used to stretch all the way to the Convention Center from 4th to 9th Streets and from F Street to Massachusetts Avenue. Over the years, Chinatown became smaller and smaller. Although it may be hard to find remnants of old Chinatown amidst the new developments, there are community groups in the area that are working hard to preserve its character, culture and traditions.

History of Chinatown >>
Demographics
In 1982, the Wah Luck House was built by the federal government to house elderly Chinese residents displaced by the construction of the Old Convention Center. For a long time, this building has been the soul of Chinatown. The Wah Luck House is still there, but only a handful of Chinese residents still live in Chinatown.
Residential developments at the Verizon Center and Gallery Place have brought new residents to the area, changing the face of what was a predominantly Chinese American neighborhood. Today, Chinatown attracts an unusually mixed crowd, a blend of races and ages, of urban dwellers, all drawn by the restaurants, bars, theaters and shops. Because the cultural makeup of the neighborhood has changed, Chinatown is now defined as the area rather than the people who live there.
Housing
Average rent for a studio/efficiency apartment: $1800 and up.
Average rent for a 1-bedroom apartment: $2100 and up.
As real estate costs have skyrocketed in the recent years, the price for living in Chinatown is expensive. Most of the old apartment buildings were demolished to make way for the new high rise condominiums and apartments on 5th and 6th Streets NW.
Today, the apartment buildings in Chinatown are modern and luxurious. Some of the buildings include Avalon at Gallery Place (770 5th Street NW), Mass Court Apartments (300 Massachusetts Avenue NW), Meridian at Gallery Place (770 5th Street NW), The Cosmopolitan Condos (715 6th Street NW), and the Residencies at Gallery Place (777 7th Street NW). Most of these apartments and condominiums include amenities such as washer, dryer, dishwasher, and a gym.
Transportation
Metro: Chinatown is easily accessible via the Gallery Place-Chinatown Metro Station on the Yellow, Green and Red lines. The station is located beneath the Friendship Arch at the intersection of 7th and H Streets. During weekday rush hour, there are two different Green lines. The Green Line on the Red Line platform goes to Greenbelt while the Green Line on the Yellow Line platform goes to Anacostia and U Street.
Chinatown Bus: If you want to travel to New York, Boston, or Philadelphia, try one of the Chinatown bus lines. They include New Century Travel, Eastern Travel Bus, and Apex Bus. These buses do not use conventional bus terminals, but pick up people near the intersection of 6th and H Street. Compared to the price of Amtrak, the the Chinatown bus ticket is one of the cheapest way to travel in DC.
Parking
Finding street parking in Chinatown is very difficult, especially when there is a sporting event at the Verizon Center. However, there are at least five parking garages in Chinatown, including the parking garage at the Verizon Center.
Residential Parking: You must have a DC registered vehicle and a Residential Parking Permit (RPP) to park an unlimited time in locations with RPP signs . If you don't have a permit, you can park on the street for only 2 or 3 hours during varying time periods. Only residents living within the boundaries of Chinatown are eligible to obtain parking permits.
On-street Parking: There are 2-hour meters that run until 10:30 pm. Some streets now have multispace parking meters. So, instead of a having a meter at each space, there is one meter for several spaces. These green meters have a "P" on the side. The driver can pay with cash or credit card, then print a small receipt to place on the dashboard indicating how long they are allowed to park there.
Nightlife & Restaurants
In recent years, Chinatown has become the epicenter of DC nightlife. Upscale restaurants, popular retail stores, and a deluxe movie theater make Chinatown the place to be on Friday and Saturday nights. Although the neighborhood still has Asian-owned shops and restaurants, Chinatown has become very Americanized and it has lost most of its ethnic identity. Chinatown Express is popular for its window display of a chef kneading and shaping fresh dough into soup dumplings and noodles.
China Boy provides great crepes made of roasted meat between thick sheets of rice. For a sweet happy hour deal, Wok n' Roll serves sushi and beers on Monday-Friday from 5 pm to 8 pm. If you want Thai Food, eat at Kanlaya. Also, Tony Cheng Restaurant has a great dim sum menu, the offerings here are so comprehensive that mostly everyone can find something great to eat.
Crime Rate
Chinatown is safer than some parts of Washington DC, but not as safe as others. The scene changes with the time of day. At 8 pm, the neighborhood is extremely busy with people everywhere. At 1 am, it is almost deserted.
When walking around Chinatown, you may get harassed by the homeless guys at the liquor store on 6th and H Streets. Other times, you may get requests for money from beggars or panhandlers when walking near the homeless shelter (4th and I Streets) or the Burger King (5th and G Streets). Sometimes they are polite, but not so much when they are drunk. The panhandlers in Chinatown can be aggressive. So be careful when dealing with them.
Another problem that the neighborhood faces is the groups of teenagers hanging outside the Gallery Place-Chinatown Station at night, especially when there are games at the Verizon Center. The problem ranges from loud, obnoxious clowning to vandalism and muggings. With that being said, be cautious when walking at night. Keep your eyes open at all times and you should be fine.
Pros of Chinatown

A lot of restaurants, bars, and shops.
Vibrant nightlife.
Nearby Metro station.
Entertainment at the Verizong Center.
Near the museums and art galleries in Penn Quarter.
Near the National Mall.

Cons of Chinatown

Homeless people and parahandlers.
Limited street parking.
Expensive.
Traffic during rush hour.
There are few of the traditional residential amenities such as grocery stores, dry cleaners, etc.
Expect to hear sirens, or crowds from the Verizon Center.