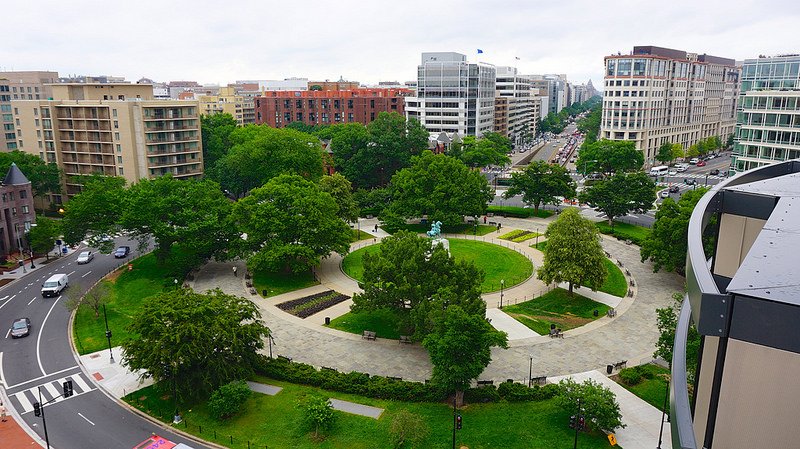 Foggy Bottom is home to the Watergate Complex, the George Washington University (GWU), the Kennedy Center, and the Department of State. Green space can be found along the Potomac and at Rock Creek Park. George Washington University Hospital is located nearby and is one of the best hospitals in the area.
Foggy Bottom gets its name from the morning mist that comes off of the Potomac River. The neighborhood stretches up to include the West End. From here, you can walk down 23rd Street to the Lincoln Memorial, walk west to M Street and Georgetown, or walk north to Dupont Circle very easily.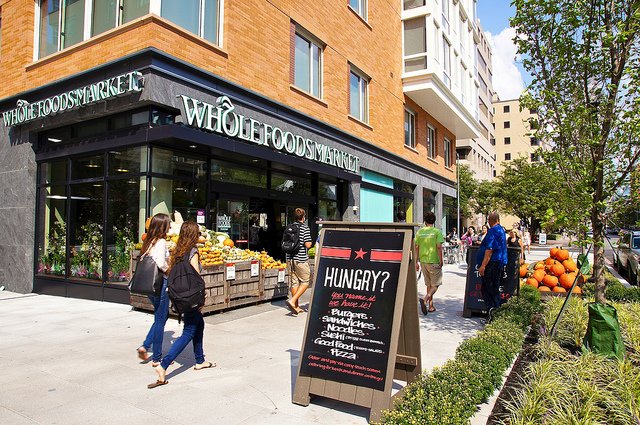 Foggy Bottom overflows with students, who are found sitting on benches and studying in GWU's quad or local cafes such as Au Bon Pain. A Whole Foods on GWU's campus is always packed with academics and personnel from the International Monetary Fund and The World Bank. It is certainly a logistically convenient location despite the hoards of undergrad students that convene regularly (Photo by Octavio).
Demographics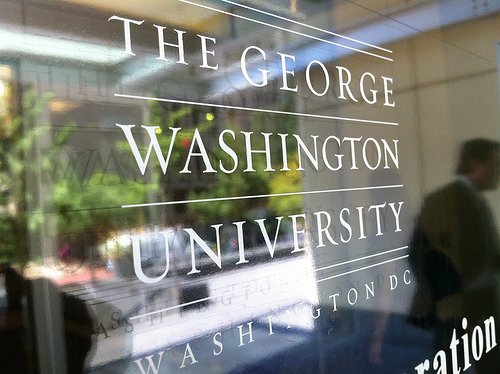 Foggy Bottom is dominated by two groups: residents and college students attending George Washington University. The students provide a vibrant enthusiasm for the city and all of the opportunities it has to offer. Not to mention the amenities of multi-use office buildings that also host stores and dining venues like Whole Foods or Circa Foggy Bottom.
Most residents tend to be single or young couples without children. Most families with children leave as there are no elementary schools within the neighborhood.
Housing
Average rent for a studio apartment: $2000 and up.
Average rent for a 1-bedroom apartment: $2500 and up.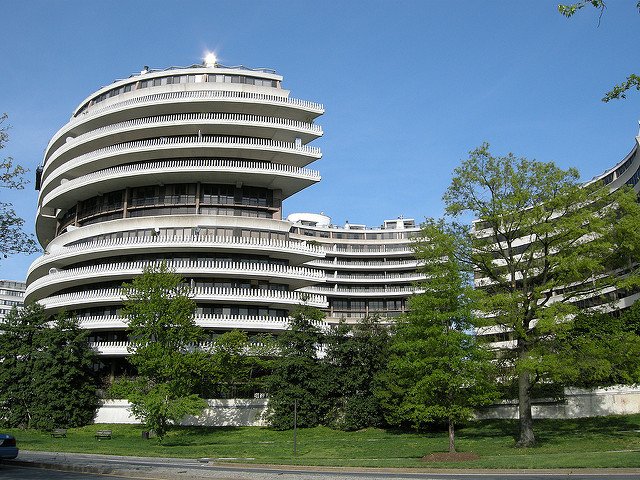 Foggy Bottom is a hard place to live for non-students since a majority of the housing options are rented out to students. The neighborhood has mostly high-rise condominiums and co-op buildings with very few single family homes.
If you want a piece of history, you could live at the Watergate. The Watergate is a residential co-op property which became famous (or infamous) during the political scandal that caused Nixon its presidency. Rose Mary Woods, personal secretary to President Nixon, and Juanita Roberts, LBJís personal secretary, both lived there. At the height of the Clinton impeachment fight, retired Senator Bob Dole lived next door to Monica Lewinsky.
Transit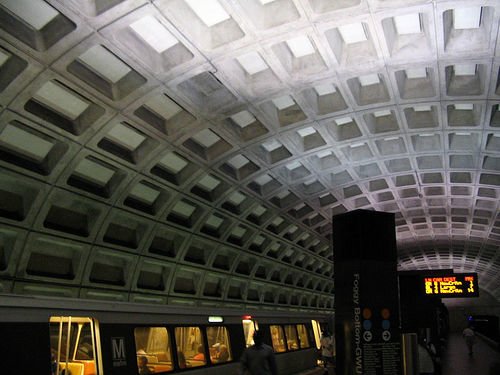 The neighborhood is serviced by the Foggy Bottom-GWU Metro Station which provides access to the Orange, Blue and Silver lines. Residents can also jump on a number of buses, including the DC Circulator, which has stops just north of Washington Circle Park and offers easy access to Georgetown and Dupont Circle.
Parking
Traffic and parking can be difficult. Parking is at a premium in the city and you are going to pay premium prices for private parking at a garage. If you are buying or renting and have a car, a reserved parking space is a must.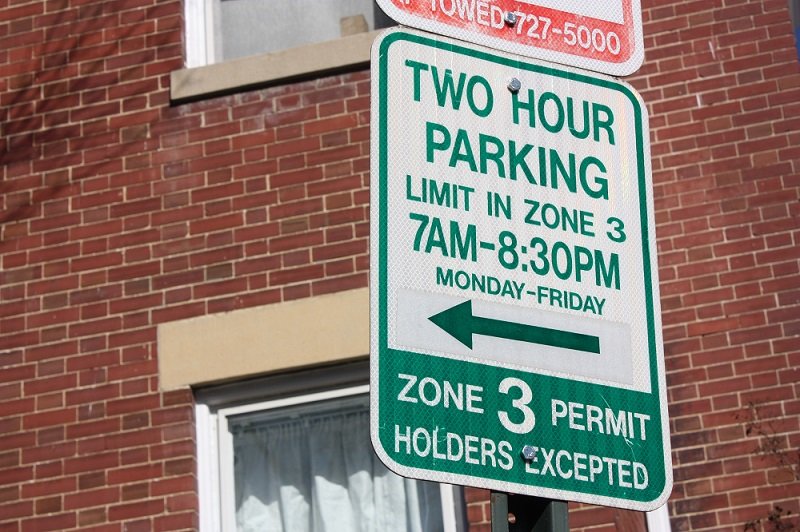 Residential Parking: you must have a Residential Parking Permit (RPP) to park for an unlimited time in the parking zone of your vehicle's registered address. The RPP is a zone sticker that you display on your car indicating that you do not have to abide by the zone time limit restrictions, which is usually 2 hours. The Department of Motor Vehicles (DMV) issues RPPs as part of the vehicle registration process.
On-street Parking: Multispace parking meters are available for street parking. There will be a street sign noting a time limit for parking. If you don't have a zone sticker for that parking zone, don't park there beyond the time limit indicated on the sign. You must leave the zone. Moving your car to another parking spot is not enough to avoid a ticket.
Nightlife & Restaurants
The Kennedy Center provides daily entertainment in the form of concerts, dance shows and other entertainment on the Millennium Stage in the Grand Foyer.
Bars and restaurants are present but they are limited compared to the rest of Washington DC. Some favorite restaurants include Kinkeadís, Founding Fathers, Rivers at the Watergate and Primi Piatti which offer choices from seafood to American, to Cajun to Italian. The area is full of fast food venues and offers spots such as Cosi and Caribou Coffee. And, of course, many Starbucks are found here. (Photo by Scott Ableman).
Parks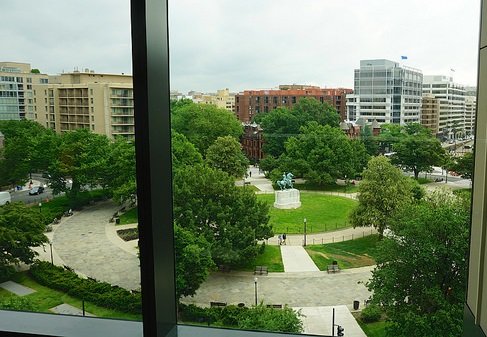 Washington Circle Park is a small park across from the GWU hospital; it is anchored by I Street and New Hampshire Ave. The statue of George Washington is at the center of the circle. Like most parks in DC, the park is also a traffic circle.
Foggy Bottom is also home to the southernmost end of Rock Creek Park, with plenty of trails for walking and biking (during daylight hours)
Crime Rate
Crime rate is very low. Since the GW police vehicles are seen patrolling late at nights, the streets within the foggy bottom campus area are safe and secure for any one to walk.
Pros of Foggy Bottom

Convenient for public transit.
Great highway access (very fast onto I-66);.
Walking distance to both Georgetown.
Right next to the Kennedy Center.
Very safe neighborhood.

Cons of Foggy Bottom

Expensive real estate.
Parking is scarse.
Undergrad students can get really loud on the weekends.