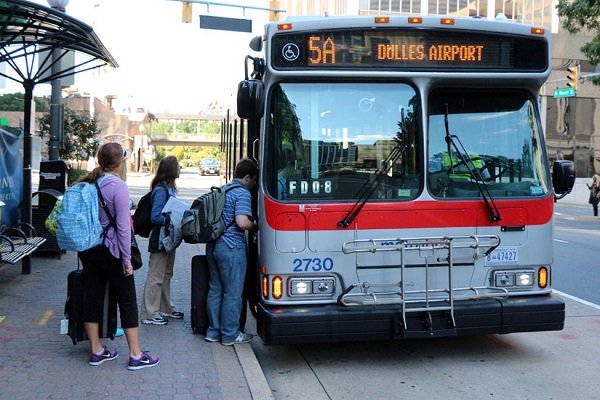 Hours of Operation
Metrobus 5A leaves Washington Dulles International Airport (IAD) every 40 to 60 minutes on weekdays and hourly on weekends. The hours of operation are as follows:
Monday to Friday: 5:50 a.m. - 11:40 p.m.
Saturday to Sunday: 6:32 a.m. - 11:40 p.m.
The bus trip from the airport to L'Enfant Plaza Metro Station takes about 45 minutes. It can take longer during rush hour. For detailed scheduling information, check the Metrobus 5A Timetable.
Metrobus 5A Cost
Metrobus fare: $6.00
Metrobus fare for seniors and people with disabilities: $3.00
You can pay the bus fare using a SmarTrip card or cash. If using cash, exact change is required because bus drivers do not carry cash. For more information, call (202) 637-7000 or go to wmata.com
To Dulles International Airport
To get to Dulles International Airport, take Metrobus 5A from either L'Enfant Plaza Station or Rosslyn Station.
From Rosslyn Metro Station: the bus stop is located outside the metro station at Moore Street. You will see five bus stops labeled A, B, C, D, E. Wait for Metrobus 5A at bus stop "A".
From L'Enfant Plaza Metro Station: Wait for Metrobus 5A at bus stop "J". Bus stop "J" right outside of the metro station.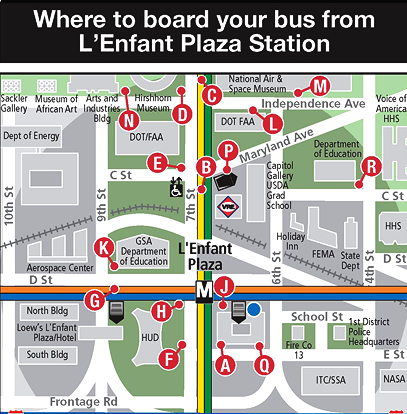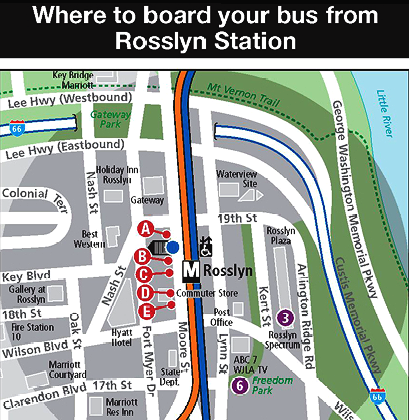 From Dulles International Airport
At the airport, the bus stop is located at the Ground Transportation Curb (taxicab level, down the ramp) at the curb 2E location. Look for the red, white, and blue metrobus sign.
On its way to Washington DC, Metrobus 5A stops at the Rosslyn Metro Station. The next bus stop is at L'Enfant Plaza Metro Station, which is only a block or two from the museums and monuments at the National Mall.
Route: From Dulles International Airport
#

Bus Stop

Location

1

Sterling, VA

2

Herndon-Monroe Park & Ride Lot

Herdon, VA

3

Tysons-Westpark Transit Station

McLean, VA

4

Arlington, VA

5

Washington DC
Route: To Dulles International Airport
#

Bus Stop

Location

1

Washington DC

2

Arlington, VA

3

Tysons-Westpark Transit Station

McLean, VA

4

Herndon-Monroe Park & Ride Lot

Herdon, VA

5

Sterling, VA