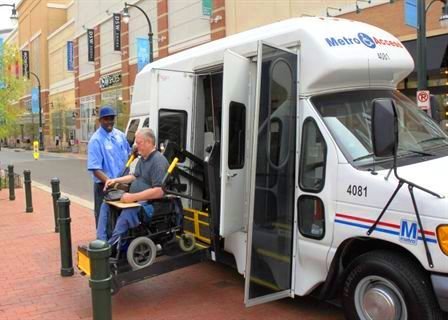 MetroAccess is a shared-ride, door-to-door, paratransit service for people with disability who are unable to use Metrobus, Metro, or other local bus services. Shared ride means that multiple passengers may ride together in the same vehicle.
MetroAccess is operated by the Washington Metropolitan Area Transit Authority (WMATA) for Washington DC and its nearby suburbs in Maryland and Virginia. Rides are offered in the same service areas and during the same hours of operation as Metrorail and Metrobus.
MetroAccess drivers escort customers from the exterior door of the customer's pick-up address into the vehicle, and from the vehicle to the exterior door of the customer's destination address. Most customers receive an automated call when the driver arrives at the pick-up location. The only exceptions is when the service is provided by Metro's taxicab partners. If the customer is not present for boarding at the curb, the driver will proceed to the door.
Eligibility Requirements
To be eligible for MetroAccess service, you must:
Have a disability as defined by the ADA (Americans with Disabilities Act), and be unable, as a result of your disability, to utilize fixed-route transportation such as Metrobus and Metro.
OR
Need to use a ramp or wheelchair lift to board or exit a public transit vehicle, but an accessible public transit vehicle is not being used at the time, date, and on the route you would travel. (All metrobuses are wheelchair accessible).
OR
Be unable to travel to or from a bus stop or metro station due to a disability.
Apply for MetroAccess
To determine if you are eligible to use MetroAccess, you must complete an application and have it certified by a health care professional. Download the MetroAccess Application or request it by calling (202) 962-2700 or TTY (202) 962-2033.
Your disability and need to use MetroAccess must be explained and certified. Also indicate on your application if you need to travel with a personal care assistant.
Once you have completed the application, contact the Transit Accessibility Center at (202) 962-2700 to schedule an interview and assessment. Do not mail your application.
The final step in the application process is your in-person interview and functional assessment. If you use a mobility aid, you must bring it to the assessment along with your completed application.
MetroAccess will provide transportation to the interview free of charge, and will arrange pick up for this appointment. You also have the option of providing your own transportation should you choose. For more information, contact the Office of ADA Programs at (202) 962-1100. For MetroAccess Complains, call (202) 637-0128. For general information, call MetroAccess Customer Information at (301) 562-5360.
MetroAccess: Scheduling a Trip
When scheduling a trip, remember that MetroAccess does not provide same-day service. Be prepare to give the reservation agent the exact addresses of your pick-up and drop-off locations. If your pick-up location is at a building with more than one entrance, tell the agent
If possible, provide the agent with a phone number to reach you in case of a delay or problem with your ride. Tell the reservation agent if you will be riding with a mobility aid, companion or personal care assistant (PCA). Customers may schedule a trip between one and seven days in advance of the desired travel date.
Booking MetroAccess Trips Online
Registered MetroAccess customers may book or cancel trips online at Standard Booking site or Text-only Booking site. Use your MetroAccess customer ID number to login. Your password is your 8-digit date of birth. For example, if your birthday is July 2, 1963, then your password will be 07021963. Choose the site below that will work for you:
Booking MetroAccess Trips by Telephone
MetroAccess Phone: 301-562-5360
MetroAccess TTY: 301-588-7535
Calls are answered in the order in which they are received. MetroAccess reservation agents are available seven days a week during the following operating hours:
5:00 am - Midnight, Monday-Thursday
5:00 am - 3:00 am, Friday
7:00 am - 3:00 am, Saturday
7:00 am - Midnight, Sunday
Trip Confirmation Number: When your reservation has been made, the agent will read your trip itinerary and give you a trip confirmation number. Write down the confirmation number. This is the number you will be asked to provide if there is a problem with your scheduled trip or if you need to modify or cancel your reservation.
MetroAccess ID Cards
All Passengers must carry their MetroAccess Photo ID Cards with them in order to use the MetroAccess service. When boarding a MetroAccess vehicle, passengers are required to show their MetroAccess ID card. The Metro system requires this to protect the rights and security of passengers and prevent misuse of the MetroAccess system.
MetroAccess Photo ID cards are issued for individual use only. This means that MetroAccess ID cards are not transferable to others. Also, you may not give or lend your MetroAccess ID card to anyone. Note: Misuse, modification or counterfeiting of a MetroAccess ID card is against the laws of Washington DC, Maryland, and Virginia.
Lost or Stolen MetroAccess Cards
If you lose your MetroAccess ID card, call (202) 962-2700 to notify the system that your card was lost or stolen. MetroAccess will replace the card for a fee. For the first replacement card, the fee is $10. For the second or next replacement card, the fee is $25. The fee should be paid using a check or money order. To receive a new card, write to the address shown below. Include your name, address, phone number, and MetroAccess ID number. Your replacement ID card should arrive within three (3) weeks.
Metro
Transit Accessibility Center
600 Fifth Street, NW
Washington, DC 20001
Free Metro and Bus Rides
All MetroAccess passengers who show a valid MetroAccess ID may ride public transportation for free. On Metrobus or Metro, you may be accompanied by one person who may ride with you for free. Additional passengers traveling with you are required to pay the standard fare. You do not need to schedule rides in advance when using public transit systems. This gives you the flexibility to come and go as you please. Users may ride for free on the following systems:
Related Information



Metro
The metropolitan subway system of Washington DC.




Metrobus
Bus complementing the service provided by Metro.




Metro Pocket Guide
Essential information for Metro riders.




DC Circulator
Bus connecting areas that are not accessible by Metro.




SmarTrip Card
SmarTrip can be used in Metro, Metrobus, and DC Circulator.