Closest Metro Stop:
Van Ness-UDC


View Metro Map

Phone: +1 (202) 966-0702

Website:

Email: consulate[at]kuwaitembassy.us

Hours: Monday - Friday, 9:30 AM - 1 PM

Address: 2940 Tilden St NW, Washington, D.C. 20008
The Embassy of Kuwait is located at the international center area near the Office of the Foreign Mission (OFM) of the Department of State, University of the District of Columbia (UDC), and the INTELSAT Headquarter.
Van Ness-UDC Station on the red line of the Metro system is the closest station to the Embassy of Kuwait. From the station, it is approximately an 8-minute walk to the embassy. Use the map shown below to find suggested routes.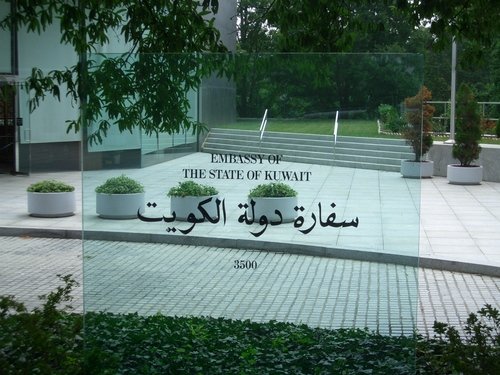 From Van Ness-UDC Metro Station
Approximately 0.4 mile, 8 min walk


Head southeast on Connecticut Ave NW toward Veazey Terrace NW.


Turn left onto Tilden St NW.


Destination will be on the right.
Quick Facts
Passport Validity
Sx months from date of arrival; emergency passports are not accepted

Blank Passport Pages
One page required for entry stamp

Tourist Visa Required
For U.S. Citizens: Yes; can be obtained on arrival at Kuwait International Airport or online

Vaccinations
None

Currency Restrictions for Entry
None

Currency Restrictions for Exit
None
Dual Nationality
Kuwait does not recognize dual nationality. At times, Kuwaiti authorities have confiscated U.S. passports of U.S.- Kuwaiti dual nationals applying for Kuwaiti citizenship. Should this happen, report the incident to the U.S. Embassy. This does not constitute loss of U.S. citizenship.
Multiple entry visas allow holders to enter Kuwait any number of times within a 12-month period. Multiple entry visas may be available to businesses sponsored by the ministry of defense. American citizens (but not other Westerners) can sometimes obtain multiple entry visas that are valid for up to 10 years and allow an indefinite number of entries.
Can I Obtain My Visa for Kuwait on Arrival?
Visas for U.S. Citizens are issued upon arrival at all Kuwaiti ports of entry. The following documents are required:
If you are traveling to Kuwait as a tourist, you may obtain your visa upon arrival at the airport. However, if you are traveling to Kuwait for work or business purposes, you must obtain your visa in advance of arrival. It is illegal to work under a tourist visa for Kuwait. If you do so, you may be deported or denied entrance.
Are There Special Requirements for DoD Contractors Traveling to Kuwait?
If you are traveling to Kuwait in support of a US government contract, you must obtain an employment visa before you depart. Note that civilian DoD contractors must enter Kuwait via Kuwait City International Airport. Entry for civilian contractors via Ali Al Salem Air Base is not permitted. Kuwaiti immigration officials can be very sensitive about travel to Iraq. If you have previous travel to Iraq documented in your passport, it is best to travel to Kuwait on an alternative passport to avoid potential denial of entrance by immigration authorities.