Closest Metro Stop:
Van Ness-UDC


View Metro Map

Phone: +1 (202) 244-0183 (PABX)

Fax: +1 (202) 244-2771

Website:

Email: consularwing[at]bdembassyusa.org

Hours: Monday - Friday, 9:30 AM - 5:30 PM

Address: 3510 International Drive NW, Washington, DC 20008
Van Ness-UDC Metro Station on the Red line of the Metro System is the closest station to the Embassy of Bangladesh. Use the map and directions shown below to find suggested routes.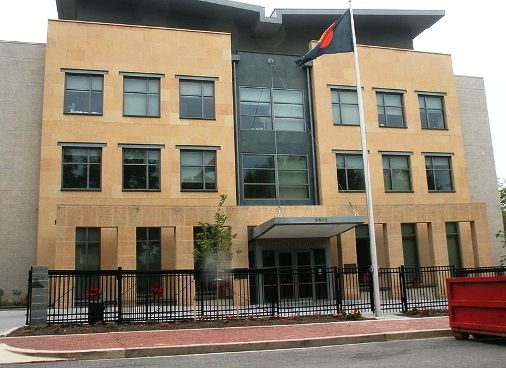 From Van Ness-UDC Metro Station
Approximately 0.4 mile, 10 min


Head southeast on Connecticut Ave NW toward Veazey Terrace NW.


Turn right onto Van Ness St NW.


Turn left onto International Dr NW.
Quick Facts
Passport Validity
Six months beyond planned stay.

Blank Passport Pages
One page required for entry stamp.

Tourist Visa Required
For U.S. Citizens, a visa is required and must be in a valid passport.

Vaccinations
Hepatitis A, typhoid fever vaccinations required; Hepatitis B, Japanese encephalitis, Rabies vaccinations recommended. There is no risk of Yellow Fever in Bangladesh; however proof of Yellow Fever vaccination is required if traveling from a country with a risk of Yellow Fever and the traveler is older than one year of age.

Currency Restrictions for Entry
USD 5000 and above must be declared.

Currency Restrictions for Exit
You cannot depart with more USD than you declared upon entry. Bangladeshi Taka (BDT) greater than 5000 BDT cannot be taken out of the country.
Visa On Arrival
The immigration authority at the International Airports and Land ports can issue a visa on arrival for a period of maximum 30 days for the purpose of the official duty, business, investment and tourism citizens arriving from: USA, Canada, Australia, New Zealand, Russian Federation, China, Japan, Singapore, Malaysia, South Korea, UAE, Saudi Arabia (KSA), Qatar, Kuwait, Oman, Bahrain and countries of the Europe.
If you require an extension of your visa after arriving Bangladesh under visa on arrival, the department of Immigration and Passports Authority may extend your visa in light of the existing visa policy.
1. Visa fees are to be paid in Foreign Currencies (US Dollar / GB Pound/ Euro etc).
2. Travelers must have return ticket.
3. Must have necessary documents to justify his/ her visit.
4. Travelers must possess minimum USD $500 dollars or equivalent of Foreign Currency in Cash or Credit Card.
No Visa (NVR) Seal
The Bangladesh Embassy in Washington, DC also issues No Visa Required for Travel to Bangladesh (NVR) seal to Bangladesh-origin citizens of some foreign countries and their family members (wife and children). This endorsement allows them multiple entries into Bangladesh with no restriction on duration of stay within the validity of the passport.
For any questions regarding Visa or No Visa and Attestation, call the Consular Office at (202) 244-0183 extension 119, Monday-Friday between 3:30 p.m. - 5:00 p.m. Also, you can send an email to consularwing[at]bdembassyusa.org