Closest Metro Stop:
Van Ness-UDC Station


View Metro Map

Phone: +1 (202) 244-0183 (PABX)

Fax: +1 (202) 244-2771

Website:

Email: [email protected]

Address: 3510 International Drive NW, Washington, DC 20008.
The Embassy of Bangladesh is located in the International Center area, near the Office of the Foreign Mission (OFM) of the Department of State, the University of the District of Columbia (UDC), and the INTELSAT Headquarter.
The Van Ness-UDC Metro Station on the Red line of the Metro System is the closest station to the Embassy of Bangladesh. Use the map and directions shown below to find suggested routes.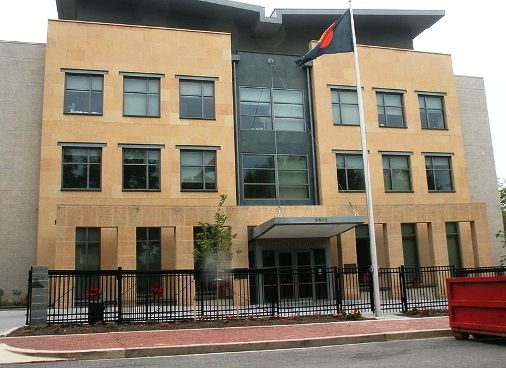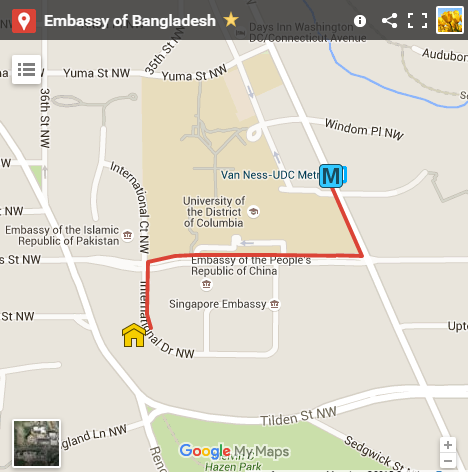 From Van Ness-UDC Metro Station
Approximately 0.4 mile, 10 min


Head southeast on Connecticut Ave NW toward Veazey Terrace NW.


Turn right onto Van Ness St NW.


Turn left onto International Dr NW.
Visa-Exempt Countries
Nationals of the following countries are do not need visa to enter Bangladesh if their visit is only up to 90 days:
Bhutan, Barbados, Botswana, Burkina Faso, Cyprus, Fiji, Lesotho, Kenya, Grenada, Ghana and Gabon, Gambia, Guinea, Guinea-Bissau, Papua, New Guinea, Jamaica, Mauritius, Malawi, Maldives, Seychelles, Sierra Leone, Singapore, Switzerland, St. Kitts and Nevis, Tanzania, Tonga, Western Samoa, and Zambia.
If you are planning to stay longer than 90 days, you will need to get a permit in order to get an extension.
Types of Visa
Citizens of most countries require valid visa to enter Bangladesh. The Embassy determines the type and category of visa and duration of stay upon receiving an application. The types and categories differ according to the purpose of visit, length of stay and bilateral arrangement with the country of the foreign national.
Visa On Arrival
The immigration authority at the International Airports and Land ports after examining the necessary travel documents and being satisfied can issue visa on arrival for a period of maximum 30 days for the purpose of the official duty, business, investment and tourism citizens arriving from: USA, Canada, Australia, New Zealand, Russian Federation, China, Japan, Singapore, Malaysia, South Korea, UAE, Saudi Arabia (KSA), Qatar, Kuwait, Oman, Bahrain and countries of the Europe.
If you require an extension of your visa after arriving Bangladesh under visa on arrival, the department of Immigration and Passports Authority may extend your visa in light of the existing visa policy.
1. Visa fees are to be paid in Foreign Currencies (US Dollar / GB Pound/ Euro etc).
2. Travelers must have return ticket.
3. Must have necessary documents to justify his/ her visit.
4. Travelers must possess minimum USD $500 dollars or equivalent of Foreign Currency in Cash or Credit Card.
Transit Visa
A transit visa may be allowed to passengers awaiting for connecting flights for the period of maximum 72 hours or till the time of next available of flight on request of the concerned carrier. For this an amount of US$ 20.00 or equivalent to Foreign Currency is to be deposited in the concerned Bank Account.
No Visa (NVR) Seal
The Bangladesh Embassy in Washington, DC also issues "No Visa Required for Travel to Bangladesh" (NVR) seal to Bangladesh-origin citizens of some foreign countries and their family members (wife and children). This endorsement allows them multiple entries into Bangladesh with no restriction on duration of stay within the validity of the passport.
For any questions regarding Visa or No Visa and Attestation, call the Consular Office at (202) 244-0183 extension 119, Monday-Friday between 3:30 p.m. - 5:00 p.m. Also, you can send an email to [email protected]
Visa Requirements
| | |
| --- | --- |
| Visa Type | Requirements |
| Tourist Visa | Travel itinerary/air ticket reservation. |
| Work Visa | Letter of employment from the employer in Bangladesh and letter of concurrence from concerned Ministry, Board of Investment (BOI), Bangladesh Export Processing Zone (BEPZA). To work in a non-governmental organization (NGO), the applicant should furnish copy of letter of appointment from the NGO with attestation by the Bangladesh NGO Affairs Bureau, Dhaka. |
| Student Visa | Letter from the concerned educational institution duly attested by the Bangladesh Ministry of Education, Dhaka and Certificate of financial guarantee |
| Business Visa | Letter from the employer in the United States and invitation letter from the host company in Bangladesh clearly stating the purpose of the visit. If you are interested to include your name in the list of interested importers from Bangladesh, please click here. |
| Investor Visa | Letter of recommendation from the Bangladesh Ministry of Industries or the Board of Investment (BOI) or Bangladesh Export Processing Zones Authority (BEPZA), Dhaka. |
| Missionary Visa | Letter of appointment from the Church and "No Objection" from the Bangladesh Ministry of Religious Affairs, Dhaka. |
| Diplomatic and Official Visa | Note verbal/letter from the concerned government office/Mission |
| Journalist Visa | Letter of request from the employer/news agency clearly stating the purpose of the visit. Please note that minimum processing time for this category of visa is 2 weeks. Persons/Network/Organization requesting for shooting/filming in Bangladesh are required to fill in Form FF-1 and FF-2, in addition to the visa application form. |
In addition, applicants must should also submit the following documents when applying for a visa:
1) Visa Application Form
Complete and sign the Visa Application Form (PDF Format)
2) Photograph
Two passport-size photographs within the last six months.
3) Passport
Original passport valid for at least six months. Passports are not required for holders of Certificate/Laissez-passer issued by the United Nations and its Specialized Agencies; Continuous Discharge Certificate/Nullies/Seaman book when traveling on duty.
4) Visa Payment
The visa fee must be paid when the visa application is submitted. For U.S. Citizens, the visa fee is $160 USD and $190 USD for Employment Visas.
5) Self Addressed Envelope
If applying by mail, the applicant must send a self addressed, postage paid envelope for return of your passport. The applicants are advised to send pre-paid envelopes from USPS, UPS, DHL, FedEx etc. for efficient and secured service. Documents sent without a pre-paid self-addressed envelope will not be processed.
In case of using USPS (United States Postal Service), the applicants are advised to go for mailing services which have confirmation tracking number or bar code. These include Express mail, Priority mail (with signature confirmation or delivery confirmation tracking number) or Certified mail services. The tracking number or bar code should be preserved for information on the status of delivery/receipt of the mail.
Applicants may also choose the services from private postal operators like UPS, FedEx, DHL for sending and receiving mails. In all cases, the tracking number or bar code should be preserved carefully for reference in case of misplacement/delay in delivery or receipt.