Closest Metro Stop:
Van Ness-UDC


View Metro Map

Fax: +1 (202) 362-2192

Phone: +1 (202) 342-1111

Website:

Email: [email protected], [email protected]

Address: 3502 International Drive NW, Washington, DC 20008
The Embassy of the Kingdom of Bahrain is located in the international center area, near the Office of the Foreign Mission (OFM) of the Department of State, the University of the District of Columbia (UDC), and the INTELSAT Headquarter.
Van Ness-UDC Metro Station on the Red line of the Metro System is the closest station to the Embassy of Bahrain. From the stationk, it is a 9-minute walk to the Embassy. Use the map and directions shown below to find suggested routes.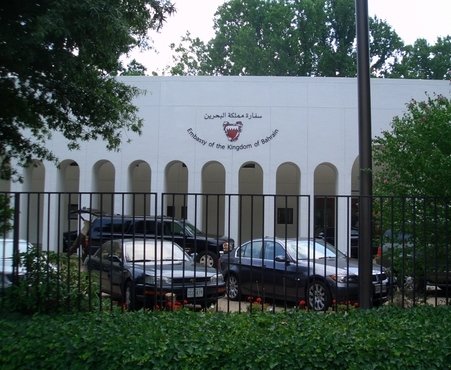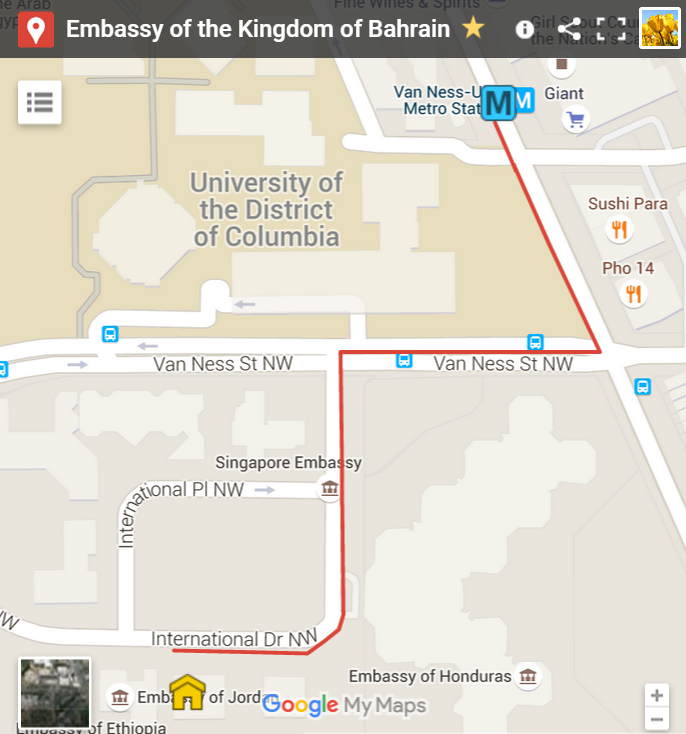 From Van Ness-UDC Metro Station
Approximately 0.4 mile, 9 min walk


Head southeast on Connecticut Ave NW toward Veazey Terrace NW.


Turn right onto Van Ness St NW.


Turn left onto International Dr NW. The embassy will be on the left.
Electronic Visa Applications
Travellers planning to visit the Kingdom of Bahrain for tourism or business are now able to apply for a e-visa online. Thus, there is no need to have a visa stamped in your passport prior to your arrival in Bahrain. The eVisa is valid for 30 days from the approval date.
How to Obtain an eVisa
Visa Application: Submit your Electronic Visa Application including details of your passport. Your passport should be valid for at least 6 months from your arrival in Bahrain. Write down the Application Reference Number supplied.
Visa Payment: Pay the required visa fee using a credit or debit card. If your application is not approved, the visa fee will be refunded but there will be no refund of the processing fee.
Application Reference Number: Using the Application Reference Number, you can check your eVisa application to see if it has been approved. Your application might take up to 72 hours to process. Also, you will be notified by email when a decision is made.
Once your application is approved, print a copy of the approval to carry with you when traveling to Bahrain (this step is optional). When you arrive to Bahrain, your eVisa will be accessible to the passport officer who greets you. If your application is denied, contact your nearest Bahrain embassy or the NPRA.
Types of Electronic Visas
There are two visas available:
1- eVisas for GCC Alien Residents
2- Visit eVisa
You can find out which types of visa you are eligible for at evisa.gov.bh/visa by answering three simple questions about your nationality, purpose of visit, and current place of residence.
Visa for GCC Alien Residents
Alien residents with a Resident Permit for a GCC country (Kuwait, Oman, Qatar, Saudi Arabia, UAE) in their passports are eligible for an eVisa for either 3 days or 7 days, if travelling through Bahrain International Airport. An extension can be obtained for the same period by visiting NPRA in Bahrain. The GCC eVisa can be used only once, for a single entry.
The Resident Permit will be checked at the border in Bahrain and on the date of arrival the Resident Permit must be at least 6 months old, and should be valid for at least another 6 months.
Visit Visa
Travelers can stay in Bahrain for two weeks (but British and Irish nationals can stay up to 3 months). An extension can be obtained for another two weeks by visiting NPRA in Bahrain. The Visit eVisa can be used only once, for a single entry. You must be outside Bahrain to apply for an eVisa; visas cannot be applied for by those travelers already in the Kingdom.
Visit eVisas are available to the 102 nationalities listed below. An up-to-date list of eligible nationalities can be found at evisa.gov.bh/visabhrnats.