Closest Metro Stops:
Federal Center SW




Capitol South




View Metro Map

Admissions: Free

Phone: (202) 225-8333

Website:

Address: 100 Maryland Ave SW, Washington, DC 20001
Federal Center SW Station is the closest station to the U.S. Botanical Garden. From the station, it is a 7-minute walk to the garden. The garden is also accessible via the Capitol South Station, but you will have to walk a little further to get to the garden. Use the map and directions below to find suggested routes to your destination.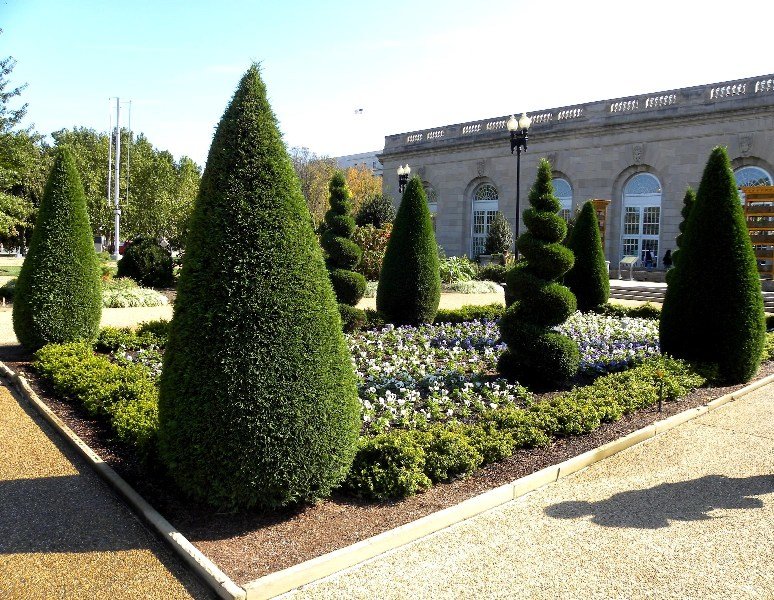 From Federal Center SW Station
Approximately 0.4 miles, 7 mins


Head east on D St SW toward 3rd St SW.


Turn left onto 3rd St SW.


Turn right onto Maryland Ave SW.
From Capitol South Station
Approximately 0.8 miles, 15 mins


Head north on First St SE toward C St SE.


U.S. Capitol Building.
U.S. Botanic Garden
Located just southwest of the U.S. Capitol is the U.S. Botanic Gardenand Conservatory. Prior to 1932, both the conservatory and the gardens were located directly on the National Mall where the Grant Memorial is now located.
The Botanic Garden has a conservatory (greenhouse) with interesting exhibitions for children, such as a tropical rainforest. Here, you can experience the feeling of being in a jungle tree canopy by going to the mezzanine level. The stepped waterfall flows into a narrow river that is traversed by a wooden bridge. There is also a children's garden.
The Botanic Garden also has a National Garden which features a seven-bed regional garden with plants native to the mid-Atlantic Piedmont and Atlantic Coastal Plains, a First Ladies' Water Garden, a formal rose garden, and a butterfly garden.
Across the street from the conservatory is Bartholdi Park, a beautifully landscaped flower garden that has as its centerpiece, a classical style fountain. The fountain was created by Frédéric Auguste Bartholdi, the French sculptor who also designed the Statue of Liberty.
There is an annual orchid exhibit, gardening and photography classes, and a variety of walks and tours throughout the year. During the Christmas holidays, there is a special train exhibit, along with miniature replicas of all the major monuments in Washington DC.
Guided Tour: FREE 45-minute tours of the U.S. Botanic Garden Conservatory are available. Check at the Visitor Information Desk upon your arrival. Groups of a minimum of 10 and a maximum of 25 adults may reserve a free guided tour of the Conservatory. Guided tours are available Monday-Friday at 10:30 a.m. and 1:30 p.m. Weekend tours are not available. NOTE: the Botanic Garden requires a 4-week advance notice for booking a tour. To reserve a tour, call (202) 225-1116.