U.S. Capitol Building - Washington DC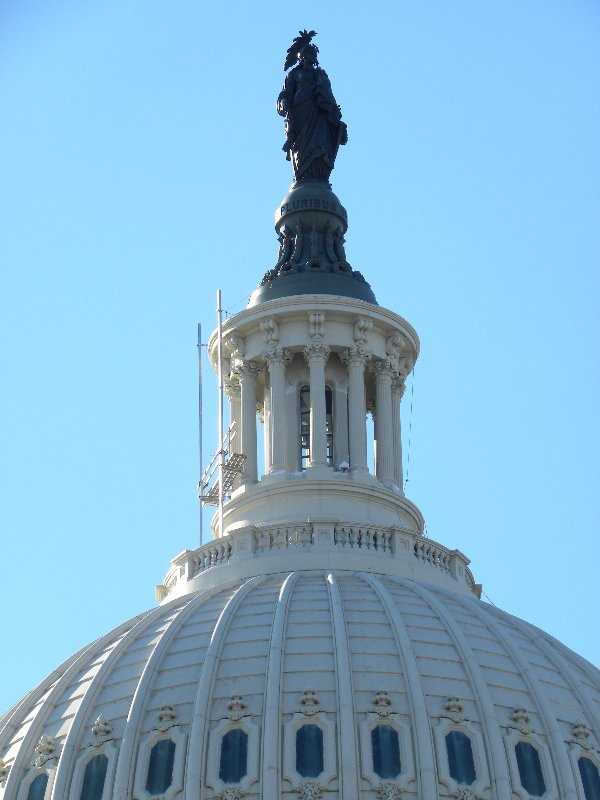 View of the Statue of Freedom high atop the U.S. Capitol Dome.
The
U.S. Capitol Building
's dome is surmounted by a bronze statue of a woman representing Freedom. The statue was designed by the American sculptor Thomas Crawford. The statue has her right hand resting upon the hilt of a sheathed sword, while her left hand holds a laurel wreath of victory and the shield of the United States with thirteen stripes. Her helmet is encircled by stars and features a crest composed of an eagle's head, feathers, and talons, a reference to the costume of Native Americans. A brooch inscribed "U.S." secures her fringed robes. She stands on a cast-iron globe encircled with the words E Pluribus Unum, the national motto at the time of her placement atop the dome.
The lower part of the base is decorated with fasces and wreaths. Ten bronze points tipped with platinum are attached to her headdress, shoulders, and shield for protection from lightning. The bronze statue stands 19 feet 6 inches tall and weighs about15,000 pounds. The height of the U.S. Capitol Building from the baseline on the east front to the top of the statue is 287.5 ft (87.6 m).