Are you traveling to NYC, Philly, Baltimore or Delaware? Would you like to avoid paying expensive airline tickets and going through airport security lines? If so, consider taking the train. Amtrak.com provides a convenient way of traveling along the East Coast.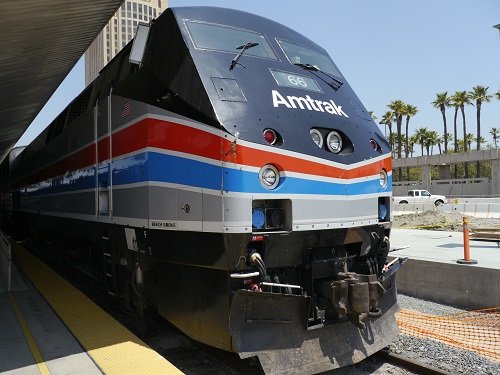 If traveling from DC, tickets can be purchased at Union Station right before your departure time or in advance at the Amtrak's website. All travelers over the age of 18 and unaccompanied minors must show a government issued ID, such as a passport or driver's license, when purchasing tickets in person.
It is recommended that you arrive to Union Station at least 40 minutes prior to your departure time. You must also have your train ticket to board the train and while on-board. The final ticket check is done once you are seated. In Washington DC, seniors, families traveling with children, and passengers with disabilities get priority by boarding the train first.
When buying a ticket, you can choose Coach or Business Class seating. First Class is offered exclusively on Acela Express. Seating is on a first-come, first-served basis.
Union Station (WAS)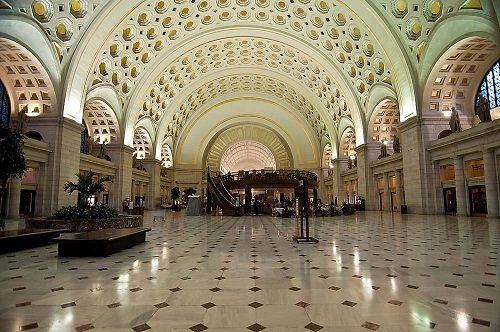 In Washington DC, the Amtrak Station is located inside Union Station connecting the city to other major destinations. It is also a great starting point to come and discover some of small town America, as there are some beautiful places along the track, just a few miles out of DC.
Union Station is quite large and has many restaurants along with shops and even a 24 hour parking garage on the top floor. Walking thru to the station provides views of breathtaking architecture in the historic building. In addition to serving Amtrak, Union Station also serves the MARC and VRE commuter rail services, the Washington Metro, city shuttles, and bus companies such as Greyhound and Megabus.
Amtrak Pros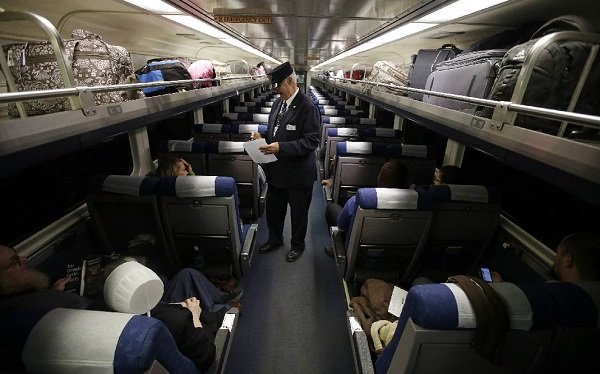 Comfort: From the leather reclining seating to the first class car, Amtrak allows travelers to ride in style and comfort. Even the coach seats are better than airplane seats. You also get the chance to walk around the train and "stretch your legs" during long train rides. If you fall asleep during the train ride, there is no need to panic. Open the Google Maps App on your phone to find out exactly where you are.
Free Wifi: If you like browsing the Internet while traveling, Amtrak provides free Wi-Fi. Also, each seat is equipped with two outlets, so you can conveniently charge your phone or laptop. You will also find a fold-down tray and individual reading light above your seat.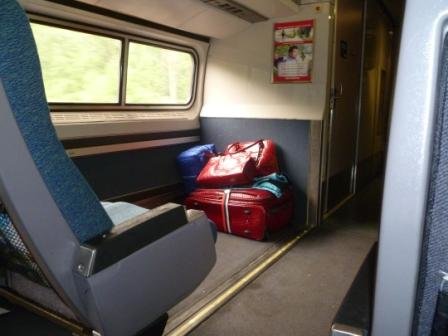 Luggage: Amtrak does not have a checked bag service on Northeast Regional trains. You can put your smaller carry-on luggage in the overhead shelf. If you are traveling with large suitcases, there is space at the end of each train car (near the accessible seating) for a few bags. Unlike airports, no one will be checking how much your bag weights or how many bags you are carrying.
Security: There are differences in what you can pack in your luggage bags if you travel by train. There are still prohibited items on Amtrak, but most of the TSA's passenger screening policies and restrictions don't apply.
Amtrak Cons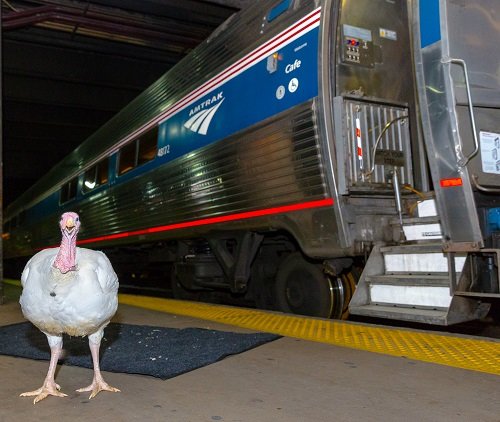 Fare: Ticket prices are not fixed. Prices change based on demand, so you will see higher prices during peak travel hours. However, Amtrak is usually cheaper than the cheapest available airline alternative.
Travel Time: A big disadvantage is that long trips take too long. For example, the ride from DC-to-NYC takes 4 hours, and the ride from DC-to-Boston takes 8 hours. If travel time is a priority, then flying may be a better choice.
Delays: have become common along the Northeast Corridor, which stretches from DC to Boston. The corridor's ridership has doubled in the last 30 years even as its old infrastructure of tracks, bridges and tunnels has begun to wear out.
Bathroom: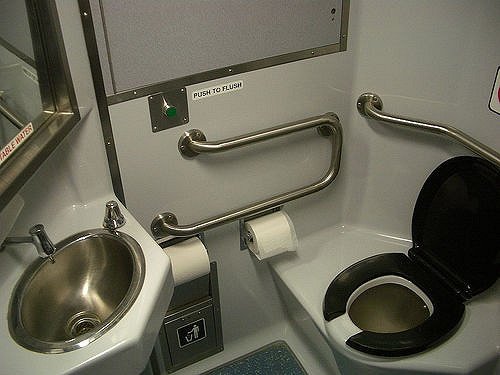 Although the bathrooms are not worse than airplane bathrooms, they need a serious upgrade. However, the biggest problem is hygiene. Although you will find clean bathrooms if your ride starts in Washington DC, this will most likely change along long rides.
Amtrak App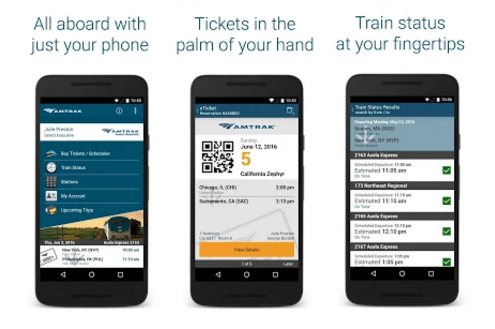 With the Amtrak app you can get easy access to all the travel information you need without the hassle of your laptop, making calls or printing your ticket.
Some advantages include: showing your eTicket while onboard, purchase tickets from your phone, check train status, searching for station information, saving trip information to your phone calendar, and so much more.