Closest Metro Stop:
Ronald Reagan National Airport Metro Station



View Metro Map

Main Phone: (703) 417-8000

Travelers Aid, Terminal A: (703) 417-3972

Travelers Aid, Terminal B/C: (703) 417-3974

Website:

Address: 1 Aviation Circle, Arlington, VA 22202
Ronald Reagan National Airport Metro Station is the closest station to the DCA Airport. The station is on the Blue and Yellow Lines of the Metro System. The station is directly connected to the concourse level of Terminals B and C at the airport. The station is also fully accessible via elevators.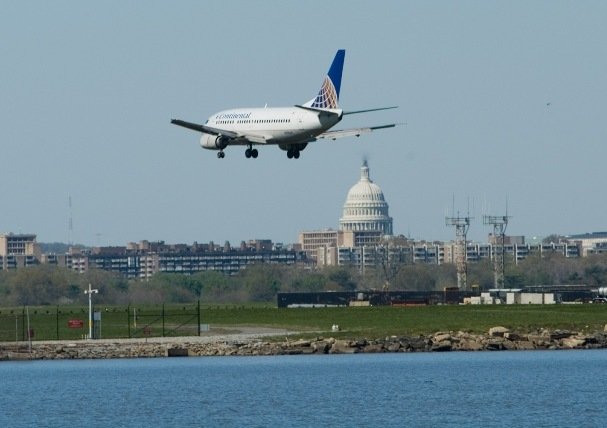 Parking at the Airport
Parking options include a cell phone lot, multi-level parking garages A, B, C, and an economy lot which provide hourly, daily and economy. The airport also provides free shuttle bus which take travelers from the Parking Garages/Lots to the Terminals, and vice-versa. Shuttle buses operate every 8 to 10 minutes.
Daily and hourly parking are available at Garages A, B, and C. Hourly parking is ideal for those parking for less than 2 hours.
Parking Garage A
Across from Terminal A and connected by an underground pedestrian tunnel with moving sidewalks is the multi-level Parking Garage A for hourly or daily parking and rental car pickup (see Green area of the map).
Parking Garage B and C
Across from Terminals B, C and connected by two elevated pedestrian bridges is the multi-level Parking Garage B, C for hourly or daily parking (see Red/Blue areas of the map).
Economy Parking
If you are flying out of DCA Airport for an extended trip and need long-term parking, economy parking is the best option for you. The Economy Parking Lot is located at the southwest corner of the airport near the General Aviation building.
Disabled Parking
Parking for passengers with disabilities is available on each garage level close to elevators and Terminal A, B, and C. A courtesy transfer van can be booked at (703) 417-7275. There are no concession parking rates. Also, disabled users pay the full price.
Parking fees are paid when exiting the parking garage or lot. Payments can be made using cash or credit/debit card.
| | | | |
| --- | --- | --- | --- |
| | First Hour | Hourly Rate | Daily Rate |
| Hourly Parking Garages | $6 | $6 | $36 |
| Daily Parking Garages | $6 | $6 | $20 |
| Economy Parking Lot | No hourly rate | No hourly rate | $17 |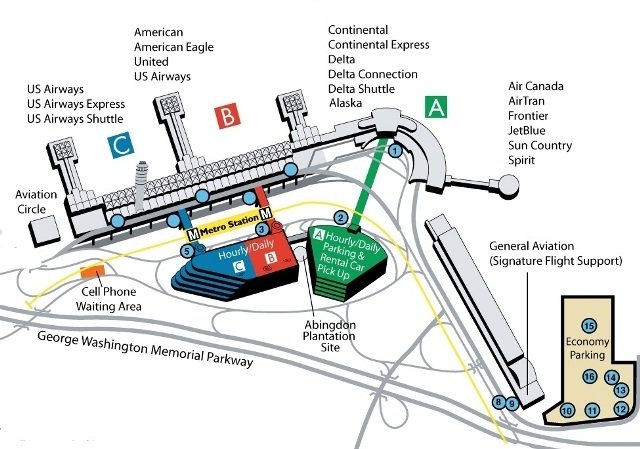 Cell Phone Waiting Area
If you are picking up a traveler, use the Cell Phone Waiting Area located near the end of the "Return to Airport" ramp just beyond Terminal B/C.
You are not allowed to leave your car while inside the waiting area. So stay in your car until your party has collected bags and calls you to be picked up at the curb. Parking here is free and can be used for up to one hour.
TSA Pre-Check®
The DCA Airport accepts passengers registered with the TSA Pre-Check® program. TSA Pre-Check® is an fast security screening program which allows travelers to receive expedited screening benefits during domestic travel in the United States. Those eligible and approved for TSA Pre-Check® are given a known traveler number "KTN" to use when making flight reservations. When you arrive at the airport, look for the TSA lanes when going through security. You will no longer need to remove:
Shoes, Belt, 3-1-1 liquids, Laptop, and Light jacket.
Also, passengers 12 years old and younger who are accompanied by TSA approved travelers may also use the TSA Pre-Check® lanes.
Guess Services at the Airport
Paging is available at the Information Counters and the Travelers Aid Desks in the terminals.
Banking: ATMs are located inside the terminals, before and after security. A full service bank is also located pre-security in Terminal B.
Lost and Found: If you lost an item in the terminal (including the TSA area), call (703) 417-0673, Monday-Friday 7:30am-4:00pm. If you lost an item onboard your airplane, contact your airline.
Customer Service Centers are located in Terminals B and C and provide foreign currency exchange, insurance, facsimile and photocopying, notary public, and other services. The hours of operation are 7 a.m. to 9 p.m. daily. For more information, call (703) 417-3200 or (703) 417-3201.
Smoking is permitted on the outside terraces located on the upper level of Terminals B, C. There is no smoking inside the building except in a few restaurants.
Travelers Aid: Travel assistance is located in Terminals B and C (Concourse level and baggage claim level) and in Terminal A. For more information:
Terminal A Travelers Aid: (703) 417-3972
Terminal B/C Travelers Aid Concourse: (703) 417-1806
Terminal B/C Travelers Aid Baggage Claim: (703) 417-3974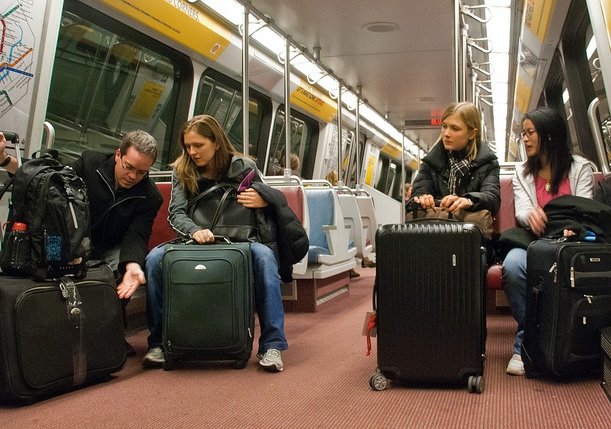 Travelers inside a Metro train. Photo by KentonNgo.