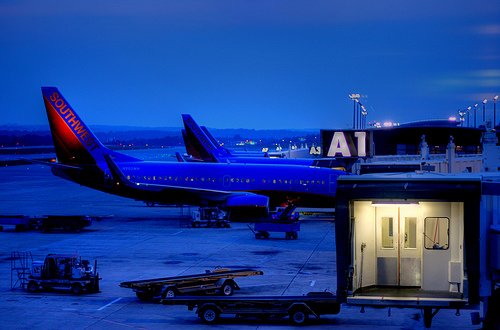 Photo by
BWI Marshall Airport serves travelers in the Baltimore/Washington Corridor. Ranked as the 23rd busiest airport in the United States, BWI airport has a passenger terminal with five concourses, four domestic and one international/swing. A total of 25 commercial airlines offer 69 non-stop domestic flights and 6 international non-stops, including cities such as Cancun, Mexico, London, UK, and Toronto, Canada. The airport is named for a Baltimore native and former US Supreme Court Justice.
Parking at the Aiport
Parking options at BWI Airport include hourly, daily and economy rates. For more information, please refer to:

Parking at Baltimore/Washington International Airport
Metro to the Airport
Metro provides an easy and affordable access to the airport. Particularly, travellers can take the BWI Express/B30 Metro Bus from the Greenbetl Metro Station to get to the Airport. For more information, please refer to:

Metro to Baltimore/Washington International Airport
Free Wi-Fi
BWI Marshall Airport provides free wireless Internet service along with a paid, premium service. Travelers selecting the complimentary wireless option will watch a brief advertisement before the 45 minute wireless session. Travelers may use as many free sessions as they choose. A fee-based Wi-Fi service is also available for travelers that prefer greater-bandwidth or an uninterrupted, commercial-free session.
Hours of Operation
Opening times for the ticket counters are:
Air Canada Express: 4:15 am
AirTran: 4:30 am
American: 4:00 am
British Airways: 6:00 pm
Cape Air: 1hr before flight
Continental: 3:30 am
Delta: 4:15 am
jetBlue: 6:00 am
Southwest: 4:30 am
United: 4:30 am
US Airways: 3:45 am
Hours for the security checkpoints are:
Concourse A: 4:30 am - 9:30 pm
Concourse B: 4:30 am - 9:30 pm
Concourse C: 4:00 am - 9:30 pm (Closing at 7:00 pm on Saturdays)
Concourse D: 3:45 am - 9:15 pm
Concourse E (International): 4:00 am - 6:00 pm (Closing time varies due to military departures)
Lost and Found
The Lost & Found Office is located at the entrance to Concourse C on the upper level of the terminal. The office is open Monday through Friday from 9:00 am to 5:00 pm. The office is closed from 11:30 am- 12 pm and on all holidays. If you do not wish to call, you may also contact Lost and Found by sending an e-mail to maalostandfound@bwiairport.com
For items left on the BWI Marshall parking shuttle buses:
(410) 684-3346
For items left at one of the BWI Marshall parking garages/lots:
(410) 859-9230
For items left at the security checkpoint areas:
(410) 689-3620
For items left in other areas:
(410) 859-7387