Closest Metro Stop:
Smithsonian Station




View Metro Map


Admission: Free

Phone: (202) 633-1000

Website:

Email: [email protected]

Address: 1000 Jefferson Drive SW, Washington, DC
The Smithsonian Metro Station on the Orange, Silver, and Blue Lines of the Metro System is the closest station to the Smithsonian Institution Building. The station has two exits. When visiting the Smithsonian Institution, make sure to exit the station through the Mall Exit (12th St. at Jefferson Drive SW). Use the map and directions below to find suggested routes to the museum.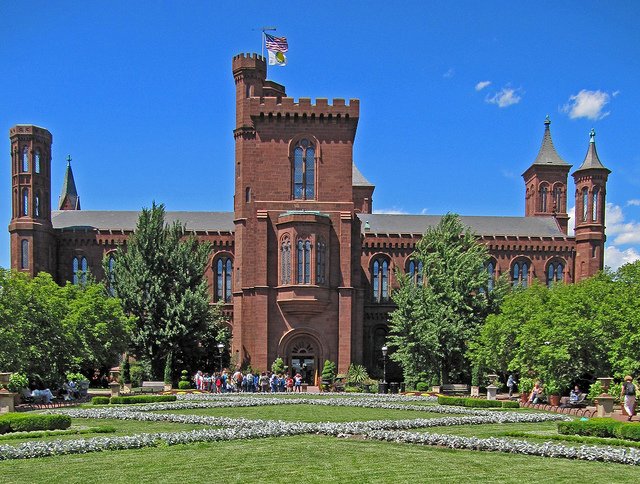 From Smithsonian Metro Station


The station has two exits. Leave through "The Mall" Exit (at 12th St & Jefferson Drive SW).


Walk east on Jefferson Dr SW.


The Smithsonian Institution will be on the right.
The Building
The Smithsonian Castle was designed by James Renwick, Jr. who was also responsible for New York's St. Patrick's Cathedral. The design is Norman in style, described as "a 12th-century combination of late Romanesque and early Gothic motifs". The brownish-red color of the building comes from the Maryland red sandstone used in the construction of the building.
When it was completed, the Castle held offices, a lecture hall, library, chemical laboratory, natural history laboratory, art gallery, science museum, and archives. The museum didn't truly expand outside this building until the 1960s.
Only a decade after it was built, the Smithsonian Castle was partially destroyed by fire, which consumed the upper story of the main segment and the north and south towers. Twenty years later, the east wing was fireproofed, according to Smithsonian records, and additional administrative offices were added.
The first secretary of the Smithsonian, Joseph Henry, also lived here with his family. You'll find a statue of Henry outside the castle and the crypt of Smithsonian founder, James Smithson, inside the north entrance to the castle. Smithson was a British chemist, who bequethed his fortune to the United States, which led to the creation of the Smithsonian Institution.