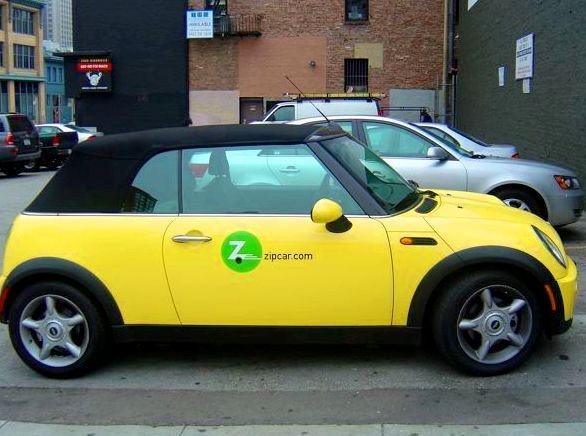 Zipcar (zipcar.com) is a membership-based car sharing company operating in 49 U.S. cities, Vancouver, Toronto, and London. Although having a rental car in Washington D.C. is more troublesome than helpful, some people find that renting a car for trips and errands as necessary is cheaper than owning or leasing a car.
Zipcar works on reservations. Members can view vehicle availability and reserve a car via telephone, iPhone app, or online. In the United States, each reservation entitles members up to 180 miles for each 24-hour period. To become a member of Zipcar, you must be at least 21 years old and have a driver's license.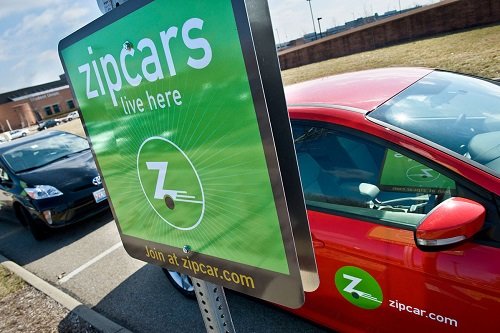 You can sign up for either the Occasional Driving Plan or the Extra Value Plan. Zipcar members receive an access card by mail after signing up. The card unlocks and locks the vehicle by placing the card over a sensor at the top of the windscreen. Basically, the access card is your key to any vehicle at any location in the world.
When reserving a vehicle online, Zipcar tells you exactly where the car is parked, how far the car is from your house, and how to get there. It doesn't tell you the color of the car, but it does show a picture of the car, so you know what you're looking for. It is important to keep track of your time when using Zipcar. If you return the rental car late, you will receive a large monetary fine.
Pros of Zipcar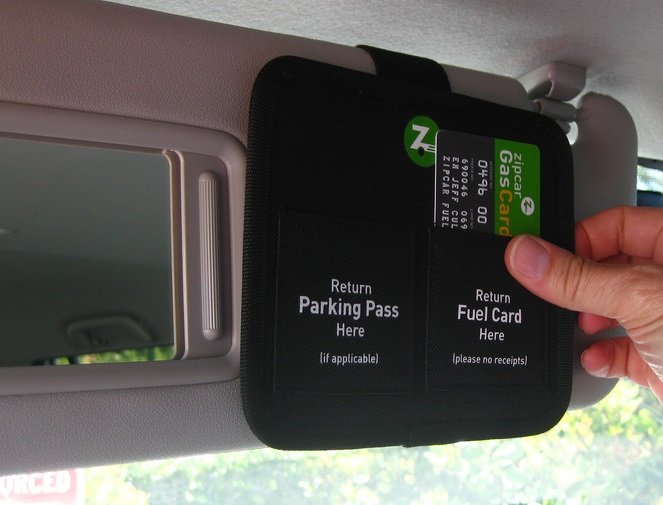 Zipcar pays for fuel by providing a Zipcar GasCard which is located in the driver's visor of the rental car. You can use the gas card at any gas station. Zipcar will reimburse you for fuel obtained at gas stations that do not accept the gas card. Zipcar requires you to fuel the car if it gets to 1/4 tank of gas. If you don't do this, Zipcar will charge you a large monetary fine. So, don't forget to fuel the car before returning it.
Zipcar has a reserved parking space for all cars. This space remains available for your free use when you're renting the car. This is beneficial if you live in a city where there is a high density of people and a shortage of residential parking. However, you can't take advantage from parking in other Zipcar parking spaces around the city, even if the space is empty.
Cons of Zipcar
If you decide to use Zipcar, you must realize that you will be sharing a car, so there are always disadvantages.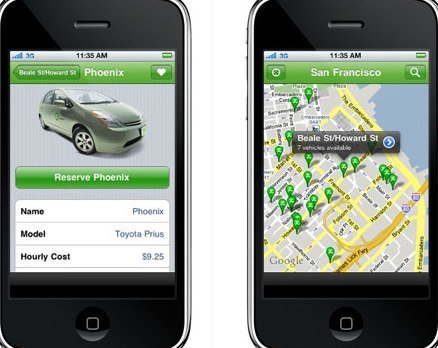 Zipcars are not given a once-over between car rentals. So you are asked to keep the car clean, fill the gas tank and report any damages. It is very important to check the rental car for any damages before you get in the car. Otherwise, might end up paying for the damage caused by another member.
Another problem is related to other Zipcars members forgetting to fill up the gas tank. So your quick 1-hour reservation may need to be extended so you can find a gas station to a fill up the gas tank. Other issues include members leaving the car with body odor smell, cigarette smoke, or garbage.
Also, if a Zipcar member returns the car late, you might be left waiting in the parking lot. If this happens, report the problem. Zipcar will reimburse your taxicab fare to the closest available Zipcar from your location.
Zipcar does not provide one-way rentals. Zipcar requires you to return the rental car to the same location where you picked it up. If you need a one-way rental, consider using Hertz which provides a "Connect by Hertz" service (a clone of Zipcar).
Zipcar allows you to extend your rental time by calling Zipcar's customer service as long there are no other reservations for that particular time. However, you can't shorten your reservation time once you are on the clock. This means that so you don't get credit for unused time.
Conclusion
Zipcar is certainly not for the daily commuter. The service can be quite expensive if used frequently, and you need to be a planner to avoid getting any fees. Also, Zipcars are not available around airports. So, they wouldn't be useful for the frequent traveler.
However, Zipcar will work well if you live in a city with limited residential parking, or if you need a car so infrequently that owning one wouldn't make economic sense. With locations scattered throughout the city, and insurance and gas included, Zipcar provides a great service those without a car.