Union Station


View Metro Map
701 First Street NE, Washington, DC 20002
Metro Line: Red Line.
Metro Schedule: Opens at 5:12 AM (Monday-Friday)
Bike Parking: There are 23 bike racks at this station.
Metro Parking: 2194 spaces are available in the Union Station Parking Garage. Enter the garage from Massachusetts Ave NE, from a ramp on the East Side of Union Station, or from H Street NE. The daily maximum is $24.00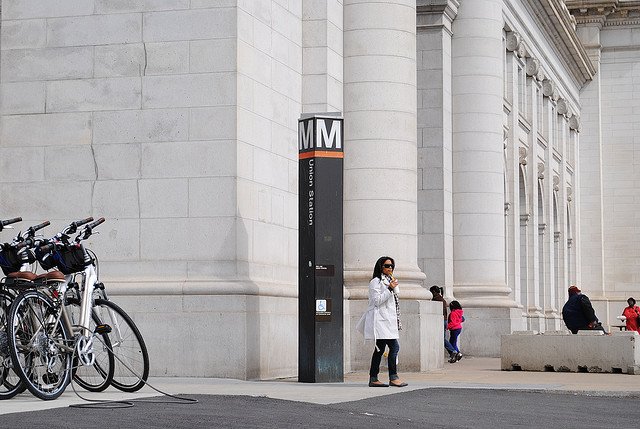 Photo by
Union Station combines a busy railroad station with over 130 retail shops and restaurants in a marvelous Beaux-Arts building. Union Station opened in 1907 and was beautifully renovated in the 1980's. It has played host to exhibitions, cultural events and special events such as the Presidential Inaugural Ball and citywide galas. It is a special treat to visit when the station is decorated for the holidays.
The Metro stop is located underground, where connections can be made to Amtrak trains as well as the Virginia Railway Express (VER) and MARC regional rail trains. The Greyhound Bus Terminal is directly behind Union Station.
First and Last Trains
First Trains: Trains leave exactly 2 hours later on Saturdays and Sundays.

Red line train from Shady Grove - 5:22 AM


Red line train from Glenmont - 5:36 AM
Last Trains: Trains leave exactly 3 hours later on Friday and Saturday nights.

Red line train from Shady Grove - 11:59 PM


Red line train from Glenmont - 12:11 AM
Metro Platform
Union Station is an underground station with 1 island platform and 2 tracks, one for each direction. Each train goes in two directions named for the last stop on the line.

Red Line: Glenmont --- Shady Grove
The Red Line goes in two directions: Glenmont and Shady Grove.
Use the Metro's Trip Planner to find out exactly how to get where you want to go in the Washington DC area, using Metrobus, Metro and local bus systems. The Trip Planner asks you where you're starting and when and where you want to go. Then it finds the best way for you to get there using the Metro system and local bus systems.
Bus Connections
Union Station connects passengers to other bus systems in Washington DC. Particularly, passengers can transfer to WMATA Metrobus, DC Circulator, MTA Bus and the OmniRide Commuter. The map below shows you where to board your bus from the station. Consult the map and bus stop information for routing and schedule information about each route serving Union Station.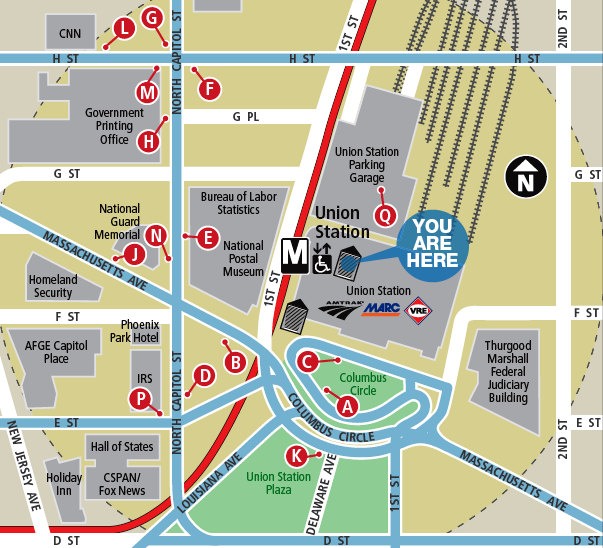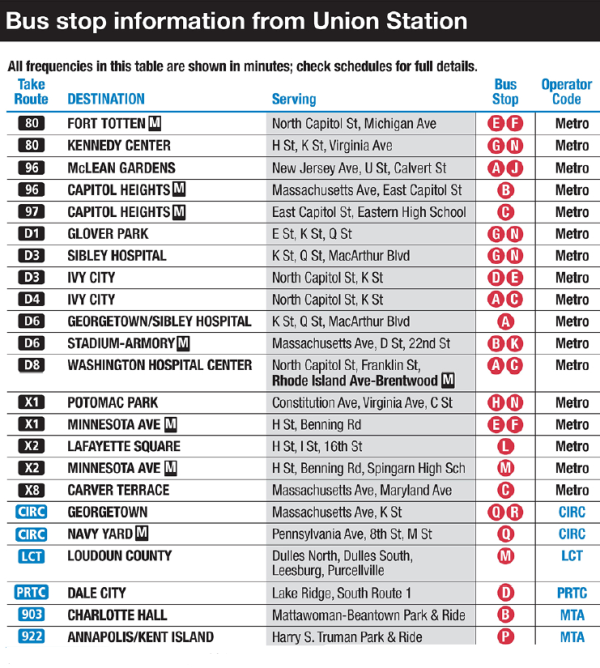 Bike Parking
Union Station has 23 bike racks. Bicycle racks are available for free on a first-come, first-use basis. Capital Bike Share is also available at North Capitol St & F St NW and at Columbus Circle / Union Station. Note: Do not lock your bicycle to railings, sign posts, benches, and other unauthorized areas around the station. Such bicycles are subject to removal without notification.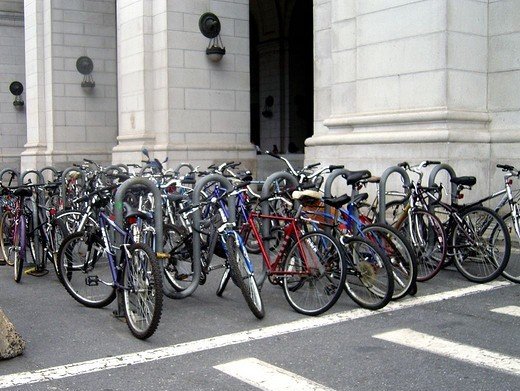 Bikes outside Union Station
Related Information



Metro
The metropolitan subway system of Washington DC.




Metrobus
Bus complementing the service provided by Metro.




Metro Pocket Guide
Essential information for Metro riders.




DC Circulator
Bus connecting areas that are not accessible by Metro.




SmarTrip Card
SmarTrip can be used in Metro, Metrobus, and DC Circulator.