New Carrollton


View Metro Map
4700 Garden City Drive, New Carrollton, MD 20784
Metro Line: Orange Line.
Metro Schedule: Opens at 4:50 AM (Monday-Friday).
Metro Parking: Available (See below).
Bike Parking: There are 18 bike racks and 16 lockers.
Metro Entrance: Access is via John Hanson Highway (US 50), Annapolis Road (MD 450), and the Capital Beltway (Interstate 95/495).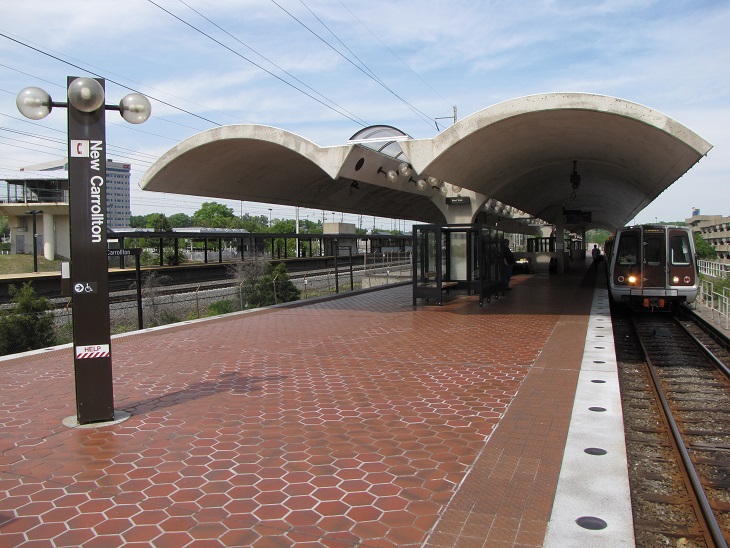 New Carrollton Station is located along Garden City Drive near the intersection of John Hanson Highway (US 50) and I-95. At the eastern end of the Orange Line at the Capital Beltway, this station is a major multimodal hub with Metro, AMTRAK, MARC, a Greyhound Bus Terminal, and local County bus service available.
Metro Platform
The New Carrollton Station has two side platforms and two tracks. Each train goes in two directions named for the last stop on the line.

Orange Line: Vienna/Fairfax-GMU --- New Carrollton
The Orange Line goes in two directions: Vienna/Fairfax-GMU and New Carrollton.
Use the Metro's Trip Planner to find out exactly how to get where you want to go in the Washington DC area, using Metrobus, Metro and local bus systems. The Trip Planner asks you where you're starting and when and where you want to go. Then it finds the best way for you to get there using the Metro system and local bus systems.
First and Last Trains
First Trains: Trains leave exactly two hours later on Saturdays and Sundays.

Orange Line train from Vienna/Fairfax-GMU - 5:00 AM
Last Trains: Trains leave exactly three hours later on Friday and Saturday nights.

Orange Line train from Vienna/Fairfax-GMU - 11:36 PM
Metro Parking
New Carrollton Station has two sides: Westside and Eastside. The Eastside has 3 surface parking lots, and a Metro parking garage accessed from Garden City Drive, with connections from US-50, Capital Beltway (I-495/I-95), and Pennsy Drive. The Westside has 2 surface parking lots accessed from Ellin Road, which connects with Harkins Road and Annapolis Road.
All Day Parking:
There are 3,519 parking spots in a garage and five surface lots. Cost/day is between $4.50 / *$8.25. Parking fees are collected upon exit from 10:30 a.m. to Metro closing hours. Parking fees can be paid using SmarTrip® Card and credit/debit cards.
*Note: The lower cost/day requires a valid metro trip using a SmarTrip card originating from a metro station other than the one where you parked. To receive this lower rate, you must pay for your parking with the same SmarTrip card used to enter/exit Metro, and must exit the parking lot within two hours of exiting Metro.
Short-term Metered Parking:
There are 97 parking spots. Parking is available from 8:30 a.m. - 3:30 p.m. and 7 p.m. - 2 a.m. The rate is $1.00 per 60 mins. Meters at short-term parking spaces accept only quarters and $1 coins.
Additional spaces and costs:
The Eastside lot has 129 short-term metered spaces. The Westside lot has 20 short-term metered spaces. There are 20 spaces metered for a maximum of 12-hours @ $1.00 per 60 mins.
Prince George's County also operates a second garage with 400 spaces allocated for monthly passes, but the entire garage is available for Metro, MARC, and Amtrak patrons paying a daily rate.
Reserved Parking:
There is reserved parking at West of Garden City Drive, north of John Hanson Highway, east of Harkins Road, south of Ellin Road. The reserved rate is $65.
Bus Connections
New Carrollton Station plays an important role in the suburban Maryland transportation network by facilitating many transfers. Twenty-four bus routes serve the station. There are four bus bays on the west side of the station and six bus bays on the east side. From this station, passengers can transfer to WMATA Metrobus and MTA Bus. The map below shows you where to board your bus from the station.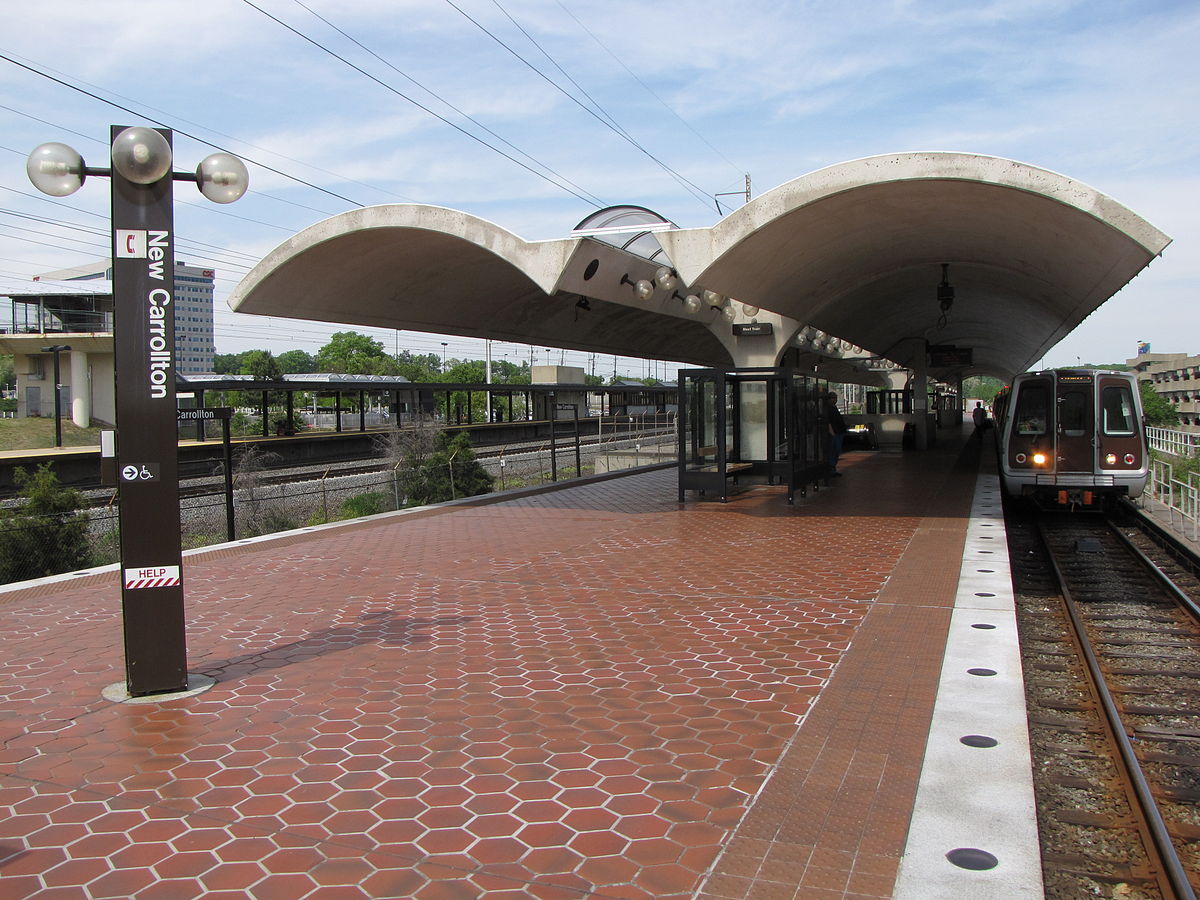 Related Information



Metro
The metropolitan subway system of Washington DC.




Metrobus
Bus complementing the service provided by Metro.




Metro Pocket Guide
Essential information for Metro riders.




DC Circulator
Bus connecting areas that are not accessible by Metro.




SmarTrip Card
SmarTrip can be used in Metro, Metrobus, and DC Circulator.