Huntington


View Metro Map
2701 Huntington Avenue, Alexandria, VA 22303
Metro Line: Yellow Line.
Metro Schedule: Opens at 4:50 a.m.
Metro Entrances: The station has two entrances or exits at:

Huntington Avenue at Fenwick Drive

Kings Highway north of Fort Drive

First and Last Trains
First Trains: Trains leave exactly 2 hours later on Saturdays and Sundays.

Yellow line train from Mt Vernon Sq / 7th St-Convention Center - 5:00 AM
Last Trains: Trains leave exactly 3 hours later on Friday and Saturday nights.

Yellow line train from Fort Totten - 11:34 PM (No Red Line Transfer Possible)
Metro Platform
The Huntington Station has 1 island platform and 2 tracks. The Yellow Line trains go in two directions named for the last stop on the line.

Yellow Line: Huntington --- Fort Totten / Mt Vernon Sq / 7th St-Convention Center
The Yellow Line goes in two directions: Huntington and Fort Totten.
However, the last station is Mount Vernon Square / 7th Street - Convention Center during peak hours. On weekdays, peak hours are from 5:30-9:30 a.m. and 3-7 p.m. On weekends, peak hours are from 2 a.m. to closing.
Use the Metro's Trip Planner to find out exactly how to get where you want to go in the Washington DC area, using Metrobus, Metro and local bus systems. The Trip Planner asks you where you're starting and when and where you want to go. Then it finds the best way for you to get there using the Metro system and local bus systems.
Bike Parking
There are 34 bike racks and 12 lockers. Bicycle lockers are available for rent. So you can ride your bicycle to the metro station, leave it there, and take Metro or Metrobus.
Bicycle lockers provide secure parking by improving protection from theft, vandalism, and weather. Each locker is designed to hold one bicycle and bicycle gear. Most standard bicycles will fit inside. However, longer bicycles such as tandem bikes or some recumbent bikes will not fit into the lockers.
To rent a locker, send an email to bikelocker@wmata.com providing your name, address, contact phone number, email address, and station of interest. All locker rentals cost are subject to availability.
Metro Parking
There are three parking garages, two old ones and a new one.
All Day Parking:
There are 3,617 parking spots. Cost/day is $4.25. Parking fees are collected upon exit from 10:30 a.m. to Metro closing hours. Parking fees can be paid using SmarTrip® Card and credit cards.
Short-term Metered Parking:
There are 32 parking spots. Parking is available from 5 a.m. to 2 a.m., time limit is 12 hours. The rate is $1.00 per 60 mins. Meters at short-term parking spaces accept only quarters and $1 coins.
Additional Parking Spaces:
The Huntington North Garage on the Huntington Ave. side of the station has up to 150 daily parking spaces. Parking is also available in the new Huntington III garage adjacent to this structure.
Overnight Parking:
There are 15 and 17 spaces allocated for multi-day use of up to 10 days. Availability is on a first-come, first-served basis. Cost/Day is $4.25. There is no charge for multi-day parking beyond the regular fee. Access multi-day parking by entering the Huntington III Parking Garage through the lower level entrance at Huntington Avenue at Fenwick Drive and proceeding to Row B of the facility. Park in spaces signed "multi-day parking."
Reserved Parking:
There is reserved parking at Huntington Ave. at Fenwick Drive, North Kings Highway (Route 241), north of Fort Drive. The reserved rate is $65. Monthly permit holders are required to pay the daily fee each time they park. (The daily fee is in addition to the $65 monthly permit fee).
Free Parking:
Parking is free at Metro-operated lots on weekends and federal holidays. Most weekends, it is easy to find a space at Metro parking lots.
Bus Connections
Huntington Metro Station connects passengers to other bus systems in the Washington Metropolitan region. From this station, passengers can transfer to WMATA Metrobus, and Fairfax Connector. The map below shows you where to board your bus from the station. Consult the map and bus stop information below for routing and schedule information about each route serving the Huntington Station.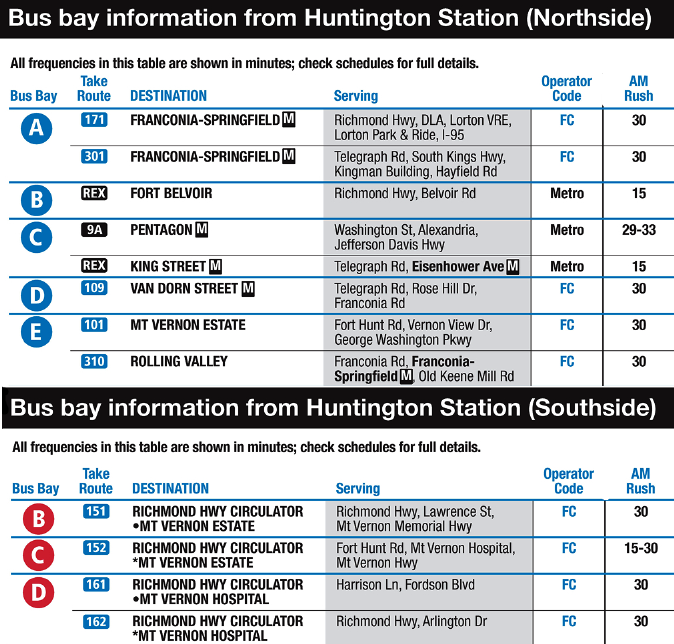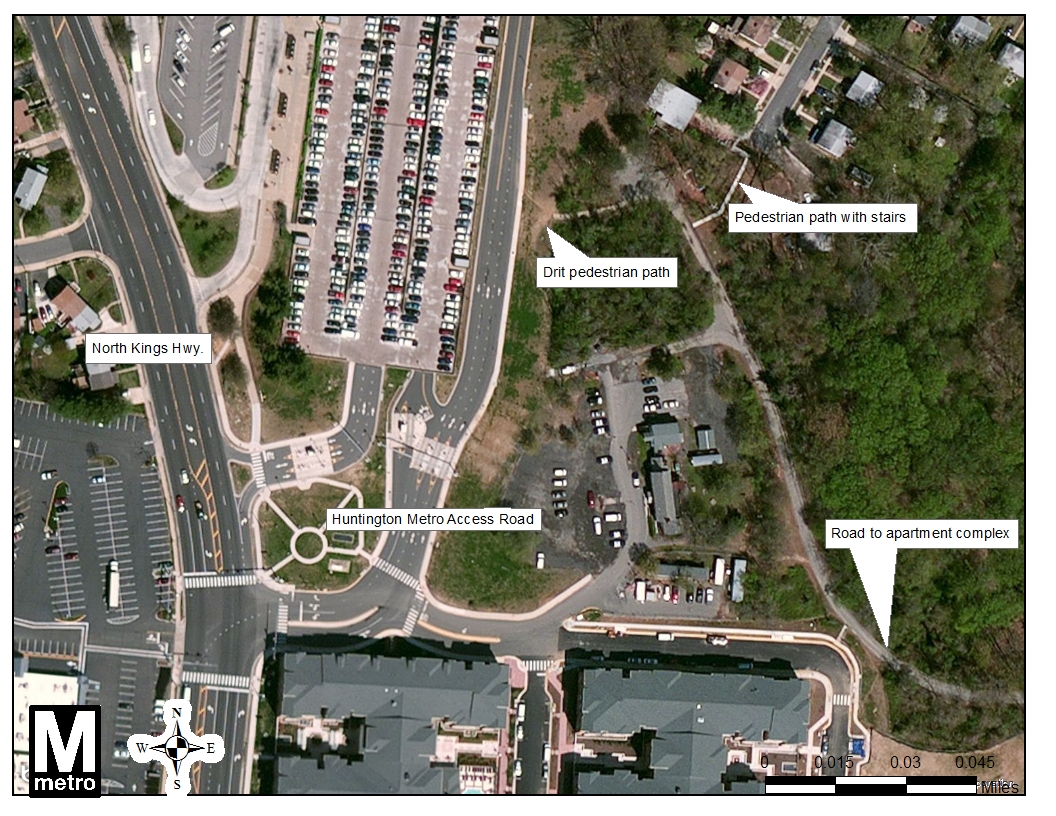 Related Information



Metro
The metropolitan subway system of Washington DC.




Metrobus
Bus complementing the service provided by Metro.




Metro Pocket Guide
Essential information for Metro riders.




Metro Map
Printable version of the Metro map.




DC Circulator
Bus connecting areas that are not accessible by Metro.