Metro farecards and Passes can be purchased from machines located in all Metro stations. There are two types of farecard vending machines:
1. Blue machines labeled "Passes/Farecards"
2. Brown machines labeled "Farecards"
The Passes/Farecards Machines accept both cash and credit cards, and sell both Metro farecards and passes. If you have a SmarTrip® Card, you can also add money to your SmarTrip Card at these machines using cash or a credit/debit card.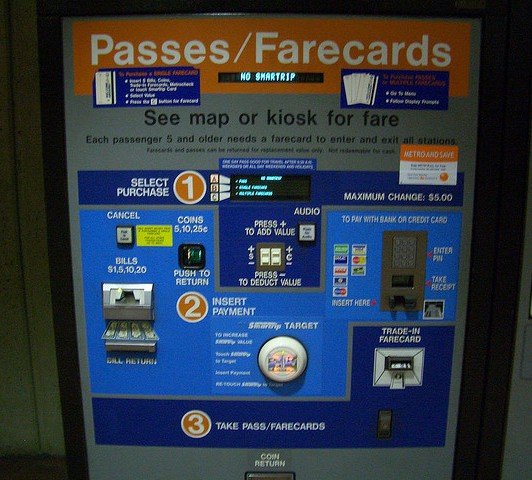 The Farecards Machines only accept cash and sell only Metro farecards. If you are using cash, keep in mind that the machines only return change in coins and the maximum amount that can be returned is $5.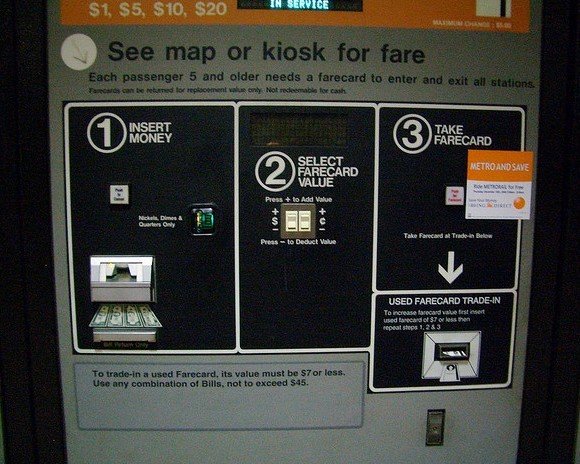 When you are ready to purchase your Metro farecard, read the instructions on the screen. On the machine, there are buttons labeled A, B, C, and buttons marked with arrows indicating up or down. Use the lettered buttons to select options on the screen. Use the arrows to select dollar values. When the transaction is complete, your farecard will come out through a dispenser just below the bezel.
Each person must have its own Metro farecard/pass for the price of their entire trip. Metro farecards, Metro Passes or SmarTrip® Cards cannot be shared with other passengers.
Related Information



Metro
The metropolitan subway system of Washington DC.




Metrobus
Bus complementing the service provided by Metro.




Metro Pocket Guide
Essential information for Metro riders.




DC Circulator
Bus connecting areas that are not accessible by Metro.




SmarTrip Card
SmarTrip can be used in Metro, Metrobus, and DC Circulator.