Closest Metro Stop:
Dupont Circle


View Metro Map

Fax: (202) 483-9326

Phone: (202) 332-7100

Website:

Email: [email protected]

Address: 1608 New Hampshire Ave NW, Washington, DC 20009
Dupont Circle Metro Station on the red line of the Metro system is the closest station to the Embassy of Zimbabwe. The station has two exits; make sure to leave the station through the "Q Street Exit". For suggested routes and directions, please see the map below.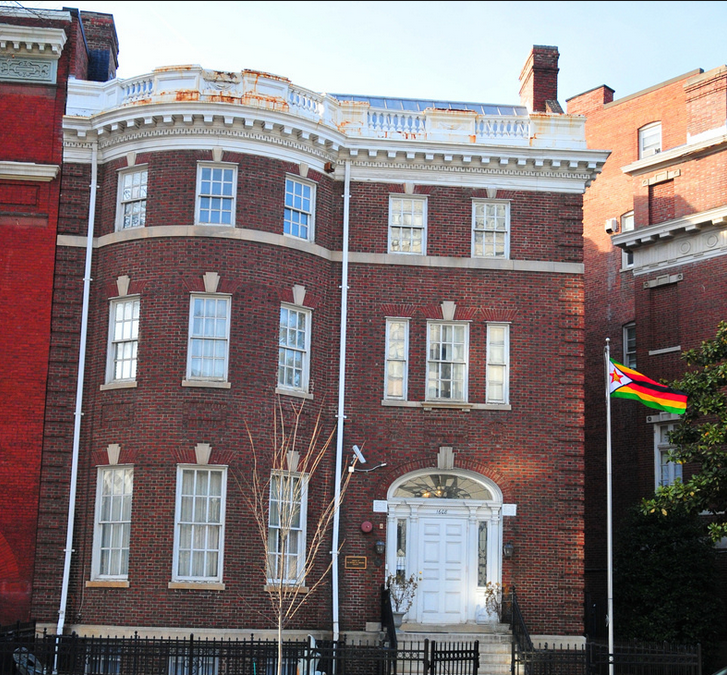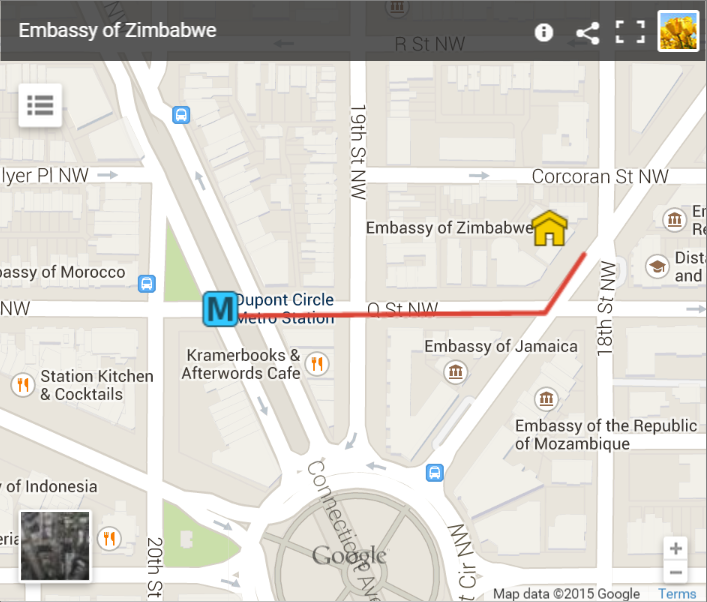 From Dupont Circle Metro Station
Approximately 0.2 mile, 3 min walk


Leave the station through the Q Street Exit.


Head east on Q St NW toward Connecticut Ave NW.


Turn left onto New Hampshire Ave NW.


Destination will be on the left.
Do You Need a Visa?
For up-to-date information to help you determine if you need a visa to enter Zimbabwe, or if you are eligible to apply at the port of entry in Zimbabwe, or if you need to apply in advance, see Visa Regime at evisa.gov.zw/visa_regime
The Zimbabwe's visa regime is divided into 3 categories:
Category A: Nationals of the following countries do not require a visa.
Antigua and Barbuda; Aruba; Bahamas; Barbados; Belize; Botswana; The Cayman Islands; Democratic Republic of Congo; Cyprus; Fiji; Grenada; Jamaica; Kenya; Kiribati; Leeward Islands; Lesotho; Malawi; Malaysia; Maldives; Malta; Mauritius; Montserrat; Namibia; Nauru; New Zealand; Western Samoa; Singapore; Solomon Islands; St. Kitts and Nevis; St. Lucia; St. Vincent and The Grenadines; Swaziland; Tanzania; Togo; Trinidad & Tobago; Turk & Caicos Islands; Tuvalu; Uganda; Vanuatu; and Zambia.
Category B: Nationals of the following countries can be granted visas at the port of entry upon payment of the visa fee. You can also obtain this visa in advance at an embassy.
Argentina; Australia; Austria; Belgium; Bermuda; Brazil; Brunei; Canada; Cook Islands; Denmark; Dominican Republic; Egypt; Finland; France; Germany; Ghana (no charge); Greece; Iceland; Indonesia; Ireland; Israel; Italy; Japan; South Korea; Kuwait; Liechtenstein; Luxembourg; Monaco; Netherlands; Norway; Palau; Palestine; Papua New Guinea; Poland; Portugal; Puerto Rico; Seychelles; South Africa (no charge); Spain; Sweden; Switzerland; United Arab Emirates; United Kingdom; United States of America; Uruguay; Vatican; and Virgin Islands.
Category C: Nationals of the following countries are required to apply for and obtain visas prior to traveling.
Afghanistan, Albania, Algeria, Andorra, Angola, Armenia, Azerbaijan, Bahrain, Bangladesh, Belarus, Benin, Bhutan, Bolivia, Bosnia-Herzegovina, Brazzaville, Bulgaria, Burkina Faso, Cambodia, Cameroon, Cape Verde Islands, Central African Republic, Chad, Chile, China, Columbia, Comoros Islands, Congo (Brazzaville), Costa Rica, Conakry, Cote díVoire, Croatia, Cuba, Djibouti Republic, Ecuador, El Salvador, Equatorial Guinea, Eritrea, Estonia, Ethiopia, Eyrom, French Guiana, French Polynesia, French West Indies, Gabon, Gambia, Georgia, Gibraltar, Guam, Guatemala, Guinea, Guinea Bissau, Guyana, Haiti, Honduras, India, Iran, Iraq, Jordan, Kazakhstan, Korea (DPRK), Krygystan, Laos, Latvia, Lebanon, Liberia, Libya, Lithuania, Macau, Madagascar, Mali, Marshall Islands, Mauritania, Mexico, Micronesia, Moldova, Mongolia, Morocco, Myanmar, Nepal, New Caledonia, Nicaragua, Niger, Nigeria, Norfolk Islands, Northern Mariana Island, Oman, Pakistan, Panama, Paraguay, Peru, Philippines, Principe, Qatar, Reunion, Romania, Samoa (America), San Marino, Sao Tome, Saudi Arabia, Senegal, Serbia, Sierra Leone, Somalia, Sri Lanka, Sudan, Suriname, Syria, Tajikistan, Taiwan, Thailand, Togo, Tunisia, Turkey, Turkmenistan, Ukraine, Uzbekistan, Venezuela, Vietnam, Yemen Republic, Yugoslavia.
All Categories need:


Passport valid for a least 6 months from your date of entry.


Return ticket to your country.


Sufficient funds to cover your stay in Zimbabwe.


Enough blank pages in your passport to fit the required entry visa.
If Traveling On Business: include letter of invitation from Zimbabwe on company letterhead, flight itinerary, hotel reservation confirmation.
If Traveling For Pleasure: include flight itinerary, tour itinerary, hotel reservation confirmation, hunting permit.
If Staying at a Private Residence: include letter of invitation and hostís proof of residency Ė current lease agreement or recent water/electric bill showing hostís name and address as printed on the application form.
Electronic Visa Processing System
Zimbabwe has introduced an e-visa application and processing platform which is accessible on evisa.gov.zw. Applicants will be required to pay the visa fees at the port of entry upon the production of an approval letter issued through the electronic system. The letter will also be used to board the plane in case where the applicants are using air transport
If you have difficulties in using the e-visa application system, you may still submit your application through the Embassy in Washington DC using the old format.
Requirements for a Tourist Visa (Category B)
1) Completed Visa Application Form (PDF Format).
2) Two passport-size photographs.
3) Original passport valid for at least 6 months.
4) Proof of accommodation reservation in Zimbabwe.
Requirements for a Tourist Visa (Category C)
1) Completed Visa Application Form (PDF Format).
2) Two passport-size photographs.
3) Original passport valid for at least 6 months.
4) Proof of accommodation reservation in Zimbabwe.
5) Proof of residential status (residence permit/visa) in country of residence.
6) Signed invitation letter from Host. Letter should have residential address and telephone number of Host.
For return of passport, self-addressed, stamped U.S. Postal Service Express Mail envelope. The embassy does not accept air bills for DHL, Federal Express or UPS. If using one return envelope for multiple applications, indicate names of all applicants outside return envelope.
Extension of Stay as a Visitor
A traveler can extend his/her stay as a visitor. At the discretion of an Immigration Officer, the maximum period allowed as a visitor is six (6) months. However, a visitor will be given a 3-month Visitor Entry Certificate at a port of entry. That certificate will need a monthly extension sought a week before it expires up to a maximum stay of six months. Extension beyond six months can only be granted on written application to the Chief Immigration Officer. Application for extension of stay can be done at any nearest Immigration office.