Closest Metro Stop:
Dupont Circle


View Metro Map

Fax: (202) 986-0443

Phone: (202) 986-0540

Email Address:
Embassy:
Consular: [email protected]

Website: namibianembassyusa.org

Address: 1605 New Hampshire Ave NW, Washington, DC 20009.
Dupont Circle Metro Station on the red line of the Metro system is the closest station to the Embassy of Namibia. The station has two exits; make sure to leave the station through the "Q Street Exit". From the station, it is approximately a 4-minute walk to the embassy. For suggested routes and directions, please see the map below.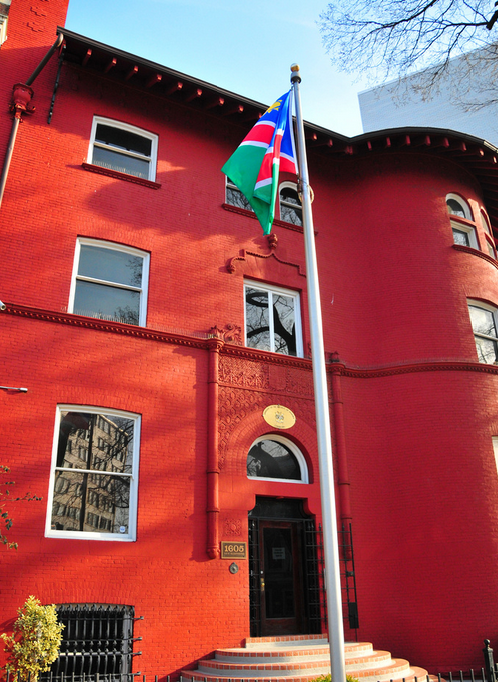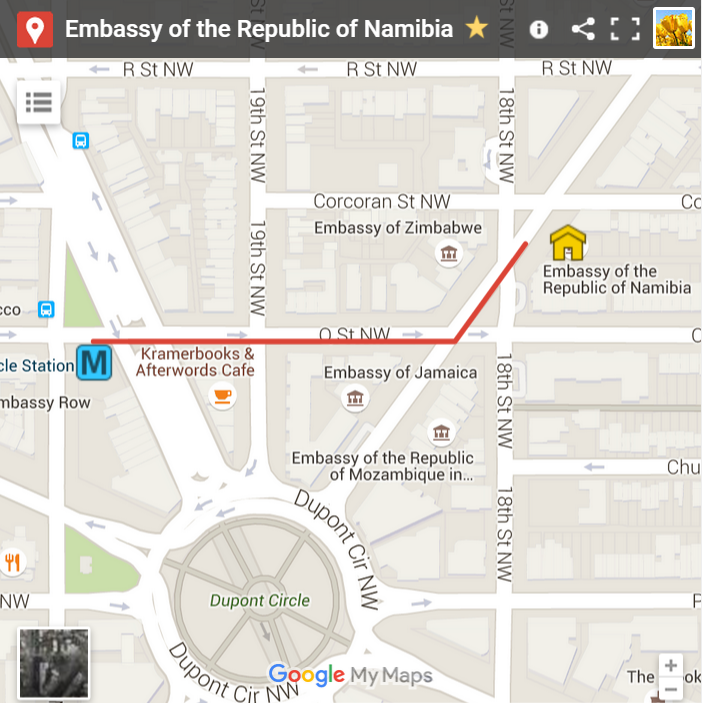 From Dupont Circle Metro Station
Approximately 0.2 mile, 4 min walk


Leave the station through the Q Street Exit.


Head east on Q St NW toward Connecticut Ave NW.


Turn left onto New Hampshire Ave NW.


Destination will be on the right.
Visa-Exempt Countries
Passport holders from the following countries do not need a visa when traveling as tourists to Namibia for a maximum period of 90 days:
Angola
Australia
Austria
Belgium
Botswana
Brazil
Canada
Cuba
Denmark
Finland
France
Germany
Hong Kong
Iceland
India*
Ireland
Italy
Japan
Kenya
Lesotho
Liechtenstein
Luxembourg
Macau SAR
Malawi
Malaysia
Mauritius
Mozambique
Netherlands
New Zealand
Norway
Portugal
Russian Federation**
Singapore
South Africa
Spain
Swaziland
Sweden
Switzerland
Tanzania
United Kingdom
USA
Zambia
Zimbabwe
* Applies only to Official and Diplomatic Passport Holders up to 3 months
** Including the Commonwealth of Independent States of the former U.S.S.R
Visa Application Process
All visas are issued on the day the application forms are received and will be valid for 3 months. Incomplete forms and requirements may delay the process. Expedited same-day service is only provided for dropped-off applications. Next-day service is provided for mailed in applications. All applicants must submit the following documents:
1) Visa Application Form
Complete a Visa Application Form (PDF Format).
2) Passport
Original passport with at least 6 months validity from the date of entry and at least three or more blank pages.
3) Photographs
Two color 2 x 2 passport-size photographs (should be identical).
4) Self-Addressed Envelope
If applying by mail, provide a self-addressed pre-paid envelope with a tracking number. The embassy will use this envelope to return of your passport.
5) Payment of Visa Fee
Cash, money order or certified United States bank check (personal checks will not be accepted) payable to the Embassy of Namibia. Payments must be in US Dollars.
6) Travel Itinerary
Round-trip flights tickets, and hotel reservations or tour/safari confirmation.
7) Financial Means
Proof of adequate funds for the duration of stay.
8) Letter of Invitation
Proof that they will be supported by a person who is a permanent resident of Namibia or is Namibian if such a case applies; provide a signed letter of invitation, passport copy, copy of work permit/residence permit (if applicable).
9) For Business Visa
Business letter stating nature of visit (if applicable)
10) For holders of Diplomatic, Official and Laisser-Passer
An official letter from the applicant's diplomatic mission/organization. The letter should state the full identity of the visa applicant and the grounds for him/her holding a diplomatic/official passport (position within the diplomatic mission or family links with an official), the full details of the travel document, and the purposes and dates of the stay in Namibia.
Once you have all the required documents, place them in one envelope and mail them to the following address:
The Embassy of the Republic of Namibia in Washington, DC
Attn: Consular Section
1605 New Hampshire Avenue, NW
Washington, DC 20009