Closest Metro Stop:
Van Ness-UDC


View Metro Map

Fax: 202) 686 - 4491

Phone: (202) 966-2861, (202) 966-2887, (202) 966-2909, (202) 966-8757

Website:

Email: HKJembassyDC@jordanembassyus.org
HKJconsular@jordanembassyus.org

Address: 3504 International Drive NW, Washington, DC 20008.
The Embassy of Jordan is located at the International Center area, near the Office of the Foreign Mission (OFM) of the Department of State, University of the District of Columbia (UDC), and the INTELSAT Headquarter.
The Van Ness-UDC Metro Station on the Red line of the Metro System is the closest station to the Embassy of Jordan. Use the map and directions shown below to find suggested routes to the Embassy.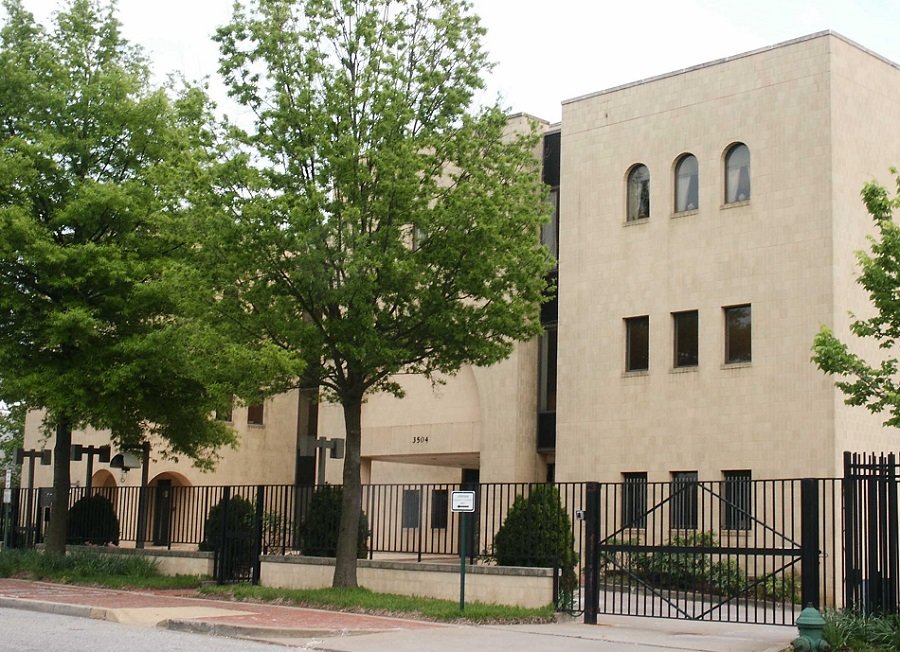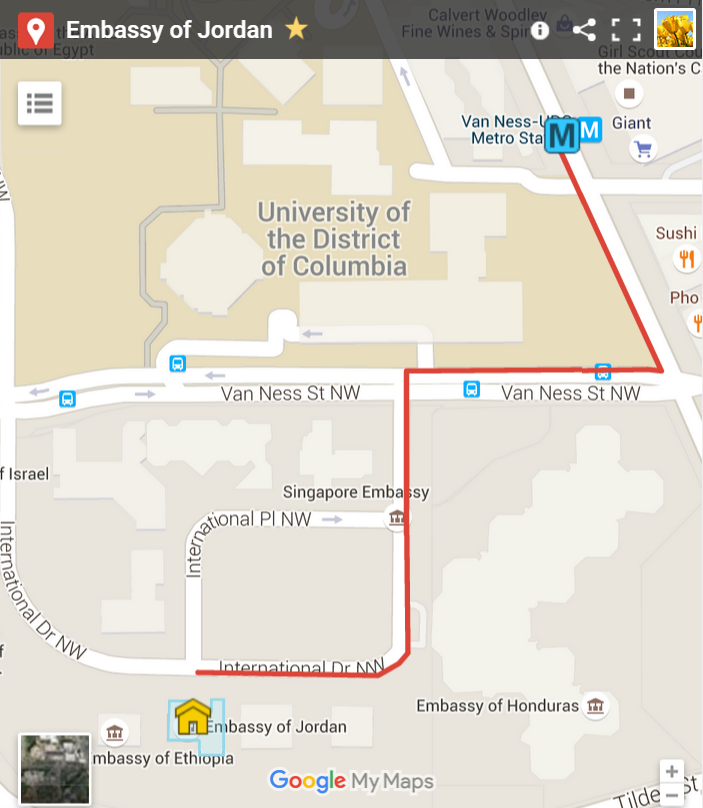 From Van Ness-UDC Metro Station
Approximately 0.4 mile, 9 min


Head southeast on Connecticut Ave NW toward Veazey Terrace NW.


Turn right onto Van Ness St NW.


Turn left onto International Dr NW.


The embassy will be on the left.
Visa Requirements
U.S. Citizens may obtain an entry visa upon arrival at Amman's Queen Alia International Airport or at any border crossing (except the King Hussein Bridge-Allenby Bridge). However, certain nationalities are required to obtain an entry visa prior to travel. The list below is meant solely as a useful tool and the data within it is subject to change without prior notice. It is recommended that you check with the Jordanian embassy prior to travel to ensure that you have all the necessary paperwork for travel.
Countries Not Requiring Prior Visa Clearance:
Africa: Algeria, Cape Verde, Egypt, Lesotho, Libya, Malawi, Mauritius, Montenegro, São Tomé and Príncipe, Seychelles, South Africa, Swaziland, Tunisia, Zimbabwe.
Asia: Andorra , Bahrain , Bhutan , Brunei , Burma , China , Taiwan , Hong Kong , India , Indonesia , Israel , Japan , Kazakhstan , Iraqi Kurdistan , Kuwait , Kyrgyzstan , Lebanon , Macau , Malaysia , Maldives , North Korea , Oman , Palestine/ PNA Passport Holders , Qatar , Russia , Saudi Arabia , Singapore , South Korea , Syria , Tajikistan , Thailand , Turkey , Turkmenistan , United Arab Emirates , Uzbekistan , White Russia , Yemen.
Caribbean Sea: Saint Kitts and Nevis , Saint Lucia , Saint Vincent.
Europe: Armenia , Austria , Azerbaijan , Belgium, Belarus , Bosnia &Herzegovina , Bulgaria , Croatia , Cyprus , Czech Republic, Denmark , Estonia , Finland , France , Georgia , Germany , Greece , Holland, Hungary , Iceland , Ireland , Italy , Kosovo , Latvia , Liechtenstein , Lithuania , Luxembourg , Macedonia , Malta , Monaco , Norway , Poland , Portugal , Romania , San Marino , Slovakia , Slovenia , Spain , Sweden , Switzerland , Turkey , Ukraine , United Kingdom & North Ireland , Vatican City , Yugoslavia.
North America: Canada , Mexico , United States of America, Antigua and Barbuda , Bahamas , Barbados , Costa Rica , Dominica , Dominican Republic , Grenada , Guatemala , Haiti , Honduras , Jamaica , Nicaragua , Panama , El Salvador , Trinidad and Tobago.
Ocean Asia: Australia , Federal States of Micronesia , Fiji , Kiribati , Marshall Islands , New Zealand , Samoa , Solomon Islands , Tonga.
Pacific Ocean: States of Micronesia , Tuvalu , Vanuatu.
South America: Argentina , Bolivia , Brazil , Chile , Ecuador , Guyana , Paraguay , Peru , Surinam , Uruguay , Venezuela.
If you are from a country requiring prior visa clearance, use the forms below to obtain approval:
Form A: Visa Application Form for U.S. West Europe Citizens.
Form B: For others, Application to Obtain Approval to Apply for a Visa. Make sure to call the embassy at (202) 966-2861 ext. 104 to verify if you fall within this category.
Palestinian Regulations: Palestinian Citizens who hold a Palestinian passport without National number, not holding the Palestinian ID or the Palestinian ID starts with three zeros from left to right must obtain the approval before they travel.
Types of Visa
Single Entry Visa, Valid for 2 months starting from the day of issue.
Double Entry Visa, Valid for 3 months starting from the day of issue.
Multiple Entry Visa, Valid for 6 months starting from the day of issue.
The visa application fee must be paid by money order only with your name, address and phone number, payable to the Embassy of Jordan. Visa fees are not refundable.
If you plan to stay in Jordan longer than 30 days, you must register with the police before your permitted time expires. If you fail to do so, you will be fined when leaving the country.
Note: Groups of five persons or more arriving through a designated Jordanian tour operator with a government certified tour guide are exempt from all visa charges, provided the group arrives and departs together as well as stay a minimum of 3 nights in Jordan.
Visa Requirements
In order to obtain an entry visa in advance from the Embassy, you will need the following:
(1) Completed application form signed by the applicant.
(2) Original passport valid for at least 6 months from the date Jordan issues the visa.
(3) One recent passport-size photo attached to the form.
(3) Payment of visa fee.
For Business Trips: include a letter from employer stating the purpose of trip.
For Diplomatic or Official Visas (No Fee): include a letter of request from your department.
If sending by mail, include a pre-paid, self-addressed express envelope with postage to return your passport(s). You can use Express or UPS mail, but please do not use Fed-Ex mail. No more than (2) passports will be included per envelope. Keep tracking number for the return envelope.