Closest Metro Stop:
Van Ness-UDC


View Metro Map

Phone: +1 (202) 686-4520

Fax: +1 (202) 686-4527

Email: [email protected]

Website:

Address: 3512 International Drive NW, Washington DC 20008.
The Embassy of Ghana is located at the international center area, near the Office of the Foreign Mission (OFM) of the Department of State, University of the District of Columbia (UDC), and the INTELSAT Headquarter.
Van Ness-UDC Metro Station on the Red Line of the Metro System is the closest station to the Embassy of Ghana. From the station, it is approximately a 9-minute walk to the Embassy. Use the map and directions shown below to find suggested routes.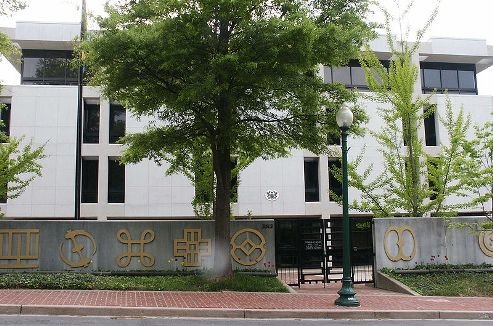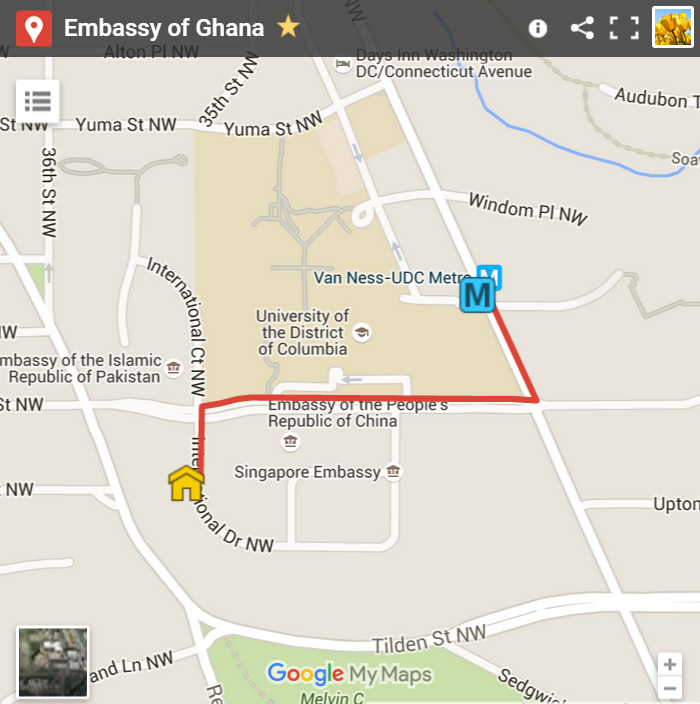 From Van Ness-UDC Metro Station
Approximately 0.4 mile, 9 min


Head southeast on Connecticut Ave NW toward Veazey Terrace NW.


Turn right onto Van Ness St NW.


Turn left onto International Dr NW.


Destination will be on the right.
Visa-Exempt Countries
Passport holders of the following countries do not need a visa to travel to Ghana.
ECOWAS Countries: Benin, Burkina Faso, Cape Verde, Cote 'Divoire, Gambia, Guinea, Guinea Bissau, Liberia, Mali, Mauritania, Niger, Nigeria, Senegal, Sierra Leone, Togo.
Others: Egypt, Kenya, Singapore, Trinidad and Tobago.
Holders of Diplomatic/Service Passport of: Brazil, Cuba, Germany, Iran and Hong Kong special administrative region (SAR) of China for a period not exceeding 3 months.
Holders of Official Passport of: the African Union, Regional Economic Communities in African, United Nations and its specialized agencies such as the World Bank, the African Development Bank, IMF, and WFP
Nationals of the following Commonwealth, East and Southern African Countries: Botswana, Lesotho, Malawi, Tanzania, Uganda, Swaziland, Zimbabwe
In Transit: Travelers seeking entry clearance to enter Ghana in transit may be admitted for a period not exceeding 48 hours. The Immigration officer at the point of entry must satisfied that:
1- The traveler has a valid visa and is assured of entry into the destination country.
2- The traveler I exempted from sustaining himself in the transit and destination countries.
3- The traveler may not decide to terminate his journey in Ghana.
General Visa Information
If you are applying for a visa to enter Ghana, please keep the following in mind:
Return Flight Ticket: All applicants must have a return air ticket, which should be submitted upon request, in the case of an application for tourist visa.
Official, Business, or Student Visa: An application for an official, business, or student visa shall be submitted together with a letter of invitation from the principals in Ghana and or in USA.
Children: All applications for minors (under 18 years old) should be submitted together with the original birth certificate, with a letter of consent from the parent, and a copy of the parent's photo ID.
Visas for Journalists: In the case of journalist and or film crew who are covering an event or shooting a film in Ghana, the visa application may take up to 2 weeks (14 days) for processing. In addition, such applicant must complete another form to indicate the nature of coverage and equipment to be taken to Ghana. Upon arrival in Ghana, such applicant shall call at the Information Services Department for accreditation.
Visa Requirements
It is recommended that you submit your visa application two weeks to one month prior to your trip to Ghana. Also, applicants must send their original passports as part of their application as all visas, if issued, are inserted into the passports. The following documents are required:
1) Visa Application Form
Complete two copies of the Visa Application Form (PDF Format).
2) Original Passport
Your passport must be valid for at least 6 months before expiration.
3) Financial Means
Evidence of financial support or letter of invitation from host in Ghana.
4) Photographs
Two passport-size photographs, which should be taken at least within the last 3 months (very important). Affix each photograph with glue on the top right comer of the application form.
5) Visa Payment
Payment of the visa fee.
6) Self-Addressed Envelope
Applications submitted by mail must be accompanied by prepaid self-addressed overnight, trackable Fed-Ex envelope for return of passports. Only requests accompanied by certified prepaid return envelopes will be processed.
Send the completed application to:
The Consular Section
3512 International Dr. NW
Washington DC, 20008