Closest Metro Stop:
Dupont Circle


View Metro Map

Fax: (202) 232-3763

Phone: (202) 595-7500

Website:

Email: [email protected]

Address: 1400 16th St NW, Suite 100, Washington DC 20036.
The Embassy of El Salvador is located in the Dupont Circle neighborhood. The Dupont Circle Metro Station on the red line of the Metro system is the closest station to the Embassy. The Dupont Circle Station has two exits; make sure to leave through the "Q Street Exit". For suggested routes and directions, please see the map below.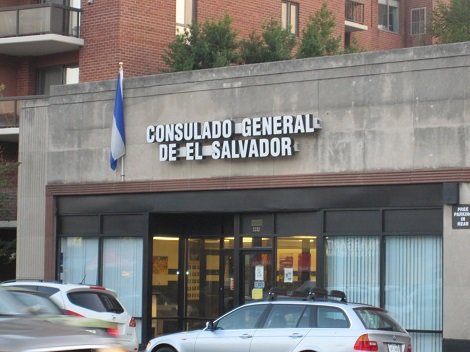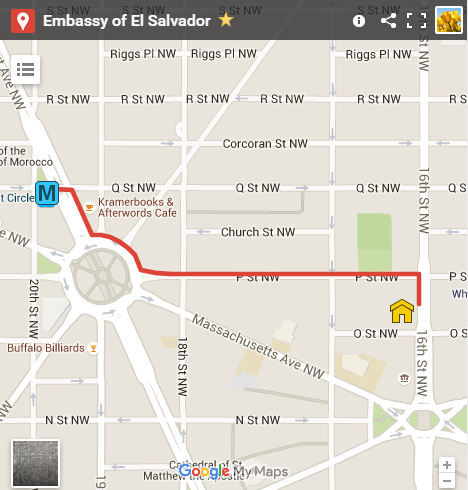 From Dupont Circle Metro Station
Approximately 0.5 mile, 10 min walk


Leave the station through the Q Street Exit.


Head east on Q St NW toward Connecticut Ave NW.


Turn right onto Connecticut Ave NW.


At the traffic circle, take the 5th exit onto P St NW.


Turn right onto 16th St NW.
Central America Border Control Agreement (CA-4)
El Salvador is part of the Central America Border Control Agreement (CA-4). Under the terms of this agreement, citizens of the four countries may travel freely across the CA-4 countries (Honduras, Nicaragua, El Salvador, Guatemala) for a period of up to 90 days, without completing entry and exit formalities at border immigration checkpoints. This period begins at the first point of entry in to any of the CA-4 countries.
U.S. Citizens and other eligible foreign nationals, who legally enter any of the four countries, may similarly travel across the CA-4 countries without obtaining additional visas or tourist entry permits for the other three countries. Immigration officials at the first port of entry determine the length of stay, up to a maximum period of 90 days.
Foreign tourists who wish to remain in the CA-4 region beyond the period initially granted for their visit (e.g., longer than 90 days) must request a one-time extension of stay from local immigration authorities in the country where the traveler is physically present, or they must leave the CA-4 countries and reapply for admission to the region.
Foreigners "expelled" from any of the four countries are excluded from the entire CA-4 region. In isolated cases, the lack of clarity in the implementing details of the CA-4 Border Control Agreement has caused temporary inconvenience to some travelers and has resulted in others being fined more than $100 or detained for 72 hours or longer.
Visa-Exempt Countries
Citizens from the following countries can travel to El Salvador without a visa:
Andorra, Antigua and Barbuda, Argentina, Australia, Austria, Bahamas, Bahrain, Barbados, Belgium, Belize, Brazil, Brunei, Bulgaria, Canada, Chile, Costa Rica, Croatia, Cyprus, Czech, Denmark, El Salvador, Estonia, Fiji, Finland, France, Germany, Greece, Guam, Guatemala, Honduras, Hungary, Iceland, India, Ireland, Israel, Italy, Japan, Korea(south), Kuwait, Latvia, Liechtenstein, Lithuania, Luxembourg, Macedonia, Madagascar, Malaysia, Malta, Marshall Islands, Mexico, Monaco, Netherlands, New Zealand, Nicaragua, Norway, Panama, Paraguay, Poland, Portugal, Qatar, Romania, Russia, Saint Vicent and Grenadines, Saint Lucia, San Kitts and Nevis, San Marino, Sao Tome and Principe, Saudi Arabia, Singapore, Slovakia, Slovenia, Solomon Islands, Spain, South Africa, Sweden, Switzerland, Taiwan, Trinidad and Tobago, Turkey, Tuvalu, Ukraine, UAE, UK, Uruguay, USA, Vanuatu and Vatican.
For everyone else, you will need to apply for a visa.
Tourist Card
To enter El Salvador, you must purchase a tourist card, which is valid for 30 to 90 days, as determined by Salvadorean immigration officials. The tourist card is not a visa, but it is a mandatory requirement upon entry at Comalapa International Airport or one of the four land border points.
When you buy the tourist card, you will be given a receipt to keep with your passport. You will not be required to re-pay if you exit and re-enter El Salvador (for a brief side trip to Honduras, for example), as long as you have your receipt and your tourist card remains valid.
Tourist cards are valid for 30 days, but you can request up to 90 days - be sure to ask when you step up to the immigration counter. It is your responsibility to obtain entry and exit stamps at border crossings. If you wish to extend your stay in El Salvador past 90 days, you may apply for an extension of your tourist card.
General Visa Requirements
Travelers who plan to remain in El Salvador for an extended period (longer than 90 days) may need to aply in advance for a multiple entry visa. Single-entry visas are valid for 30, 60 or 90 days, and Multiple-entry visas are valid for a year. Visa requirements vary per nationality. Make sure to contact the Embassy of El Salvador for details.
1) Visa Application Form
One completed Visa Aplication Form (PDF Format).
2) Passport
Original passport valid for 6 months from date of arrival.
3) Photographs
Two recent professional passport-size photos.
4) Proof of Funds
Proof of sufficient funds for your intended stay in El Salvador, such as a personal bank statement (must show your name and address), travelers checks, etc.
5) Travel Itinerary
A copy of your round-trip airline tickets or comfirmed itinerary. It can be a reservation or an electronic booking confirmation.
Tourist and Business visas are normally issued within 24 hours. If authorization from the Immigration Department in El Salvador is needed, processing time is approximately 21 days.