Closest Metro Stop:
Van Ness-UDC


View Metro Map


Phone: (202) 895-5400

Fax: (202) 244-4319 / (202) 244-5131

Email: [email protected]

Website:

Address: 3521 International Court NW, Washington DC 20008.

Hours: Monday-Friday, 10AM-1PM
The Embassy of the Arab Republic of Egypt is located at the International Center area, near the Office of the Foreign Mission (OFM) of the Department of State, the University of the District of Columbia (UDC), and the INTELSAT Headquarter.
Van Ness-UDC Metro Station on the Red line of the Metro System is the closest station to the Embassy of Egypt. From the station, it is an 11-minute walk to the embassy. Use the map and directions shown below to find suggested routes.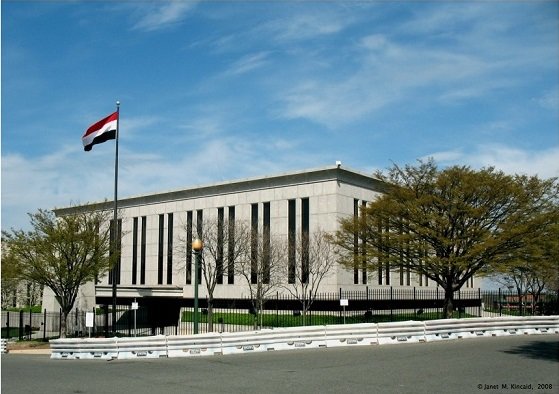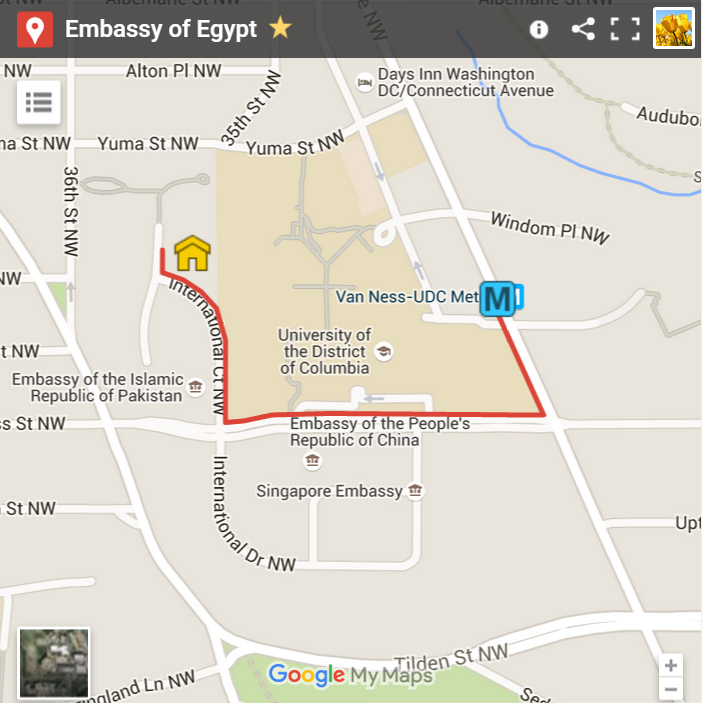 From Van Ness-UDC Metro Station
Approximately 0.5 mile, 11 min


Head southeast on Connecticut Ave NW toward Veazey Terrace NW.


Turn right onto Van Ness St NW.


Turn right onto International Ct NW.


Turn right to stay on International Ct NW.
Visa-Exempt Countries
Visa Exempt: Passport holders of Bahrain, Jordan, Kuwait, Libya, Oman, Qatar, Saudi Arabia, Syria and the United Arab Emirates are exempt from the visa requirement.
Visa On Arrival: Passport holders of EU, UK, Australia, Canada, Croatia, Georgia, Japan, New Zealand, Norway, Macedonia, Republic of Korea, Russian Federation, Serbia, Ukraine and USA, can obtain a visa on arrival.
Pre-Arrival Visa: Citizens of Afghanistan, Algeria, Armenia, Azerbaijan, Bangladesh, Bosnia-Herzegovina, Chechnya, Croatia, Georgia, India, Indonesia, Iraq, Iran, Israel, Kazakhstan, Kirghizia, Lebanon, Macau, Macedonia, Malaysia, Moldavia, Montenegro, Morocco, Pakistan, Palestine, The Philippines,Russia, Serbia, Slovenia, Sri-Lanka, Tadzhikistan, Thailand, Tunisia, Turkmenistan, Ukraine, Uzbekistan and all African countries, are required to be in possession of a pre-arrival visa.
If you are not arriving by air or sea (red sea), you may need to get a visa beforehand. If you are traveling overland from Sudan, you will need to get a visa before arrival.
Visa Requirements
Visa applications are processed in 10 business days (plus additional mailing time for mailed applications). In case Biometric data is required, an appointment will be set for personal appearance. The following documents are required:
1) Visa Application Form
Complete the Visa Application Form (PDF Format).
2) Passport
Provide an original passport valid for 6 months beyond stay in Egypt, with at least one blank visa page available for the Egyptian visa stamp.
3) Photographs
The applicant must provide two recent colored passport-sized photographs taken against a white background, with the name of the applicant written on the back and attached to the application form..
4) Proof of Legal Residence in the USA
Provide a photocopy of your green card and a photocopy of your round-trip flight tickets or itinerary. Student Visa Holders should provide a Registration Letter from school.
5) Payment of Visa Fee
Visa Fee payments should be made in cash or money order payable to the "Consulate of Egypt". If applying by mail, the exact visa fee amount should be sent via money order. If the exact amount is not sent, the application will be returned back to the sender with all his/her documents and the embassy will not issue the visa.
6) Self-Addressed Envelope
Provide a prepaid self-addressed stamped certified envelope, such as Express Mail or Certified Mail via any Overnight Courier. The envelope will be used to return your passport. The embassy does not take responsibility for any loss that may occur in the mailing of passports.
Multiple visa applications may be sent to the embassy together, but make sure that the correct size self-addressed envelope is enclosed for return by post. Mail the required documents to:
Consulate of the Arab Republic of Egypt
3521 International Court, N.W.
Washington DC 20008
For Business: Provide a letter from the applicant's employer indicating the purpose of the trip and financial guarantee of the company.
For Diplomatic Passport Holders: Provide two diplomatic notes stating purpose and dates of travel.
For Official Passport Holders: Provide an official note stating purpose and dates of travel.
For United Nations Laissez Passer Holders: Provide two official notes stating purpose and dates of travel.