Closest Metro Stop:
Van Ness-UDC


View Metro Map

Main Phone: +1 (202) 237-1838

Fax: +1 (202) 885-0560

Email: [email protected]

Website:

Address: 3520 International Court NW, Washington, D.C. 20008.
The Embassy of Brunei Darussalam is located at the International Center area, near the Office of the Foreign Mission (OFM) of the Department of State, the University of the District of Columbia (UDC), and the INTELSAT Headquarter.
Van Ness-UDC Metro Station is the closest station to the Embassy of Brunei Darussalam. It is approximately a 12-minute walk from the station to the Embassy. Use the map and directions shown below to find suggested routes.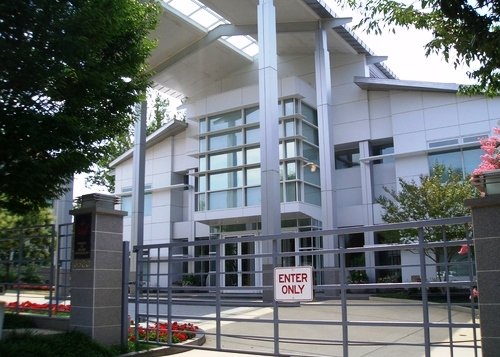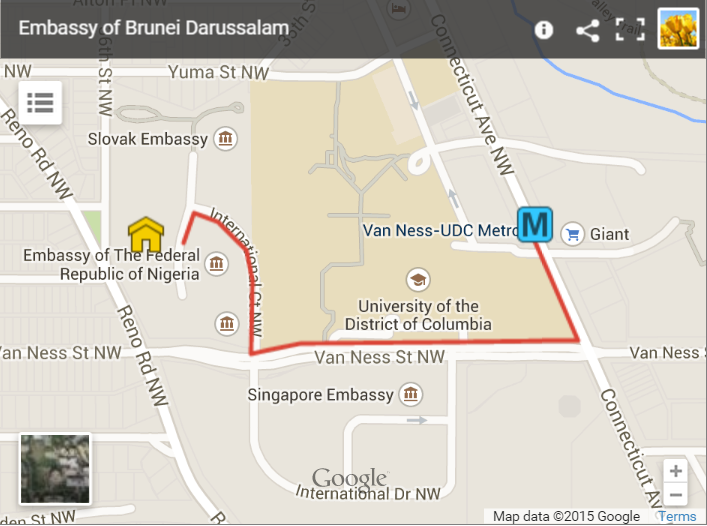 From Van Ness-UDC Metro Station
Approximately 0.5 mile, 12 min


Head southeast on Connecticut Ave NW toward Veazey Terrace NW.


Turn right onto Van Ness St NW.


Turn right onto International Ct NW.


Turn left to stay on International Ct NW.
Visa-Exempt Countries
Certain countries are exempted from the visa requirements for social, business, or professional visits depending on the number of days. All other nationals entering Brunei Darussalam must obtain visas beforehand from the High Commission.
Click here for more information on the current visa arrangements with Brunei Darussalam.
Visa Requirements
Applications can either be presented to the Embassy in person or by a representative, or sent by mail Issued visas are valid for up to 3 months only. Visitors are advised to submit the above documents to the High Commission at least 30 days before traveling to Brunei Darussalam. This is to take into account any applications which may need to be forwarded to Brunei Darussalam for further processing.
The following documents are required for the visa application process:
1) Visa Application Form
Completely fill and sign a Visa Application Form (PDF File).
2) Passport
Provide an original passport valid for at least 6 months past intended date of entry in Brunei. There should be at least 6 unmarked pages remaining.
3) Proof of Legal Residence in the USA
Provide a copy of the front and back of your Green Card, or valid re-entry visa into the United States.
4) Photograph
One recent passport-size photograph of the applicant.
5) Purpose of Travel
A letter stating the reason for the visit (business travelers also need a letter of invitation from the company in Brunei).
6) Travel Itinerary
Copy of the applicant's round-trip ticket booked itinerary (reservation) or letter from a travel agent under applicant's name with complete itinerary, flight number and arrival/departure dates and reservation code provided by the airline company.
7) Vaccination Certificate
Yellow fever vaccination certificate is required for travelers over one year of age coming from infected areas.
8) Self-Addressed Envelope
A certified or overnight pre-paid self-addressed envelope to return your passport after the visa application process is complete.
Transit: A Transit Visa issued on arrival is available. Kindly contact the Embassy for further details.
Employment: For those visiting Brunei Darussalam for employment, visas cannot be granted without a valid work permit issued by the Department of Immigration and National Registration in Brunei Darussalam in Brunei Darussalam. Visitors are not allowed to engage in full/part-time work without permission from the Director of Immigration.