Closest Metro Stop:
Woodley Park-Zoo/Adams Morgan


View Metro Map

Fax: (202) 338-4960

Phone: (202) 333-6900

Website:

Email: [email protected]

Address: 3330 Garfield St NW, Washington, DC 20008
Woodley Park-Zoo/Adams Morgan Station on the red line of the Metro system is the closest station to the Embassy of Belgium. From the station, it is approximately an 18-minute walk to the Embassy. Use the map and directions shown below to find suggested routes.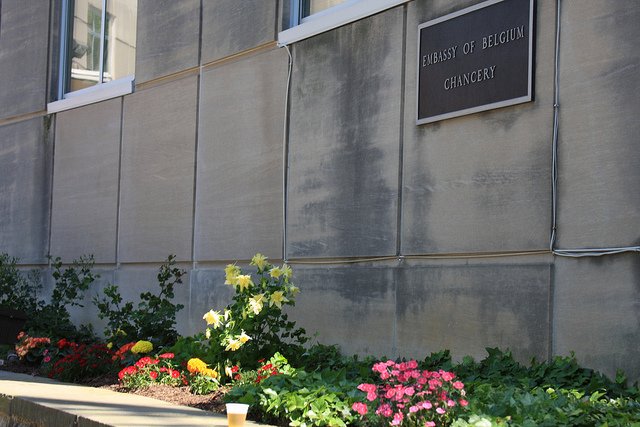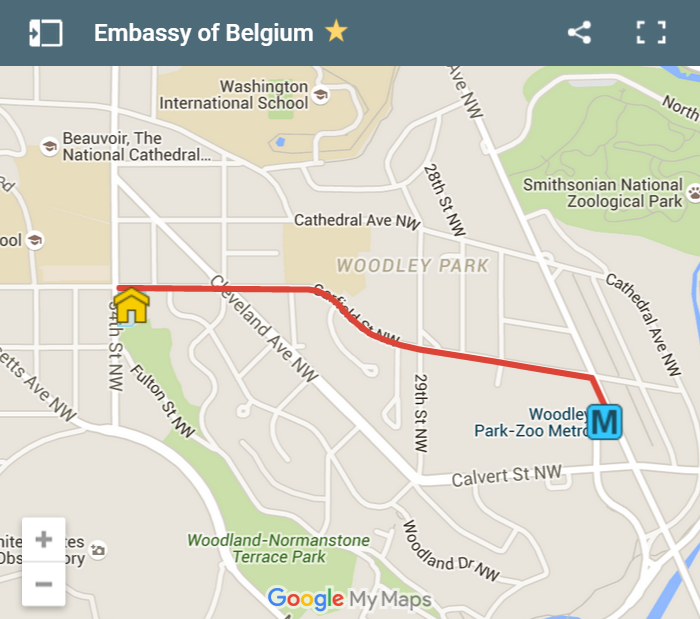 From Woodley Park-Zoo/Adams Morgan Station
Approximately 0.8 mile, 18 min walk


Head northeast toward Connecticut Ave NW.


Turn left onto Connecticut Ave NW.


Turn left onto Woodley Rd NW.


Continue onto Garfield St NW. Destination will be on the left.
Schengen Agreement
Belgium is a member of the European Union, but also of the Schengen Agreement. Under the Schengen Agreement, border controls between members are eliminated. A Schengen visa allows you to stay in or transit through all the Schengen Members and to travel between them for up to 90 days in any 180 day period. For example, if you have a Schengen visa for Italy, it will also be valid for Belgium.
A common misconception is that tourists in Europe can simply travel into a non-Schengen country like England for a day or two, and then re-enter the Schengen Area with a brand new 90 days. This is not the case. You are only allowed to stay in the Schengen Area for 3 months out of every half-year.
If you want to stay in the Schengen Area longer than 90 days, you need to apply for a long-stay visa/residence permit for a specific country. If you obtain a long-stay visa for a particular Schengen Area country, you can stay in that country without eating into your 90-day Schengen time.
Members of the Schengen Agreement:
Austria
Belgium
Czech Republic
Denmark
Estonia

Finland
France
Germany
Greece
Hungary

Iceland
Italy
Latvia
Liechtenstein
Lithuania

Luxembourg
Malta
Netherlands
Norway
Poland

Portugal
Slovakia
Slovenia
Spain
Sweden
Switzerland
Citizens of the following countries do not need a visa to enter the Schengen Area (incl. Belgium) for up to 90 days in any 180-day period:
Passport holders of the European Union (EU)
Passport holders of the European Economic Area (EEA)
Any third-country national holding a residence permit of a Schengen State
A

>

Albania*, Andorra, Antigua and Barbuda, Argentina, Australia

B

Bahamas, Barbados, Bosnia-Herzegovina*, Brazil, Brunei

C

Canada, Chile, Costa Rica

E

El Salvador

G

Guatemala

H

Honduras, Hong Kong (Special Administrative Region)

I

Israel

J

Japan

M

Macao (Special Administrative Region), Macedonia*, Malaysia, Mauritius, Mexico, Moldova*, Monaco, Montenegro*

N

New Zealand, Nicaragua

P

Panama, Paraguay

R

Réunion

S

Saint Vincent and the Grenadines, Samoa, San Marino, Serbia*, Seychelles, Singapore, South Korea, St Kitts-Nevis, St Lucia

T

Taiwan**, Timor-Leste, Trinidad and Tobago

U

UAE, USA, Uruguay

V

Vatican City, Venezuela
* Only for the biometrical passports holders
** Passports issued by Taiwan which include an identity card number
Types of Schengen Visas
Airport Transit Visa (Type A)
An airport transit visa may be issue for passing through the international transit areas of airports located on the Schengen zone, and remaining there until their time of the departure. Only nationals of the following countries are required to apply for an airport transit visa: Afghanistan, Bangladesh, Democratic Republic of the Congo, Eritrea, Ethiopia, Ghana, Iran, Iraq, Nigeria, Pakistan, Somalia and Sri Lanka.
Short-Stay Visa (Type C)
A short-stay visa may be issue for transiting through and staying in the Schengen zone for a duration of no more than 90 days within a period of six months.
Long-Stay Visa (Type D)
A long-stay visa may be issued for single or multiple entries into Belgium with a period of stay up to six months and with a period of validity up to twelve months.
If your travel destination includes more than one Schengen State, submit your visa application at the embassy of the main destination. The main destination is where you intend to spend the longest time or where the main purpose of the intended journey is carried out. If you plan to spend an equal number of days in each state, the visa must be applied for at the embassy of the state through which the visa applicant intends to enter the Schengen area.
General Visa Requirements
As of May 15, 2014, travelers applying for a Schengen visa in the USA must appear in person, so that biometric data – ten fingerprints and a digital photo – can be collected. The biometric data are stored for 59 months and can possibly be reused for future visa applications. Exemptions for the fingerprinting requirements are granted to:
-Children under the age of twelve;
-Persons for whom the collection of fingerprints is physically impossible;
-Heads of State and members of National Governments and their accompanying spouses, as well as the members of their official delegation when invited by Member States' governments or by international organizations for an official purpose.
At the time of application please bring originals and one copy of each document requested. The following documents are required:
1) Visa Application Form
Complete, date, and sign the following form:
Application Form for a Schengen Visa (PDF Format).
For children (under 18), provide a birth certificate and written consent of your parent. In the case of guardianship, present the court document naming the guardian as well as written consent. The signatures on this document have to be notarized.
2) Passport
A passport or official travel document issued within the last 10 years and with validity that exceeds your intended stay by at least three months. Make sure that your passport has at least two blank pages facing each other where the visa and stamps may be affixed.
3) Photograph
One recent passport-size photograph must be attached to the visa application.
4) Proof of Travel and Medical Insurance
Travel and Medical Insurance to cover possible medical expenses, hospitalization costs, repatriation of mortal remains and repatriation for medical reasons while traveling in Belgium or in other Schengen countries. Minimum coverage must be at least 30,000 EURO and must be paid directly to the provider in Belgium by the insurance company. Provide a photocopy and the original contract which will be returned to you. You will have to show proof of travel/accident insurance when entering the Schengen area. Note that your medical insurance card alone is not sufficient proof!
5) Proof of Legal Residence in the USA
Original of valid U.S. Alien registration card (green card) or valid U.S. resident visa. The U.S. residence permit or visa should be valid at least three months beyond the intended departure from the territory of the Schengen Member States.
6) Proof of Travel Arrangements
Roundtrip flight/travel reservations or other proof of intended transport and full itinerary (if several Schengen States will be visited OR if the trip covers several Schengen States and non-Schengen countries).
7) Proof of Accommodation
Evidence of hotel bookings or travel plan for the entire Schengen area:
Individuals: confirmed hotel reservations, stating name, address and telephone number of the hotel, including confirmation number.
Groups: certificate of the travel agency mentioning same information as for individuals, or other proof of accommodation (e.g. rental agreement).
8) Supporting Documents
Visiting Family/Friends: invitation letter from a friend/relative. A copy of ID (national or residence permit) of the inviting friend/relative may be required.
Business: letter of invitation from the business partner specifying the nature of the business; a reference letter from your employer; and if different from hotel, a confirmed accommodation stating name, address and telephone number of the lodging place.
Students/Researchers: certificate from the receiving institution on the length and purpose of stay; certificate from Home institution on enrolment (student cards only are not sufficient); and confirmed accommodation
9) Proof of sufficient means for the intended journey
- Bank account statement(s) during the last three months (Bank statements must show the name and address of owner(s). Electronic printouts are accepted.); proof of regular income e.g. pay slips of the last three months;
– OR if self-employed (tax return from previous fiscal year or proof of previous economic activity and of an income during previous fiscal year);
– OR if retired (e.g. copy of pension certificate or a letter of previous employer or a pension check stub or confirmation from the responsible authority about the amount of pension);
– In case of business, if applicable, letter stating that all expenses are fully covered by (e.g. a written proof that the inviting employer/company pays the expenses or alternative the sending employer/company pays for all expenses)
– In case of students/researchers, if applicable, letter stating that all expenses are fully covered by.
– If the applicant is minor and travels without parents or with one parent: officially recognized statement from both parents (this condition shall not apply if there is only a single parent or he/she holds the parental authority alone) or legal guardian authorizing the child to travel and covering the costs with evidence on the existence of the financial coverage.
10) Self-Addressed Envelope
A self-addressed prepaid envelope if you wish to have your passport and visa sent back to your home address. The Embassy or Consulate General is not responsible for lost items during shipping. Note that the Embassy of Belgium in Washington DC no longer works with FedEx.
Visa Application Fee
Click here for Visa fees as of May 5, 2015
The visa application fee is non-refundable, whether your visa is actually issued or not. Please refer to the following table for payment options:
– Certified Check (Personal checks are not accepted)
– Money Order
– Credit Card (Only at the Embassy of Belgium in Washington DC)
Certified checks and money orders have to be paid to the order of: "the Embassy of Belgium in Washington" if you apply at the Embassy in Washington. Incorrect money orders or certified checks will be rejected and returned to the applicant. Processing will only begin once the proper payment is received.
A Schengen visa is issued free of charge to the foreign spouse and/or children of European Union nationals. The spouse should present a marriage certificate (duly translated into English when necessary) and the E.U. citizen's passport. A birth certificate must be presented for any child under the age of six.