Closest Metro Stops:
Smithsonian




Arlington Cemetery


Foggy Bottom-GWU




View Metro Map

Phone: (202) 426-6841

Hours: Open 24 hours

Website:

Address: 1850 West Basin Drive SW, Washington, DC 20024
Smithsonian Station, on the Orange, Silver, and Blue Lines, is the closest metro station to the Martin Luther King, Jr. Memorial. The Smithsonian Station has two exits; leave through the 12th St & Independence Ave Exit. From the station, it will be a 19-minutes walk to the Memorial. Other alternatives include the Arlington Cemetery Station and the Foggy Bottom-GWU Station, but you will have to walk a little further. Use the map below to find suggested routes.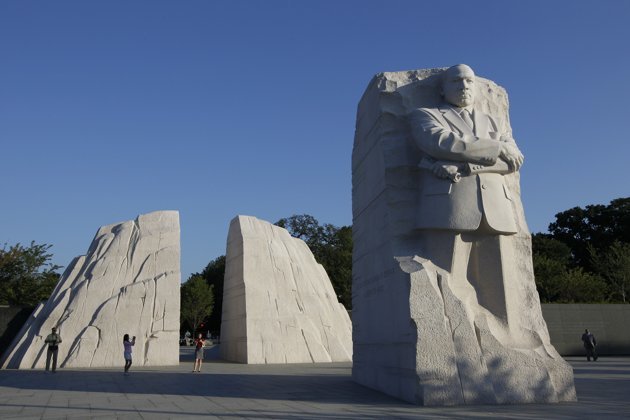 From Smithsonian Metro Station
Approximately 0.9 mile, 19 min walk


Leave the station via the 12th St & Independence Ave Exit.


Walk west 8 blocks on Independence Ave, towards the Washington Monument.


Cross to the far side of 15th St and turn left.


Walk until you hit the Tidal Basin, then take the path to your left, past the Jefferson Memorial to the MLK Memorial.
From Arlington Cemetery Metro Station
Approximately 1.2 mile, 25 walk


Upon exiting, walk northeast 7 blocks away from the cemetery towards DC, continuing around the traffic circle and across the Arlington Memorial Bridge. At end of the bridge take the ramp to the right to 23rd St SW, then turn right on 23rd St SW and walk to Independence Ave SW.
From Foggy Bottom-GWU Metro Station
Approximately 1.3 mile, 25 min walk


Upon exiting, turn right on 23rd St and walk south 7 blocks to the Lincoln Memorial. Walk 3 blocks around the rear of the Lincoln Memorial.


Continue on Daniel French Dr SW.


Turn left on Independence Ave SW.