Closest Metro Stop:
King Street Station



View Metro Map

Phone: (703) 683-2007

Website:

Hours: Monday - Sunday, 9 a.m. - 5 p.m.

Address: 101 Callahan Drive, Alexandria, VA 22301
King Street Metro Station is the closest station to the Masonic Temple. From the station, it is approximately a 6-minute walk to the Masonic Temple. Use the map and directions below to find suggested routes to your destination.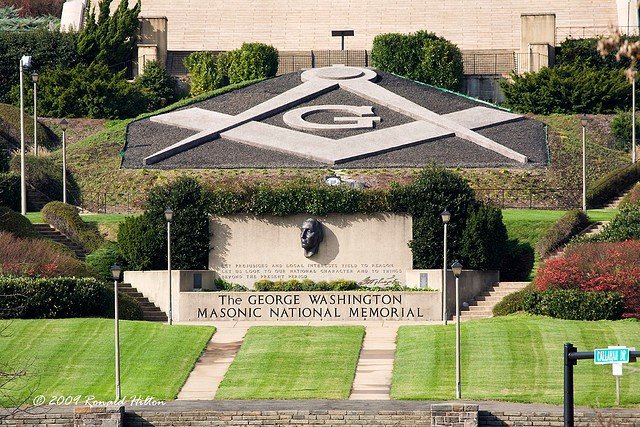 From King Street Metro Station
Approximately 0.3 mile, 6 min walk


Walk northeast toward Diagonal Road.


Walk northeast on Memorial Drive.


Turn left at Diagonal Road.


Turn left at Daingerfield Road.


Turn left at King Street.
The Masonic Temple
The Masonic Temple is 333-foot tall and has a tower similar to the Lighthouse of Alexandria in Egypt. This reflects the similar names of both cities (Alexandria, VA) and the masonic interest in ancient architectures of the world.
The main entrance is spectacular. As you open the doors, there is a pillared hall with the gigantic bronze statue of George Washington at the end. On each side of the statue, there are two large murals: one shows George Washington laying the U.S. Capitol cornerstone in a Masonic ceremony, while the second mural shows him and his Masonic brothers attending Christ Church in Philadelphia during the Revolution. Above the murals, there are stained glass windows depicting the events of Washington's life.
The Shriner's Museum is located on the lower level of the memorial. In these same halls, there are also images and information about other Masonic Temples throughout the country. The memorial also contains interesting relics from Washington's friends and family, including the family Bible and a clock which stopped at the time of his death. Also, you get a general flavor for Masonic ritual and symbolism. For a formerly secret society, the information on display is a surprise. It will most definitely strike the outsider as unusual, but it is worth the trip.