Closest Metro Stop:
Smithsonian




View Metro Map

Phone: (202) 874-4000

Website:

Email: moneyfactory.info[at]bep.gov

Hours: Monday-Friday, 9am-2pm; Saturday-Sunday, Closed

Address: 14th Street SW, Washington, DC 20228
Smithsonian Station is the closest station to the Bureau of Engraving and Printing. The Smithsonian station has two exits; make sure to leave through the 12th St & Independence Ave Exit. As you step off the escalator go straight ahead on Independence Ave towards 14th Street.
During peak tourist season (Spring/Summer), make your way to the rear of the building on Raoul Wallenberg Place (formerly 15th St SW), where you will find the ticket booth. If it is non-peak season, proceed directly to the entrance on 14th St SW.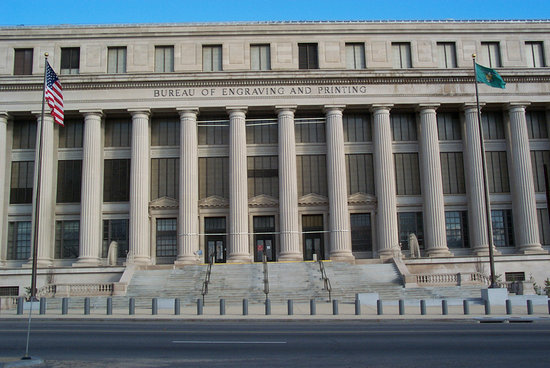 From Smithsonian Metro Station
Approximately 0.3 miles, 7 minutes


Leave the station via the 12th St & Independence Ave Exit.


Head west on Independence Ave SW towards the Washington Monument.


Turn left at 14th St SW.


The building is at the corner of 14th St SW and C St SW.
Bureau of Engraving and Printing (BEP)
The Bureau of Engraving and Printing is a great place to learn about U.S. paper currency. When touring this place, you can see billions of dollars being printed as you walk along the gallery overlooking the production floor.
The BEP Tour and Visitor Center is closed on weekends, federal holidays, and the week between Christmas and New Years Day. Cameras are allowed in the facility, but their use in the tour gallery is prohibited. Visitors must pass through a metal detector and belongings will be screened before entering the building.